Microsoft splashes big bucks to blast Google Apps
Latest ad campaign smacks of desperation
---
Microsoft is spending big bucks to convince computer users that Google Apps are a risky bet with a new series of ads featuring Deuce Bigalow: Male Gigolo star Rob Schneider and disgraced athlete and former jailbird Pete Rose – neither of whom presumably come cheap.
Both adverts push Microsoft's contention that Google Apps can't handle Office apps formatting, and therefore using them is risky. "You lose big, to the tune of your wallet, your credibility and your upcoming promotion," Schneider warns as prospective gambler.
Pete Rose, the baseball star barred from the Hall of Fame for his gambling while a player and a manager (and who was later jailed for tax evasion) declares Google Apps are too big a risk for him.
In the second advert Schneider plays a short, scruffy, bespectacled basketball player getting beaten down by a tall, black player representing Redmond's code.
Schneider promises he has some moves, gets pwned on the court, admits "I'm not exactly Microsoft Office," and says he's deficient in a lot of areas and dependent on the internet to work.
Both adverts have been posted on Google's YouTube website, which apparently Microsoft has no problem with.
Redmond reinforced the anti-Apps message with an extended blog post by Jake Zborowski, product manager for Microsoft Office, highlighting formatting failures that Google suffers when trying to display Office documents.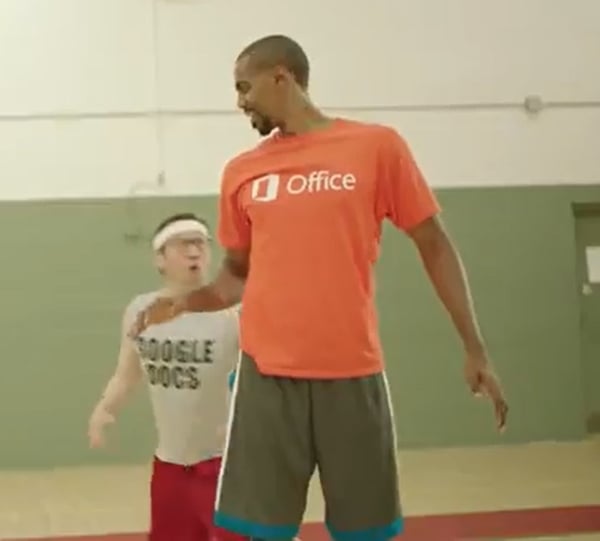 No stereotyping here, no, none at all
Google's formatting misses things such as text boxes, graphs, columns, and watermarking, and Zborowski said that the problems also occur if you try and use Google's QuickOffice on an iPad or its Chrome Office viewer to read Microsoft data.
Google declined to make any official comment on the advertising campaign, but people familiar with the matter said that there were always going to be some formatting problems with Microsoft's Office suite, as Redmond has spent the last 10 years packing it with gizmos and display code for a whole variety of purposes.
Trying to match them all in a cloud market doesn't make sense, the thinking goes, because you'd never get all of them – and if you did, Redmond could tweak its code to cause more formatting issues. There's no suggestion that Redmond is taking the latter course, but it wouldn't be the first time it has been accused of coding against the opposition.
All of this occurs against the background of Microsoft's plans to translate home users, who would normally be Office buyers, into consumers who merely rent it. In January, the pricing system Redmond revealed showed a heavy financial incentive to move away from boxed product – although Microsoft has said it's not going cloud-only, like Adobe.
Adverts like this current crop are aimed at buyers who use Microsoft Office at work but who might settle for the free use of Google Apps for their personal computing, or even open source alternatives such as OpenOffice and LibreOffice. They back up Microsoft-supported legal challenges to Google Apps and a tough fight for corporate contracts in the cloud arena.
Whether this will all be enough to change people's minds remains to be seen, but it's clear that Redmond is in for the long haul when it comes to attacking some areas of the Chocolate Factory's output. El Reg just isn't sure the current tactics of using a dishonorable cheat and a cinematic man-whore is the way to do it. ®