Review: Samsung Galaxy S4
Faster, brighter, thinner - what's not to like? Well...
---
The 'Droid you are looking for?
When it comes to software, what we have here is Android 4.2.2, which is as up to date as can be at the time of writing. Future updates shouldn't be an issue since Samsung has the best reputation of any OEM when it comes to rolling out new versions of Android. Of course, on top of Android there's TouchWiz, Samsung's own launcher, but I'll come back to that later.
The S4's Pentile-matrix 441dpi "Super AMOLED" OLED display is good example of the breed but it doesn't displace the HTC One's 4.7-inch 469dpi "Super LCD3" LCD screen as my current favorite. I'm just not much of a fan of the inherent garishness of OLED panels despite my own phone having one.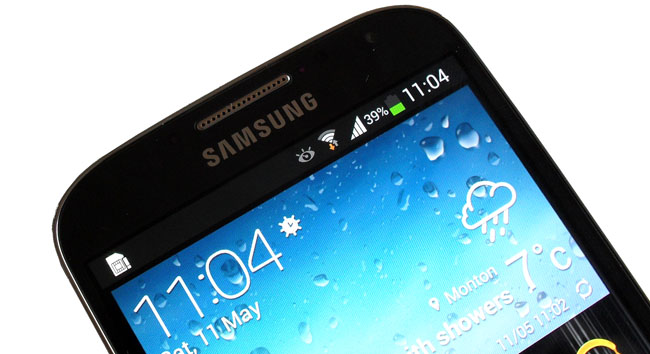 Gorilla Glass 3.0 gives the S4 a tough face
That said I'll be the first to admit that the S4's displayed blacks are superbly black and that it works very well in sunlight. And there's no need to worry about the Pentile layout - at this resolution you need a good microscope to tell it apart from RGB, which wasn't the case with the S III's screen.
Thanks to the third incarnation of Corning's Gorilla Glass, the screen should stay looking good over a two-year contract. I attacked it with my car keys with gusto but inflicted no visible damage. Unlike Sony's Xperia Z, the S4 isn't watertight.
I won't waste your time banging on about performance. The S4 turned in AnTuTu scores of well over 25,000 and goes like the very Devil himself is chasing it. In the Hot or Not test, the S4 scored Not. Even after an hour of heavy gaming there was no excessive heat build up.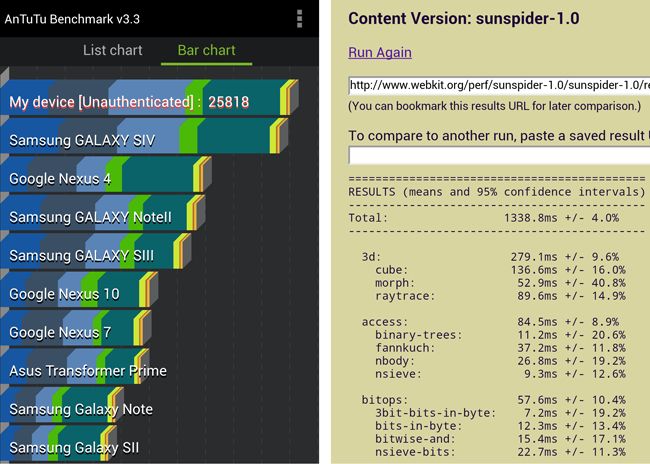 A solid performer
Thankfully, the fire-breathing CPU and larger, higher resolution screen don't use up all the extra battery capacity so the S4 still performs better than the S III. You should see the better part of two days between charges - with a 3G connection at least - unless you do something like watch all three Toy Story films back-to-back.
And that's something you can actually do and still have power left for Monsters Inc and Wall-E. My 720p video loop test with the Wi-Fi radio on took a little over seven and a half hours before it rogered the battery into submission. Thanks to the bundled 2A USB charger, filling the battery back up is a pretty quick affair.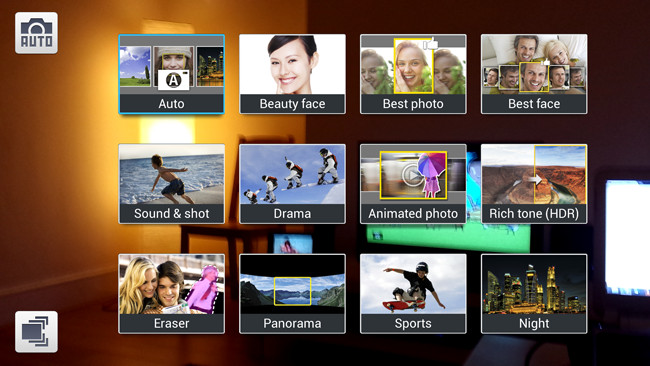 Many options for the average camera
There's not much to say about the camera other than it's a reasonable step forward from the S III's frankly average snapper. Like the 13Mp camera in the Sony Xperia Z, the S4's camera takes a good if unexceptional photo in decent light and records good quality 1080p video. But there's nothing really interesting or groundbreaking to talk about on the hardware front, unlike the cameras fitted to the Nokia Lumia 920 and HTC One which have optical stabilisation - and, in the case of the HTC, unusually big sensor pixels.
The camera software is more interesting. In Erase mode, the camera takes five quick shots and then offers to remove anything that's moving from one shot to the next like a car or jogger that has just put the mockers on your Capa-esque shot. 'Drama Shot' does the same sort of thing but in reverse, so your final picture can feature all five images of whatever is moving on one picture, as a sort of stop-frame collage.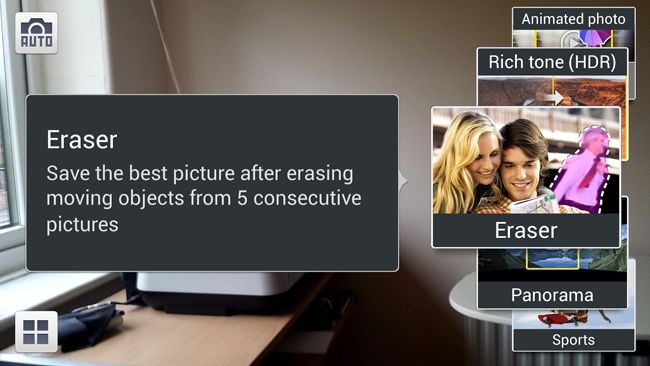 The S4's Erase mode automatically removes moving objects from still shots
And so to TouchWiz. If, like me, you like your whisky straight, your coffee black and your Android stock, your reaction will likely be similar to that if you saw a moustache drawn on the Mona Lisa. Samsung is clearly determined to make the interface of its Android handsets look less like Android than anyone else's. HTC's latest version of Sense, by contrast, looks positively Jelly Bean-ish. Beauty may be in the eye of the beholder, but when it comes to TouchWiz it's not in the eye of this beholder, nor does it make the most efficient use of the available screen real estate.