Review: Samsung Galaxy S4
Faster, brighter, thinner - what's not to like? Well...
Nice features, shame about the UI
Suspect aesthetics to one side there's no denying the sheer volume of extra features that Samsung has shoved into the S4. I didn't find out how to get it to make me a cup of tea, walk the dog or pleasure the missus but it wouldn't surprise me to find out it could. Some features are poor duplicates of existing Google offerings: S Translate, for example, not only lacks Google Translate's ability to download languages for offline use but supports far fewer tongues. Another is S Voice which doubles up on many of the functions now offered by Google Now, though Now's voice recognition is more accurate.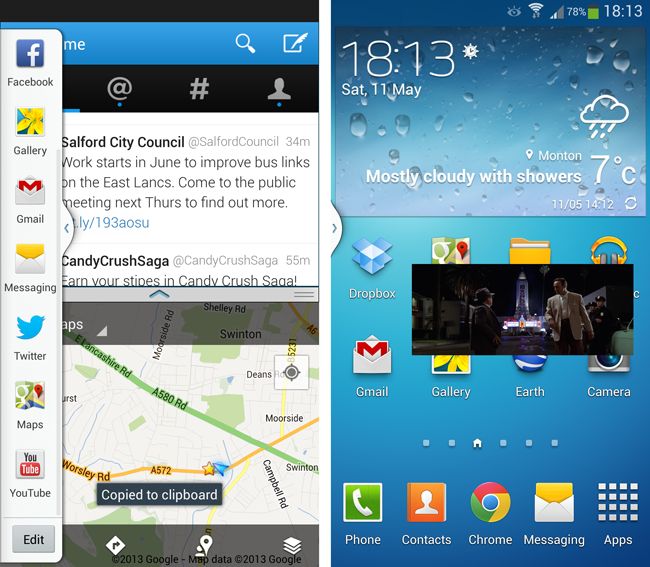 Windows phone
Others turns are more unique. These include the option to open certain apps in windows, which is something already seen in a couple of Galaxy devices; Air Touch and Air Gestures which mimic the Galaxy Note's S Pen but with a finger rather than a stylus; the look-away-and-it-stops scrolling/playing feature; and the facility to play video in a pop out window.
These being OEM add-ons there are some problems, though. To start with, only Samsung-jigged apps work in windows and the same goes for many of the Air Touch and Air Gesture features: while there are some funky web navigation gestures, they only work with the default Samsung browser, not with Chrome.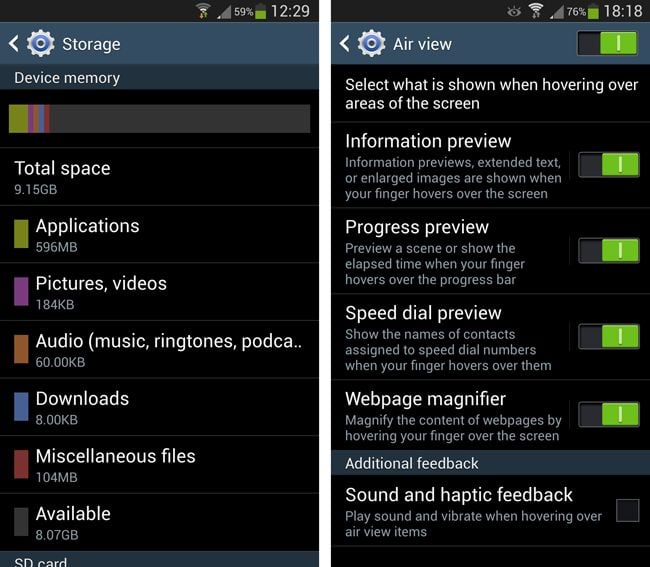 16GB device, but only just over 8GB free
I have to be honest and say that many of these extra features and apps strike me as the smartphone equivalent of adding flash alloy wheels, a chrome exhaust, an air dam and a roof spoiler to a family hatchback. All just a bit unnecessary and clearly not factory fitted.
Thankfully, deploying a third-party launcher like Nova had no ill-effect on the various extra features, all of which continued to function. Nova lets you replace Samsung's garish app icons with those from stock Jelly Bean at the touch of a button so it's definitely worth consideration.
The rest of the S4 is every bit as cutting edge as you'd expect. The Wi-Fi radio is a dual-band 802.11ac affair, while 3G data speeds of 42.2/5.76Mbps and 4G speeds of 100/50Mbps are supported across all the wavelengths we'll be using in the UK. To control your telly there's an IR transmitter and TV remote app.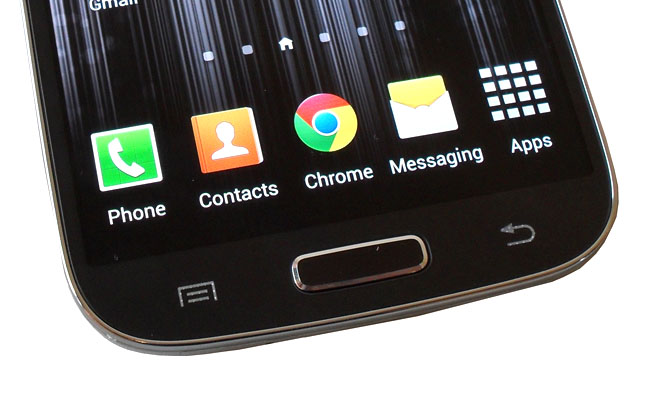 There's still a physical home button
Bluetooth 4.0 and NFC round out the wireless options, while on the wired side of the fence the micro USB port also supports MHL media streaming and On-The-Go USB hosting.
Signal reception and call quality - the second thanks to an in-call equaliser and active noise cancellation - gave no cause for complaint, and the single speaker did a pretty decent job; though, like every other smartphone on the market, it's beaten hollow by the stereo speakers fitted to the HTC One.
The Reg Verdict
What Samsung has done here is taken the Galaxy S III and made everything bigger and better; except the device itself, which – impressively – is both smaller and lighter. As a technical tour de force, the S4 is hard to criticise and, thanks to the increasingly rare features of a removable battery and a micro SD slot, it will be the default choice for many canny smartphone users.
That said, the styling leaves me cold, the plastic body looks and feels a bit cheap when compared to the opposition, and TouchWiz really is a bit of an aesthetic shambles compared to Jelly Bean's stock UI. I've no doubt all those extra features will attract buyers but I'd be lying to you if I said I thought many of them were essential to the smartphone user experience. ®
Thanks to Vodafone for supplying of our review handset.

Review: Samsung Galaxy S4
Samsung revamps the Galaxy S III smartphone with a bigger screen, a more capacious battery, a higher-res camera and a faster chip - and still makes it thinner and smaller.