Hm, disk drive maker, what's that smell lingering around you?
It's death and failure, says ex-Sun storage chap
---
The disk drive vendors have been utterly screwed by mismanaging the disruptive force of solid state drives: that's the view of Mike Shapiro - lately a storage bigshot at Sun and Oracle.
Mike Shapiro was a Sun Microsystems Distinguished Engineer, CTO, and VP of Storage for Sun and then Oracle. He is most recently a founder at a stealthy storage startup about which we know nothing. We spoke to Mike about his views on flash drives and the HDD suppliers.
El Reg:Did the disk drive companies enter the solid state market in a timely manner?
Mike Shapiro: Despite the emergence of STEC as the first enterprise SSD vendor in 2006 (when we first talked to them at Sun) it is remarkable to me that Seagate, HGST, and WD all failed to enter the SSD marketplace until 2011 (5 years later, by which time it was essentially too late). And when they did, they did the obvious dumb thing of pricing the SSDs above the 10k and 15k RPM drive lines - i.e. they made the classic error of thinking that they could solve a disruption by just organising their own revenue streams regardless of other market forces.
El Reg: So what happened?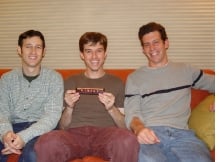 Picture of Mike Shapiro, Bryan Cantrill
and Adam Leventhal
Mike Shapiro:As a result of this massive screwup, a raft of solid state drive companies entered the market, which in turn I believe spurred the NAND vendors to say, 'gee, if that's all it takes to mark up our NAND, surely we can do a better job of that'. Furthermore, the NAND companies are entirely staffed by ex-DRAM people whose major lesson in life was that DRAM was killed from a margin point of view by letting someone else (the x86 CPU) commoditise the interface to it. So the idea of keeping the deep NAND interfaces secret, building their own controller or firmware or drive, while doling these secrets out very cautiously, made sense.
El Reg: Can you split SSD market development into phases?
Mike Shapiro: So we really see three phases of the SSD market using the rear-view mirror -
(1) STEC creates the market (first customers EMC and Sun)
(2) Startups enter the market, partnered with the NAND suppliers
(3) NAND suppliers become SSD suppliers, kill off startups (and STEC)
El Reg: How did the HDD suppliers mis-read things?
Mike Shapiro: How different it might have been if they (HDD suppliers) had acted in stage (2) Furthermore, the disk vendors assumed that all of their volume (i.e. small servers and laptops and desktops) would come from the 2.5in disk drive form factor for client [products] and would become the dominant form factor around 2009-10. But instead, thanks to cloud and tablets and iPhones, that entire transition has in fact been killed - the server market is in decline. All of the mobile computing and devices use 100 per cent flash, and so in fact the remaining use case for disks will be 3.5in (bulk storage).
El Reg: Bulk storage disk drive sales prospects look okay though?
Mike Shapiro: [Yes] thanks to the hyperscale customers like Google and Facebook and Apple, the market for bulk disk is now a direct sale (i.e. literally directly to the end customer) rather than an indirect one (through HP, Dell, IBM, Oracle etc). So we see an ability for the HDD guys to (temporarily) grow margin as they adapt to this opportunity, yet over the long term the opportunity to keep their position in the volume client storage device business has been entirely squandered.
El Reg supposes that Shapiro's criticisms are directed mostly at Seagate and Western Digital. The third HDD supplier is Toshiba and it operates flash foundries in partnership with SanDisk. Seagate has just widened its flash storage offering with three SSDS and a PCIe card powered by Virident, and Seagate is now almost 10 percent owned by flash foundry-operating Samsung. WD has an investment in all-flash array startup Skyera and is expected to widen its SSD range soon.
Can Seagate and WD catch up? Shapiro would think not. They are utterly screwed. ®