This article is more than 1 year old
New Lumia 925: This, loyalists, is the BIG ONE you've waited for
Nokia veep drills high-end master plan for El Reg
Hands-on Today, Nokia launched its best smartphone to date: the Lumia 925.
I got some hands-on time with the Windows Phone 8-powered device - and a tour of the gadget by shoegaze icon Nokia senior veep of product management Kevin Shields, who explained some of the key design decisions. It's a covetable bit of kit - but with iPhones and Androids massively outselling the Lumia family, can this new model begin to move the needle in Microsoft and Nokia's favour?
First things first.
The aluminium design is really outstanding - a throwback to the beautiful and lavish metal of the Nokia N8, C6 and E7 devices. They were only launched less than three years ago, but that now time feels as distant as the 8-bit era. The Lumia 925 is slimmer and lighter than any of them, and with no visible screws.
It's not a full metal jacket, but a composite construction. The back of the device is actually polycarbonate plastic, making it more comfortable and a bit warmer to hold.
The price you pay for this casing is no SD memory card slot and no removable battery. HTC took similar decisions with its very nice Android-powered HTC One, and of course Apple has shifted hundreds of millions of iOS phones with a sealed battery and no expansion slot. The stock Lumia 925 has 16GB of internal storage; Vodafone in some Europe territories, including the UK, has exclusive rights to flog a 32GB model.
At least Sony, HTC and Nokia are trying to up the stakes with excellent industrial design. Samsung's latest high-end Galaxy is disappointingly creaky and plasticky - but then it doesn't have to try too hard.
The news here is that Nokia brings the weight of its high-end devices much more into line with market rivals. At 139 grams it's only a fraction heavier than the Samsung Galaxy S4 handset. It feels lighter than you would expect, given that you're looking at a mostly metal device.
Some people preferred the heft of the 185g Lumia 920, but most we suspect will be far more comfortable with the lighter design of the 925.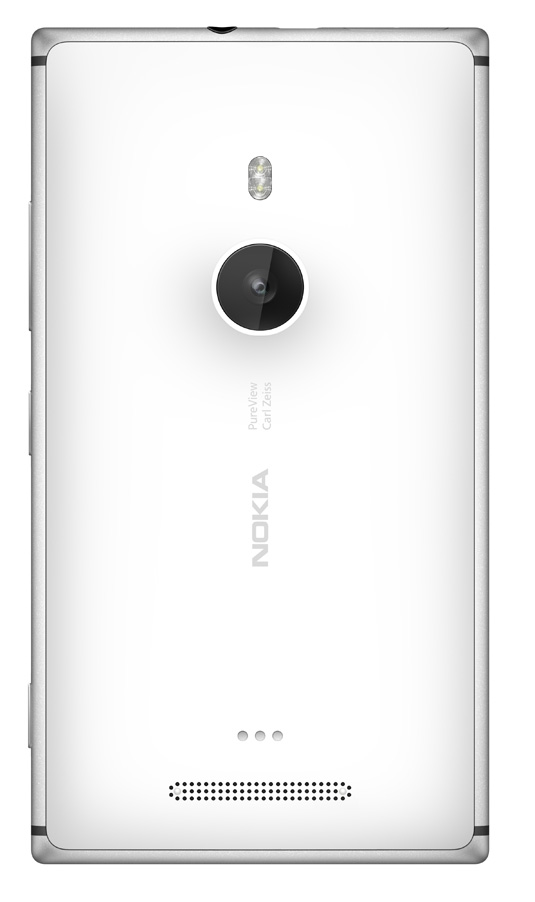 The BACK of a Nokia Lumia 920 - click for a very large image indeed
Why ditch the Lumia's previously colourful cases? Shields didn't like our characterisation of the new aluminium design as "more grown up", but settled for "a little more sophisticated". And he said Net Promoter - a customer loyalty measuring tool - revealed Lumia owners who had opted for the previous striking red and yellow models rated the device more highly than those who had chosen plainer colours.
But that didn't explain why people who'd shunned Lumias had made their choice. Generally, you don't find out much about why people have chosen a rival product by asking people who have chosen your own. He insisted the loud colour scheme had been positive for Nokia.
Time to find out about some design choices.

A Lumia 925 alongside a Lumia 920. In the background, a FatBoy
Wireless Charging pillow dozes undisturbed (Click to enlarge)
Who's this latest smartphone for, exactly? It's clearly more attractive than the 920 and 820, now six months old, and which owing to component shortages got off to a spluttering start. But Nokia doesn't want you to think the 925 will superseded the 920.
"It's a different expression of what we deliver in the 920. We have three flagships," said Shields. The 925 launched "the soonest we believed we can deliver a product using these materials".
"Including a MicroSD implies a bunch of things around size and thickness, and there's a chain effect, there are consequences to including one. It was a tough call - personally, I'd like to have MicroSD expansion. But the compromise wasn't worth it," he told us.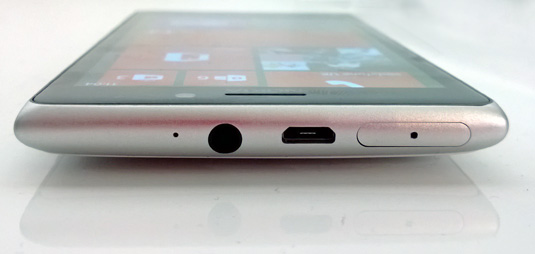 The Micro USB port has moved to the top of the device
The 925 represents a reduction of mechanical complexity inside - for example, the wireless changing electronics present in previous Lumias have been removed for this model. Over-the-air charging is available with a snap-on backplate.
Once you have a couple of such plates, I can vouch, you really appreciate it. Plugging the handset into a power supply becomes a rarity - perhaps for syncing photos and music. (Microsoft still doesn't support music sync over Wi-Fi.)
In addition, the Lumia's USB port has moved from the bottom of the gadget to the top, which Shields said gave Nokia a significant gain in space for the antennas.
The new Lumia also has the 920's outstanding ability to record audio, but you probably have to be at a noisy concert to appreciate this feat.

The Bottom Inspector … contrast the Lumia 920's busy layout with the 925's clean bum
(Click to Enlarge)
Anything else? "The OLED screen also allows you to take a lot of weight out," he added. And Nokia also saved weight by making the glass slightly less curved: 2.25D on the Lumia 925, compared to 2.5D on the Lumia 920.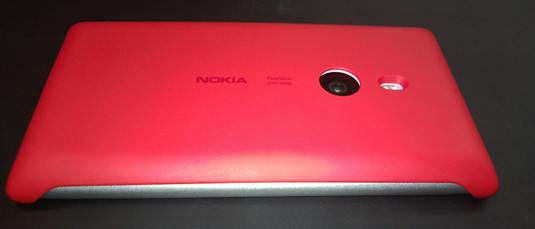 You can bring back garish colours, if you like, with the clip-on charging cover
Much of the best of the Lumia 920's features remain. The same 8.7MP camera with optical image stabilisation has been spruced up with an additional sixth lens for even sharper bright daylight snaps. The sensor is much more sensitive; its ISO level now goes up to 3200. The image-processing algorithms have been tickled, too.
This results in an impressive new imaging app, Nokia Smart Camera, which subsumes some of the functionality of the Lumias' Smart Shoot package, and gives it a more accessible user interface.
Smart Shoot allows one to pick the best faces pulled by peeps in a group shot - the camera snaps several pics in one go, and does the necessary grafting to create the best possible image. But most people don't realise it's there: you have to invoke Smart Shoot, not the Camera, and then manually choose the edit pencil and then select "change faces". Also extremely useful, but not new, is the ability to erase something that's wandered into the frame.
Nokia told me Smart Camera will be on by default - there's no need to fiddle with the Lenses app as you shoot.
In addition to erasing intruders and picking the best faces, you can now create what are called Muybridge Variations, or Muybridge sequences, which use a motion capture effect. You might not know the splendid name Eadweard Muybridge, but I'll bet you've seen the photos of a galloping horse belonging to Leland Stanford, the former governor of California, that he took in the 1870s. The photos revolutionised the study of animal movement. Well, that horse, or whatever pet you want to record now, can be in your pocket.
In addition, the camera app can motion blur the background; that's not as useful as the others, but it's a nice effect.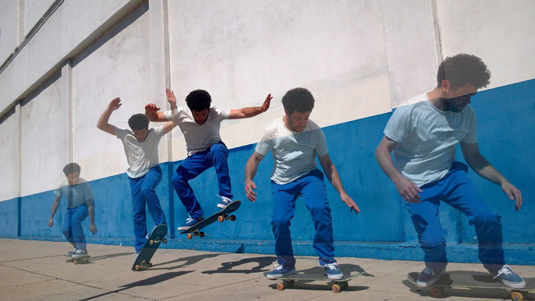 Nokia's new Smart Camera app gives fine control over what you can include: pick the best face, create a Muybridge sequence, or play with the foreground and background. It's on by default.
All this functionality is much more easily accessible in the updated Smart Camera software in the 925. The app will roll out to all Lumia owners in the Amber upgrade due out this summer.
Having released two very well-received low-end devices, Nokia is having a proper tilt at the high-end. The Lumia 925 has a terrific camera, outstanding display, and a grown-up premium feel. For Nokia and Windows Phone loyalists this is the phone to get.
But what's the point in persevering, we asked Shields, if all that people really want is access to the library of apps available for whichever phone is in their pocket? And Microsoft's collection of third-party apps is nowhere near as impressive as Apple's and Google's.
"An app ecosystem is part of that value – but it's not the only thing," he replied. "For some people App X is critical for something and for others App Y is the main reason to buy the device."
It's hard to see what more Nokia can do, short of taking greater control of the Windows 8 platform from its close pal Microsoft.
I suspect the Finns are champing at the bit to put a nice on-device search feature into their handsets: it transforms the experience and a good search even made Symbian almost usable in its latter days. But Redmond rigidly controls the Windows Phone user experience. Next month is Microsoft's turn to show off what to expect next on the Windows platform. The Lumia 925 looks like a strong summer contender. ®