Full metal jacket: Nokia launches new Lumia 925
4G phone for grown-ups
---
Nokia tweaked the top of its range with a new 4G Windows 8 model today.
The aluminium 925 breaks with Nokia's Stickle Brick garish-coloured plastic design philosophy and offers a more grown-up styling. The camera module is snaffled from the erstwhile flagship, the 920, with optical image stabilisation, spruced up with an extra lens for better daytime shots. The sealed-in battery has the same capacity, 2,000mAh, as the 925. But the new model is much slimmer and 46g lighter than its tank-like sibling.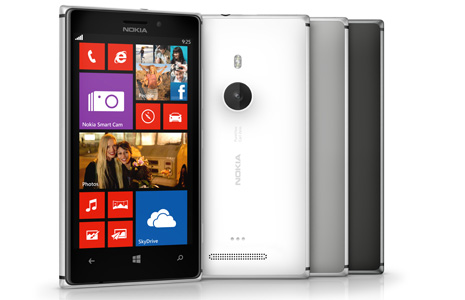 The device features a 4.5 inch 1280x768 AMOLED screen, but comes with just 16GB of storage as standard - Vodafone gets a 32GB exclusive. Weighing in at 139g (129 x 70.6 x 8.5 mm) it's the lightest LTE-capable Windows 8 phone.
Wireless charging is optional, via a clip-on back plate. The device will be €469 before taxes and subsidies.
Speaking at the London launch event, Vodafone's Patrick Chomet insisted people want more brands and choices for their smartphones. He said he thought the tank-like 185g Lumia 920 was too heavy for European tastes. So there.
Rumour suggested Nokia had attempted to woo Facebook's navel-gazing photo app Instagram to Windows, but filled the gap with Hipstamatic instead.
Nokia also introduced a new imaging app, Smart Camera, absorbing the functionality of the very useful Smart Shoot app with a few new gimmicks effects. It will be available to all Nokia Lumias in an "Amber" update this summer. None of Nokia's colourful plastic Lumias feel cheap, but the determination to promote garish colours (or black and white) exclusively is puzzling. Now there's a more grown-up choice. You wonder what took them so long.
There's a little more detail here. The Register will provide a hands-on and design walkthrough shortly, so don't go anywhere. ®