Mystery Sony big-screen ereader to sport E Ink bender
Liable to be pliable, folks
E Ink reckons its "Mobius" flexible epaper screen will be the first of its kind to go into mass production, an event the company claims will take place some time later this year.
The Mobius will make its debut as a 13.3-inch panel built into a unnamed "digital paper product" made by Sony, which co-developed the panel with E Ink. The Taiwanese screen company is handling the manufacturing.
The new panel is essentially an E Ink display built out of a thin-film transistor backplane - the bit that controls the state of the display pixels - of the kind that's used in LCD screens but here based on a flexible plastic substrate rather than a sheet of glass.
E Ink's pixel technology is also used in Plastic Logic's flexible display technology, sitting on top of a Plastic Logic bendy plastic TFT sheet in much the same way it sits on Sony's pliable TFT backplane.
Plastic Logic says it can produce screens of up to 15.4 inches in size, but has yet to put one into mass-production. The technology has made its way into a fair few prototypes, though.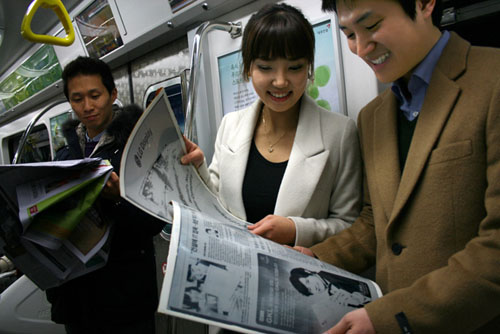 Mobius predecessor: LG's erstwhile 19-inch epaper prototype
And, to be fair, Sony's mysterious digital paper product is just at the prototype stage too. The Japanese giant will be showing it off later this week at the Tokyo's Educational IT Solutions Expo. E Ink will be demonstrating Mobius at the Society for Information Display's Display Week 2013 show later this month.
The big question is, is Sony using Mobius to create a genuinely different and interesting product - a bendy one, essentially, that's a real alternative to paper - or simply use the technology to make a rigid device, such as its current ebook reader, lighter and thinner?
El Reg's hardware desk suspects the latter. It's relatively easy to make a flexible e-ink display, and there have been many prototypes over the past five years, from the likes of HP, Philips and LG, as well as E Ink and Plastic Logic. It's a darn sight harder, however, to make the battery and other key electronic components thin enough to keep the whole thing bendy but also light enough to be picked up and carried like a sheet of thin cardboard. ®