Top guns doomed as US Navy demos first carrier-launched drone
Killer robot takes to the skies
---
The US Navy has successfully completed the first carrier launch of its unmanned X47B drone, a programmable stealth strike aircraft with a range of 2,100 miles and the skills to allow automatic in-flight refueling, which could give it global reach.
#BREAKING: #USNavy history is made! Was airborne at 11:18A. More to come. MT @julianbarnes: #X47B takes off from George HW Bush.

— US Navy (@USNavy) May 14, 2013
"Today we saw a small, but significant pixel in the future picture of our Navy as we begin integration of unmanned systems into arguably the most complex warfighting environment that exists today: the flight deck of a nuclear-powered aircraft carrier," said vice admiral David Buss, the Navy's "Air Boss".
The 38ft drone, first unveiled in 2008, was catapulted into the sky from the deck of the USS George H. W. Bush aircraft carrier at 11:18am ET (4:18pm UTC) while under the control of a ship-based operator, circled the aircraft carrier and then headed off to shore, where control was established by a pilot at the Naval Air Station Patuxent River and it was brought down to land.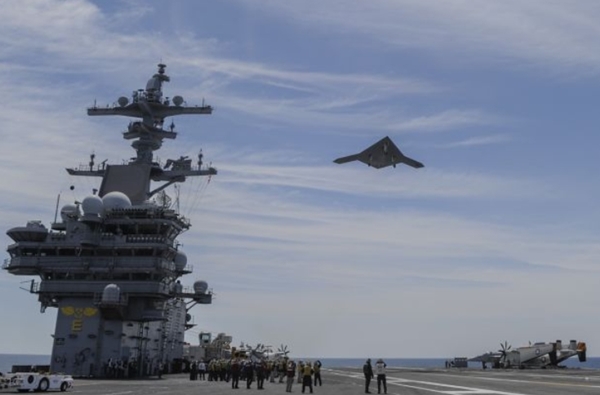 "It's time to buzz the tower"
"The flight today demonstrated that the X47B is capable of operation from a carrier, hand-off from one mission control station to another, flight through the national airspace, and recovery at another location without degradation in safety or precision," said Matt Funk, lead test engineer for the Navy program.
Over the next few weeks, the drone will be put through numerous catapult launches and landing approaches before the team attempts to land it on the pitching deck of an aircraft carrier at sea – traditionally considered the toughest test of an Naval aviator's skills. If successful, the drone will provide the basis for a new wave of carrier-based aircraft that don't need direct human control.
The Navy flyboys have a while left yet before they hand in their helmets – drone technology isn't close to providing the reactions needed for fighter combat – but the X47B has specific advantages. It has a much longer range than piloted aircraft and is designed to be fired at a target at high subsonic speeds, deliver a bomb payload without human control, and return for rearming.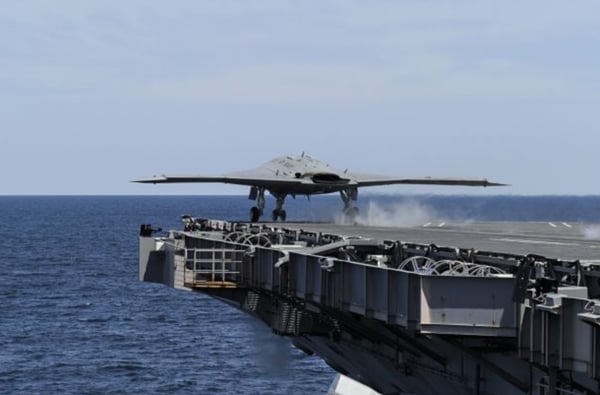 "Fly my pretties!"
Such drones could be used in a future conflict with China, for example. The Navy's none too keen to get expensive and vulnerable carriers close to the Chinese coast and in range of the Middle Kingdom's long-range anti-ship missiles, so stealthy drone strikes make a lot of sense.
Not that the X47B will be making any such trips anytime soon. Only two test flights have been made, primarily to check flight systems, programming, and to build an undercarriage and airframe capable of handling the abuse of carrier takeoffs and landings. Tuesday's flight does, however, take the Navy a considerable way forward in getting humans out of the military equation. ®
Similar topics
Narrower topics