Financial firms start lining up for AMD Roadrunner systems
Open Compute makers could do for Opterons what tier ones didn't
---
For more than a few large-scale data center operators and supercomputer centers in the world, AMD's Opteron processors are still an important part of their infrastructure. But over the past few years, as Intel has got its Xeon act together and AMD has had some issues (to put it politely) the tier-one server makers have not exactly given Opteron a lot of love. Yet it may not matter all that much, now that the companies who are official suppliers of Open Compute iron can start peddling systems based on the "Roadrunner" Opteron motherboard.
The Roadrunner board was designed in conjunction with mobo makers Quanta and Tyan and with input from financial services firms and hedge funds, who wanted an OCP approach to servers but one that would fit in standard racks, instead of the 21-inch Open Rack specification put forth by Facebook. AMD previewed it back in May 2012 with designs in standard 1U, 2U, and 3U rack form factors, as well as Facebook's 1.5U form factor.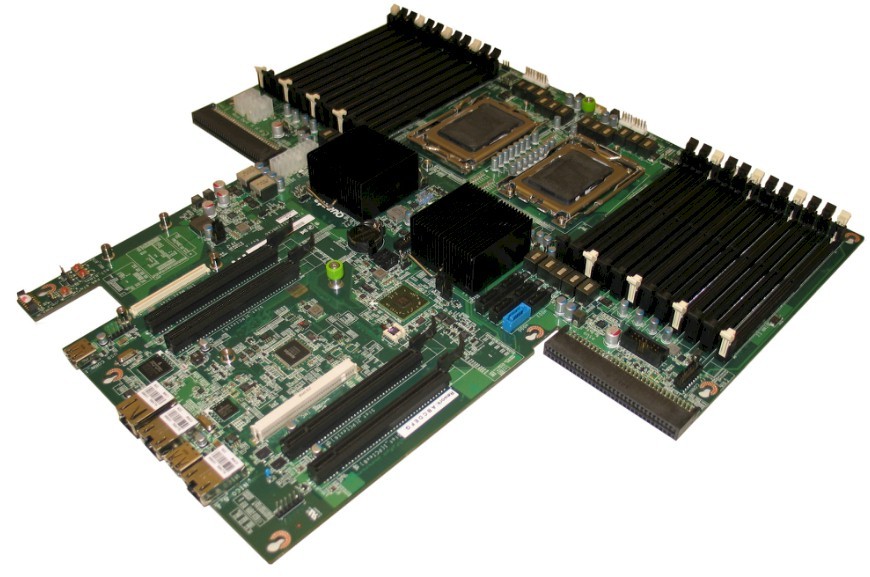 The Roadrunner two-socket, Open Compute motherboard designed by AMD and friends
Roadrunner was formally launched at the Open Compute summit back in January, and AMD said in a statement this week that Open Compute partners were ready to start peddling boxes based on it. 
El Reg coincidentally told you about the Roadrunner machines from Penguin Computing last week when that Linux system and cluster maker announced that it had been certified as an official manufacturer by the Open Compute Project. Avnet, Hyve Solutions, and ZT Systems are now also shipping Roadrunner-based systems.
"It is going to be a versatile box and will be used for a lot of different things," Steve Ichinaga, senior vice president and general manager for Hyve Solutions, tells El Reg. Hyve is the custom server design and manufacturing division of Synnex, a $10.3bn IT distributor.
The initial uptake for Roadrunner systems is expected to come from the high freaky trading community, which participated heavily in the board and related systems designs, particularly for 1U and 2U servers as outlined below: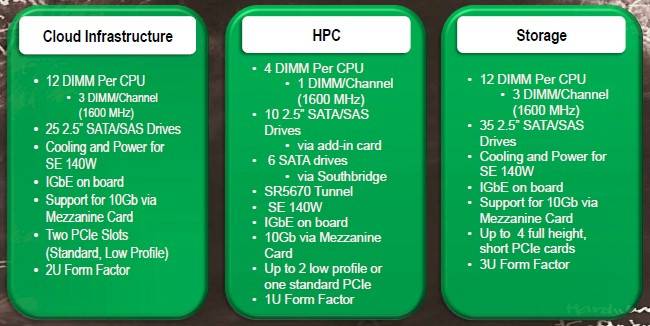 Targeted configurations of the AMD Roadrunner systems
The Roadrunner board is 16 inches by 16.7 inches and is a bit of a blast from the past in terms of returning to more traditional motherboard sizes for OCP machines, says Ichinaga, as the OCP V1.0 boxes were from two years ago.
Since then, Facebook has put out half-width and third-width server nodes for its vanity free server enclosures, but these do not have enough local disk storage or main memory to suit the financial services firms who pushed for the larger motherboards.
The Roadrunner mobo uses AMD's "Fiorano" SR5670/SP5100 chipset and the latest Opteron 6300 processors, which have four channels of DDR3 main memory per socket and three DIMMs per channel, for a maximum of a dozen DIMMs per socket.
The motherboard has six SATA ports, two PCI-Express 2.0 x16 slots, and two PCI-Express 2.0 x8 slots, as well as a PCI-Express 2.0 x8 "mini-mezzanine" slot for plugging in 10G/sec Ethernet controllers – if you need more than the two Broadcom 5720 Gigabit Ethernet ports that are on the board.
Any mezzanine card that can plug into an x8 slot is supported, but the preferred one will probably be the ConnectX-2 or ConnectX-3 cards from Mellanox Technologies.
Roadrunner also has two USB ports and a Broadcom 5725 management port, and it links into the Open Machine Management tools that the OCP is fostering.
Hyve doesn't talk about its volumes or who its customers are – aside from Facebook, which has authorized it to say that it is indeed peddling OCP servers to Zuck & Co. But Ichinaga did say that it is only now beginning to sample systems with prospective customers, who are trying to see where the Opteron boxes might fit into their infrastructure. It is even possible that Roadrunner machines will make their way into enterprise data centers, given the versatility and compactness of the design.
"It has a lot of potential to go downstream, and it would be very natural that the next tier of customers would want them," says Ichinaga. "Even if customers don't go for the full OCP solution, they will still try to take advantage of some of the benefits without the power and rack size requirements of other OCP machines."
Despite the financial services angle that led to the creation of the Roadrunner board and systems, all AMD said about the boxes is that in benchmark tests it has done on Roadrunner systems compared to "proprietary OEM servers" (presumably based on Xeon E5 processors, but AMD did not say), a Roadrunner box had a total cost of ownership of $4,589 compared to $10,669, which would drop the cost of a VDI slice on the server from $91 to $38. ®
Similar topics
Narrower topics