Firefox 21 ships with performance-profiling Health Report
Phones home with stats on startup, crashes, and more
---
The Mozilla Foundation has shipped the latest version of its Firefox web browser with a new Health Report feature that monitors browser behavior and optionally submits usage statistics back to Mozilla to help reduce crashes and other problems.
According to a blog post by VP of Firefox engineering Johnathan Nightingale, the initial Health Report includes just a few basic stats about the browser's operation, such as how long it took to start up, how long it has been running, and how often it crashed.
But Nightingale says Mozilla plans to add additional statistics to the report in the coming weeks, and that as trends emerge among multiple users, Firefox developers will be able to produce better support information for the browser and even allow it to heal itself from common problems.
Users of Firefox version 21.0 or later can examine their browser's current Health Report by accessing it from the Help menu. More controversially, however, the browser is also configured to periodically submit its usage information back to Mozilla by default.
That phoning-home behavior can be easily disabled via a switch on the report itself, but Mozilla Foundation Chair Mitchell Baker hopes most users will leave it on. Not only will the Health Report help Mozilla improve Firefox, as she wrote in a 2012 blog post, but it can also provide individual users with data that can help them help themselves.
"We've designed [the Health Report] to provide useful information to you about your experience," Baker explained. "For example: is a particular add-on causing performance to degrade? Will starting a new Firefox profile help improve performance?"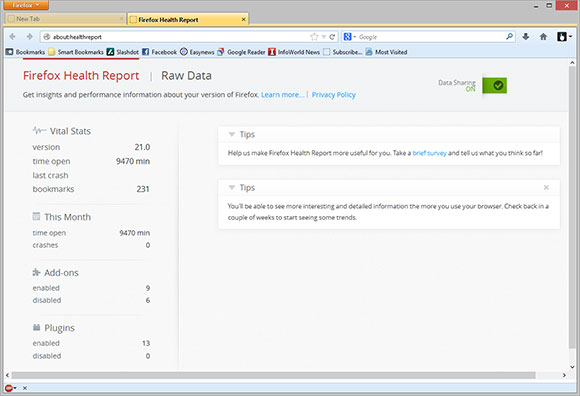 If sharing this kind of data gives you the heebie-jeebies, you'll want to switch off the Firefox Health Report
According to Baker, the Health Report uses data "in a privacy-centric way," and that it doesn't gather any personal information.
Firefox developer Gilbert Fitzgerald likened it to the sensors inside modern cars, which aggregate data from a vast number of cars in order to deliver better driving experiences.
We'd sooner compare it to the similar data-gathering functions found in various modern desktop software, including most of the other major browsers and applications such as Microsoft Office. But hey, why waste a car analogy when you can find one?
Users who do decide to disable the data-sharing feature will still be able to check their own Health Reports, their data just won't be sent to Mozilla to join the rest of the pool.
In addition to the Health Report, Firefox 21 includes a number of other new features, mostly minor. The Social API now supports more providers than just Facebook Messenger. The Do Not Track UI has been added to include an option that says "Tell sites that I want to be tracked" (yes, really).
In addition, a couple of new developer tools have been added, as has support for some new HTML5 elements. And then there are the usual performance improvements. A full list of the changes can be found in the release notes.
Otherwise, if you're ready to dive in, the new version is available via the Firefox auto-update beginning on Tuesday, or new users can download it from firefox.com. ®
Similar topics
Broader topics