Live Blog: Google I/O keynote
Chocolate Factory shows off the new goodies
---
Google I/O At 7am this morning, the streets of San Francisco were thronged with developers lining up to get into Google's annual I/O conference.
Over 6,000 delegates have signed up for the show and they all want the best seats for the opening keynote presentation that will lay out Google's plans for the next year's developments in Android, Chrome, Go, Glass and whatever new surprises the Chocolate Factory has in store.
This will be Sundar Pichai's first I/O since he took over the combined reins of Android and Chrome and expectations are high. But the expectation is that there will be less of the skydiving Glass wearers and more in-depth coding this time around.
8:00am The press are getting into line outside the conference venue. We're lucky to get in first; we can hear the bellows of developers on the floor below and, if they were left to their own devices, there would be some serious crush damage to participants.
8:19am There are a lot of Googlers wearing Project Glass spectacles, and a fair few of the press corps as well, although in the latter case I've yet to see a woman wear them. Then again, the tech press is notoriously male-heavy (pun definitely intended).
8:30am The doors open and everyone sprints for the best seats. Despite some media arguing they should get the best seats as a right (I'm looking at you, New York Times) it's a case of everyone for themselves. Managed to bag both a power and LAN cable – we are ready to rumble.
8:56am OK, they're cranking up the house music. Feels like a nightclub in here – lots of people stumbling around looking dazed and quite a lot of rowdiness.
9:01am It begins. Vic Gundotra does the opening for the 6th annual I/O. Claims over a million viewers are watching online. A quick thank you to the developers for coming and he introduces Sundar.
9:04am Sundar says we're at a unique inflection point. Over the last seven years, smartphones and tablets have changed the PC equation.The increase in the types of computers we use has moved from PCs and laptops to included phones, fondleslabs, cars, and thermostats. "It's one of the most important moments in computing."
9:07am We have two scalable, fast growing platforms: Android and Chrome. Android's the world's most popular OS and Chrome is the most popular browser in the world.
9:10am Deep dive time, with Android going first. Last year, Google had 400 million Android activations. This year it's 900 million. "We couldn't have got there without developers." But there are seven billion people on the planet and a long way to go, he says.
9:13am Hugo Barra, VP of product management for Android, takes to the stage. Google Play has had 48 billion application installs, 2.5 billion in last month. In the first four months of 2013, Google has already paid out more cash to developers than for all of last year. Revenue per user is up two and a half times on last year's figure.
9:17am Three new APIs for location developers announced: Fused location provider, which uses all available sources to pinpoint location and has a low-power mode that uses 1 per cent of battery per hour; Geo-fencing, to spot users entering geographic zones; and Activity Recognition to see what users are up to. Cross-platform single sign-on across applications is also being added.
9:21am Google Cloud Messaging (GCM) is getting upgraded. It now supports persistent connections to servers, upstream messaging is now possible (big round of applause from the audience) and a new GCM API that synchronizes notifications. There are 17 billion GCM's sent per day, and these changes should prove popular.
9:26am Google Play Game Services, a collection of APIs for game developers, is now available, Barra says. These include Cloud Save to hold players' places, an Achievements API for bragging, and Leaderboards for public player ranking. These will come for Android, iOS, and web for cross-platform support. These are available today for Android 4.0 and above.
There's also a multiplayer service for matching players in competitions. This needs a lot of network management and it integrates with Google+ to find new players. Riptide 2, a jet-ski racing game out later this year, will use the system. Sadly, we can't see it – the demo just crashed. Red faces all round. They're going to skip it, saying the networking environment "isn't friendly."
9:31am Android Studio is announced, a development environment aimed at speeding up code building. It's a full IDE with an Android-friendly code editor with margin previews for editing. The IDE also has a live simulator so you can see code run in real time on tablets and smartphones. Cloud messaging can be added simply, and more developments are to come.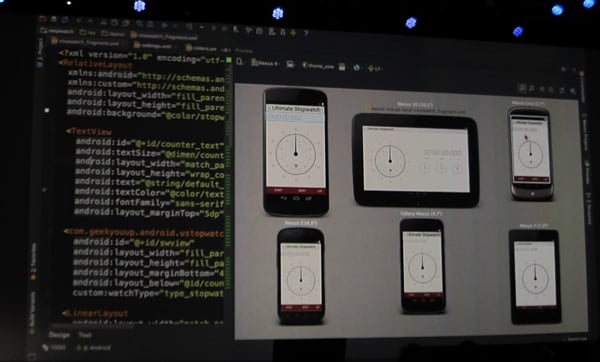 Android Studio simulating multiple devices
9:39am Last year Google introduced Google Play Developer Console and it's adding five new features. One is Optimization Tips, which suggests code improvements like adding language support for large groups of users. Another is an App Translation Service, which will translate strings into foreign languages – Russian is being demonstrated. This then gets quotes from translators who will do the job. This is a pilot program so far.
Referral tracking will monitor what adverts in apps are most effective and return data on where installs and viewers are coming from. These will be viewed in the developer console when it goes live. As for money, Revenue Graphs is new – a tab in the developer console giving revenue breakdown by day, week, year, and by country.
Beta testing and Staged Rollouts, launched today. Beta testing access is organized by Google+ groups and code can be rolled out on a percentage basis to your users. Comments on the code are private, not public.
9:40am Chris Yerga, engineering director for Android, takes the stage to talk about Google Play. Play stores are going to be personalized and there'll be a special section where tablet apps will be displayed. Over the next few weeks, web users will get the same features without needing to use Android.
9:48am Music is going to be a real focus. Chris has announced Google Play Music All Access – "a Google approach to music subscription." Entering an Explore window shows personalized recommendations in 22 top-level genres and playlists from Google music editors. Anything you see, you can start playing, and you can get a "never-ending list" to act as a radio station. So, Android Pandora, then.
All Access costs $9.99 a month, with a 30 day free trial. It launches today in the US and other countries will come soon. Start a trial by June 30 and you'll pay only $7.99 a month.
9:54am On to devices. Barra says he's blown away by the new devices from HTC and Samsung's Galaxy S4. He uses his own S4 to demo a new Nexus look and feel for the phone. On June 26 Google Play will start selling the unlocked Nexus S4 for $649 for AT&T and T-Mobile – the developer audience is not impressed with that price.
9:56am Sundar's back to talk Chrome. Today Chrome has 750 million regular users – a lot of them mobile. "We think we can do for the mobile app what we did with the desktop app."
9:58am As for Chromebooks, Samsung's 550 model has spent 190 consecutive days at the top of Amazon's sales lists for laptops. The Chromebook Pixel is also popular, he says.
10:01am The theme is that everything you get on desktop Chrome is coming to Android. He's demoing a 3D WebGL game based around the forthcoming Hobbit movie. "WebGL is something new to Chrome and makes it all possible."
10:08am Linus Upson, VP of engineering for Chrome takes to the stage. "The browser is a means, not an end," he says, and they want to keep mobile browsing fast, but with a small footprint. In the last year, JavaScript performance on mobile is up 57 per cent, he claims.
When online, 60 per cent of data is images. So Google's developed WebP as a royalty-free format to handle them with reduced data usage. It supports lossless compression, metadata, and animated images, as well as other image formats like GIFs and JPEGS.
By the end of 2012, over half of mobile traffic was video, Upson says, and WebP includes the new VP9 video engine, which is 63 per cent smaller than H.264 in the demo and about 50 per cent online. YouTube is rolling out support later this year.
10:10am Buying on mobile is hard, typically taking over 20 steps, so the abandon rate on shopping carts on phones is 97 per cent. Android users can now take this down to three steps with stored sign-on data. Hope the security is tight.
10:18 Sundar is back. The first giveaway has been announced. Every attendee is getting a Chromebook Pixel – huge applause from the crowd. Google always gives away kit, but this is a very pricey laptop and possibly the highest-value freebie ever.
10:20 Google Apps time. It's big in education (seven Ivy League schools out of eight use it) and now Google wants Chrome and Android to work better in schools. Chris Yerga is back to explain how, with a new initiative to get Android tablets into schools.
There's to be a new section in the Play store: Google Play for Education. This has apps recommended by educators for school users, and admins can push apps onto tablets and file a purchase order online. Books and videos can also be pushed out. In a pilot program, students used 550 apps a day – a big developer market. Google Play for Education launches in the Fall but app submissions start in June.
10:25am Sundar commits to a big push by Google in education. Chromebooks have been adopted by 2,000 schools this year, around the world.
10:29am Vic Gundotra is back to talk about Google+. He says Google has 41 new features planned. The stream is being redesigned, Hangouts are getting a revamp, and there will be a "totally new photo experience."
Streams are too flat – they scroll but you can't dig down, he says. Later today, the stream will go to multiple columns on the screen, with big picture and video viewing. Menus and animation blocks move dynamically to fit screens and "related hashtags" will be added – where Google applies hashtags to your posts – unless users choose to block it.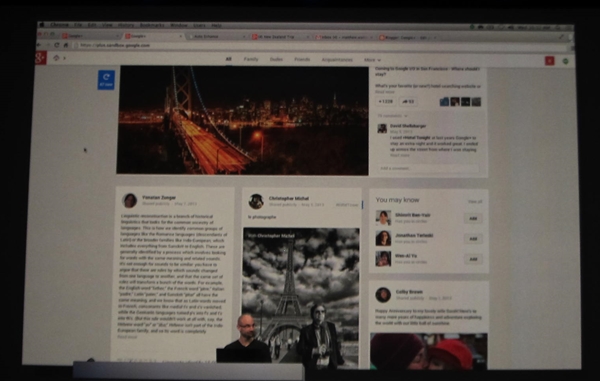 The new stream for Google+
10:38 Half of all sharing on Google+ is done in Circles, so the same conversations are needed in Hangouts he says. Hangouts can now carry on long-term and be viewed, and synced, across different devices. Images and albums can be shared, and new entrants to the conversation can come in when they want. It's available on Android, web, and iOS from Wednesday afternoon.
10:42am It is very labor-intensive to organize, share, and upload photos. Google wants to make "our data centers as your darkroom, going beyond backup." Google+ backs up all your photos at standard size of 5GB for full-sized photos. That's going up to 15Gb from Wednesday.
A Highlighting function will pick the best images out of a huge pile of photos. It checks for blur, duplicates, poor exposures, and photos that focus on people and landmarks. Hundreds of human trainers have been tweaking the algorithms. It also looks for people who are in your Family Circle. It comes out Wednesday evening.
10:47am Photos need to be tweaked, so Google is introducing an auto-enhance function for pictures. Enhancements include reducing noise, skin softening (think soft-focus), exposure shifts, and red-eye removal. The effects look good, but it could make a lot of pictures look very generic if it's widely used.
Finally there's an Awesome function, which makes GIFs out of action shorts, creates collages of portraits, and stitches photos. Google's already gone through Google+ photos and will add them tonight.
10:55am 10:55am Amit Singhal comes to the stage to talk Search with the title "the end of search as we know it." As a kid he wanted a talking computer like in Star Trek, he says, and now he has done it. The search of the future needs to answer, converse, and anticipate.
Answering questions is a function of Knowledge Graph, and soon you will start getting statistics from this. For example, if you search for the GDP of India it's will also show you the GDP of other countries. Knowledge Graph is already in eight languages, and today they are adding Polish, Turkish, and Chinese.
There's currently a Gmail trial of personalized search (where you ask, "What are my dinner plans?") and conversational search is on Android and iOS, but now it's coming onto desktops and laptops as well. "Hotwording" is also added – just say "OK Google," then ask a question.
11:03am Soon you will be able to set reminders in Google Now and they will show up as needed. Public transit commuting times are also included to anticipate our needs.
11:06am Demo time. Hotwording looks cool, but a microphone is going to be essential to get good results, so while it's handy for phones, I'm not sure about the desktop without wearing a headset. The conversational style of the software looks good – but this is a stage demo. Real life could be very different.
11:12am This search experience is rapidly developing and it will be some time before Google gets there, Amit says, but the company is committed to it. "It will change the beautiful journey we call life." A bit heavy, but it's a cute sentiment.
11:15am Brian McClendon, VP of Google Maps, comes on to do his bit.
11:18am North Korea was the two-hundredth country added to Google Maps, he says. This comes in part from Google's own data, third-party data, and geocoded photos. In addition, Street View cars have done five million miles and covered 50 countries, as well as taking Street View cameras down the Amazon, up the Alps, and into the Great Barrier Reef.
All this is getting mixed with terrain and building data to map out cities in fine detail. Local business data is also added in – that's going to help Google's ad business. Over a million companies now use Google Maps to show where their offices are, he says.
11:22am Now Google wants to take this to mobile. There's a nice dig at Apple for its lousy Maps app (to a huge cheer from developers) and both iOS and Android users will be getting an updated Google Maps app this summer.
Google's adding in a rating system for businesses, and these will show up on Google search and maps results, as well as Zagat badging for rated restaurants. Offers can also be integrated into the results for local promotions. The offer logo is at least discrete, and should be lucrative without being annoying.
11:28am For navigation, live coverage of traffic accidents and alerts is being added, and the system will now offer dynamic rerouting to get around new traffic snarl-ups. Fondleslab users are also getting their own version of Maps that's optimized for the extra screen acreage.
11:32am So what's next for Maps? Google wants to build personalized Maps with more immersive imagery and a new user interface. This needs a ground-up rewrite.
The new mapping screen throws in search results onto the map, and includes tabs to get recommendations from friends and to allow the display of images of restaurants and buildings. Users can also add their own most important locations and can share them with friends. Schedules can also be built in – so you can look for a trip that can be done in 30 minutes, for example.
It's not bad, but hardly as revolutionary as Google is saying. Users will like it, as will advertisers, and the coding looks very smooth. As you scale back, you can see the whole Earth and then its place in the solar system. A night view of Earth is also included.
This is, however, a demo. In the real world it could be somewhat different. The first invites for the service will go out on Thursday.
11:43am Larry Page is on stage, sounding very faint and high-voiced - think Michael Jackson after a cigar binge.
It's vital to get more people involved in technology, he says, recounting how his dad smuggled him into a robotics conference. Android is now leading this push, he says, and smartphones are getting better all the time.
"Technology should do the hard work, so you can get on and live your life," he says, adding that we haven't seen this pace of development in computing before, even with the PC, and that the opportunity is bigger than ever. "We're only at one per cent of what's possible and we're moving slow relative to the opportunity we have."
He says Sergey is working on the self-driving car and when it is introduced it will both eliminate the time wasted in commuting and reshape the landscape, with less need for parking. People will marvel at the time we wasted driving.
"We're just scratching the surface of what's possible and what's next."
Now, unusually for I/O, he's going to do a Q&A with the audience. Gutsy move.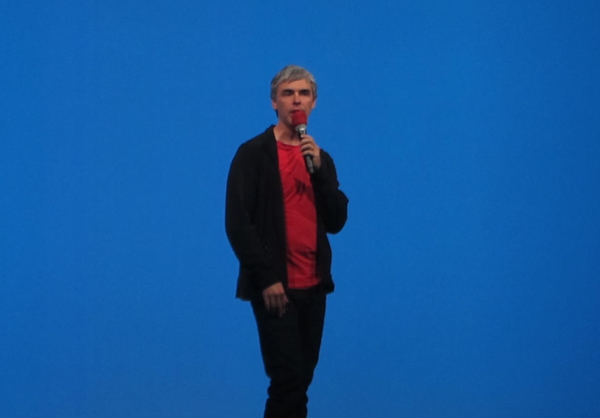 A surprise visit from Larry
11:56am Mobile is useful for getting the computer out of the way and that's going to happen with devices as they understand the context of your life from multiple sensors.
12:00pm As for the future of the web, it has to be around open standards, he says. Page says he's sad about the siloing of technologies like instant messaging. This week Microsoft did just this with Google's IM client without giving anything back in interoperability. It's negative and holding back the web, he says.
"Software should run everywhere, and easily."
How will Google protect freedom of speech? Page says Google fights for freedom of information around the world to advance that – which is why Eric Schmidt's on a tour of the world's dictatorships to try and get them to open up. Google, too, also needs to be transparent.
12:03pm From an engineering standpoint, Google Fiber is a no-brainer. It's sad that all these computers are connected by such a tiny pipe, so while there's a way to go (for both software and hardware), things will have to change. Gigabit speeds are just the beginning – connections should go at computer speed.
12:05pm Google's foray into hardware. Sergey's focusing on this, Page said, and the possibilities are huge, but the engineering challenge is bigger than software. People say we're crazy, but there are enormous opportunities and progress feeds back into the company. The money spent on Maps has been used in the automated car program, he says.
12:09pm Glass is an ongoing project and the main challenge is to get people to use it and try the system. The communications and navigation are amazing, particularly in cities, he says, and voice control is great. "A lot of your computing experience can move to Glass."
12:12pm Asked to give his advice for the future, Page says, "Understand the crazy people." Google's great for that, he says, there are loads of them there. As an engineer, stick to first principles: "What is the real issue?" People usually don't answer those questions and we don't make the progress we need to. Take the long view and then figure out how to make money.
12:15pm "We have a difficult relationship with Oracle," he says. Larry Ellison is too focused on money, he says, in a very blunt fashion. Huge applause from the crowd on that. This might hurt Android, but we'll see, he says.
In the future, computers need to understand us better. People are starving in the world, not because we don't produce enough, but because of other problems. Computers and software can solve these problems for humanity.
12:19pm When asked for his advice on how to make computing more positive, Page says not all change is good, but the pace is increasing. We don't have mechanisms, and institutions, like the law, aren't keeping up. We need to go into other areas and help them understand the technology and how it can be applied.
Laws are useful, but some things need to be tried that are illegal. Technologists need safe places to try new things before deploying them. He cited Burning Man as an example of this. Page is a "Burner" and says he knows some of the audience are, too. Tonight, some of the Burners are putting on a show, he says.
12:22pm A healthcare question. Google Health was stymied by regulation and that is true for the industry. He says we'll see amazing things in healthcare. Since disclosing his voice issues, Page says going public has brought in huge amounts of information.
But people are scared to share medical details because of the fear of being denied insurance. This needs to change, he says.
12:27pm How do we get more women in the tech field? Page says they interview as many women as possible, but we need to get to girls early in school. If we do, we'll double the rate of progress the world makes.
As for the developing world, smartphones are going to be amazing, but prices need to come down. They will, but it will take a few years. Page says he can run his company from his phone and people are underestimating how fast phones will change things.
12:30pm That's it folks, the end of the keynote.
Unusually, this year there's been no big announcement, just a host of little ones. We'll see what the breakout sessions offer. ®