Murdoch hate sparks mass bitchin', rapid evacuation from O2, BE
1 in 3 polled punters will quit ISP gobbled by Sky
---
Boycotting Rupert Murdoch-owned stuff - such as the media baron's newspapers - is nothing new.
But now that Telefónica UK has sold its O2 and BE home broadband businesses to BSkyB, customers are either fleeing the networks or moaning bitterly about who they perceive to be their looming "nasty old" overlord.
O2 and BE punters are reportedly scrapping their subscriptions before the £180m acquisition by Sky is done and dusted, all because 39 per cent of BSkyB is owned by Murdoch's News Corp.
Two thirds of BE subscribers polled on the internet biz's website said they will leave the broadband service - with one third directly naming Murdoch as the reason why.
And an unnamed employee at O2 told the Daily Mirror today that the ISP was inundated with calls from furious customers who "don't want to line Murdoch's pockets".
Apparently, O2 staff have been told to carefully field the phone messages. An internal message to workers reads:
If you receive any ­objections regarding Murdoch, please can you handle with sensitivity and if necessary for clarification we can use the below as a stance to support.
It goes on to explain that News Corp holds a minority share of BSkyB and operates as a "separate company".
O2 and BE have at least 500,000 subscribers on their home broadband and fixed-line books. But last week Telefónica UK admitted a huge number of customers fled the service ahead of BSkyB's buyout.
More than 40,000 people tore up their O2 and BE contracts according to the company's most recent quarter [PDF] - that's a whopping 15.9 per cent of its subscribers.
The exodus of customers was highlighted by a survey on BE's website, which asked people whether they will stay or go once BSkyB takes the reins. A damning but completely unscientific poll showed that ONLY SEVEN people out of 982 responding to the question "are you leaving or staying?" opted for: "I'll stay with BE and move to Sky."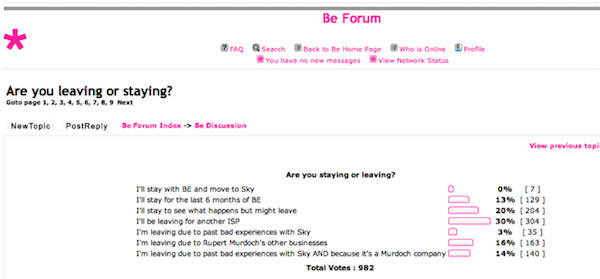 Buyout bye-bye ... that damning BE user poll
Another 204 customers said they will hang around to "see what happens but might leave". A third of respondents (304 people) said they would move to another ISP.
And Murdoch, unsurprisingly, is singled out as the reason why: 163 BE customers said they will quit the telco "due to Rupert Murdoch's other businesses", and 140 confirmed: "I'm leaving due to past bad experiences with Sky AND because it's a Murdoch company." ®