Overland Storage may acquire Tandberg
Cripple plus walking wounded equals able-bodied entity
---
Overland Storage may be about to acquire Tandberg Data.
A crippled tape and disk data protection and NAS storage supplier bleeding cash, Overland Storage is looking for respite from its financial woes by acquiring, on a basis of equals, the newly recovered Tandberg Data.
The news is laid out in an SEC form SC 13D/A filing document. It contains a letter from Cyrus Capital to Overland CEO Eric Kelly which includes this revelation:
As you are aware, Cyrus and FBC Holdings Sarl ("FBC", an affiliate of Cyrus and Tandberg's shareholder) have been in discussions with you about a business combination between Tandberg and Overland for some period of time. Each party has completed substantial due diligence, has shared financial information and collectively examined the synergies and value creation that could be realised by a combination of the two businesses.
Tandberg Data filed for bankruptcy in Norway in April 2009 after it was unable to repay a loan from Cyrus Capital, and Cyrus then effectively ended up owning Tandberg Data. Since then Tandberg has built up its RDX removable disk storage business and entered the NAS market.
Overland Data is another failed tape vendor which diversified into disk data protection, disastrously, and has built up a line of NAS products. It has been holding out for a favourable outcome for a patent infringement lawsuit against European tape autoloader supplier BDT and potential contingent fines or royalty fees from vendors using the BDT products. The multi-faceted case is winding its tortuous way through the relevant legal systems.
Overland is a loss-making business and has been for at least three years. It is facing a Nasdaq delisting due to insufficient market capitalisation.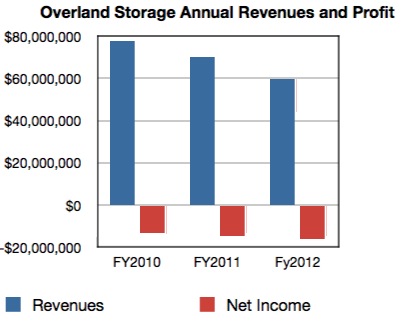 The most recent financial numbers continue the downward trend. For its third fiscal 2013 quarter, ended March 31, Overland recorded revenues of $11.6 million, compared to $12.6 million for the prior quarter and $15.2 million a year ago. The net loss for the third quarter was $5.1 million, compared to losses of $4.3 million in the previous quarter and $3.8 million a year ago. It just keeps on getting worse.
The Cyrus letter says "Tandberg's revenue for the calendar year ended 2012 on a US GAAP basis was approximately $67 million." Overland's 2012 revenues were $59.6 million
Cyrus Capital Partners announced it owned 19.9 per cent of Overland's shares on February 22nd. It and FBC Holdings have been in discussion with Overland about a business combination with Tandberg Data for some time and the letter proposes:
- Overland would acquire Tandberg on the basis of a merger of equals (i.e., Overland's shareholders, on a fully diluted basis, would own 50 per cent of Overland after the combination and Tandberg's shareholders would own the remaining 50 per cent)

- In addition, it is anticipated that the Transaction may include an opportunity for Overland shareholders to receive cash for a portion of their shareholdings in Overland

- Overland would have a majority on the combined business' board.
The letter provides this reason for the joining together of the two companies:
Currently Overland is not free cash flow positive and the company is burning cash as it completes its business transition and strategy implementation.

A deal with Tandberg will greatly improve both the size and scale of the business and will allow the combined entity, in our opinion, to generate significant free cash flow versus historical performance.
Tandberg Data CEO Pat Clarke said;
The bottom line is that our sector can do with some level of consolidation that makes sense. Our view is that a merger of Tandberg Data and Overland Storage makes a lot of sense for many reasons a lot of which is cited into the letter to Eric Kelly earlier today.

The increased scale of a combined company will result in a very strong storage company that has a great channel and OEM customers along with very good IP and products. The combination will allow the merged companies to invest more into developing products and driving revenue. We consider this to be a very exciting opportunity and we will now wait to see how things develop over the coming days.
Overland's directors have until May 18 to agree to the proposal or it will be withdrawn. ®