This article is more than 1 year old
Review: HP Pavilion 14 Chromebook
All roads lead to Chrome?
If you read my comparison of the Asus C7 and Samsung Series 3 Chromebooks, you may well have come away thinking: "All well and good, but can I have something with a bigger screen for the same sort of money?"
Now, thanks to HP, the answer to that question is yes.
The latest entry into the Chromebook steeplechase is powered by the same 1.1GHz dual-core Intel Celeron 847 processor as the Acer C7 but it comes with a 14-inch, 1366 x 768 screen rather than the 11.6-inch jobs that both the Acer and Samsung Chromebooks sport. And all for £250.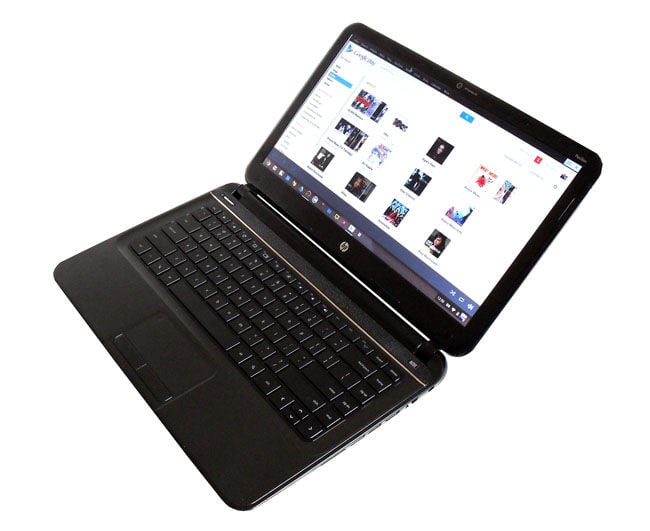 HP's Pavilion 14 Chromebook: screen star?
The new Pavilion Chromebook shares its case and chassis with the rather more expensive Windows 8- and Core i3-based HP Pavilion Sleekbook. This means it looks and feels a rather more serious and expensive bit of kit than the alternatives. I particularly like the anthracite finish on the keyboard deck and lid.
Like other budget Chromebooks, the Pavilion is made entirely of plastic but it is finished to a higher standard and feels more solid. There are no squeaks or creaks to be heard no matter how severely you poke, prod or twist it. The lid is pretty stiff too, and the hinge has a smooth and well-weighted action.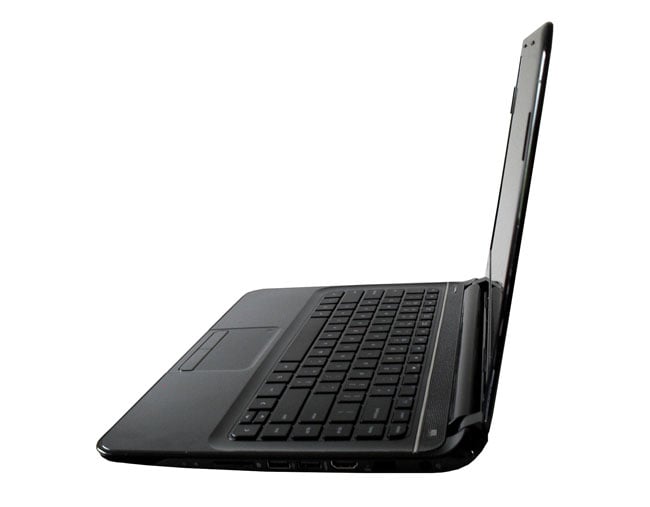 A solid lid mounted on a smooth, well-weighted hinge
I know that many Reg readers will say that the 1366 x 768 resolution is too low for a screen this size - but this is the budget end of the market. I don't see £250 getting you a machine with a 1600 x 900 panel any time soon. Resolution aside, 14 inches is surely the sweet spot between portability and usability, the lower pixel-per-inch count compared to a 11.6-inch panel notwithstanding.
If the gloss finish display doesn't boast a resolution to worry the 2560 x 1700 Chromebook Pixel, it's still brighter and more colourful than the screens fitted to either the C7 and S3 - though, like them, its viewing angles are nothing to shout about.

Sleek and black. What more do you want for 250 quid?
At 1.8kg the Pavilion is 400g heavier than the C7 but I can't think of a circumstance where the difference is anything other than academic. HP does better when it comes to thickness: at a uniform 20.7mm it's only 1mm thicker than the skinny Samsung Series 3.
Start to tap away at the chiclet keyboard and it becomes more obvious we are in the bargain basement. It's not an improvement on the already unimpressive keyboards fitted to the Samsung and Acer machines. The key action is shallow, loose and generally cheap-feeling, and once again you have to get used to a US rather UK layout complete with a horizontal return key.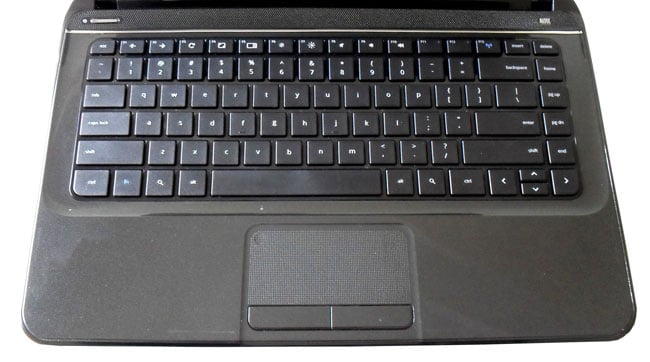 Keyboard is US spec and feels cheap
On the plus side, the keyboard is more spacious than those on the Acer and Samsung, and you get useful home/page, up/page, down and end keys on the right-hand side.