This article is more than 1 year old
Rolls-Royce climbs aboard Bloodhound SUPERSONIC car
Cash and tech support for mighty motor's mighty motor
Rolls-Royce has announced it will back the Bloodhound SuperSonic Car (SSC), despite the company's "pretty robust policy about using our power plants in applications for which they were not designed".
Bloodhound will be partially powered by a Rolls-Royce EJ200 jet engine, normally found giving the Eurofighter-Typhoon a powerful kick up the backside. The team hopes the unit - in conjunction with the Falcon Hybrid Rocket - will enable pilot Andy Green to first break the current land speed record of 1,228km/h, and then hit 1,600km/h.*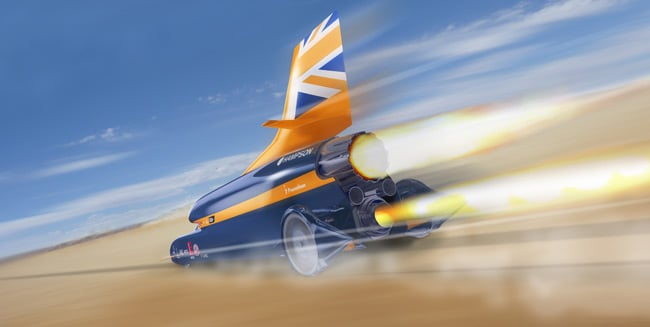 Bloodhound SSC: Faster than the proverbial brown stuff off a shovel
Green is, along with project director Richard Noble and other "key personnel", a veteran of Thrust SSC, which in 1997 claimed the "first Supersonic World Land Speed Record". It's this experience which has prompted Rolls-Royce to climb aboard Bloodhound with "financial as well as technical support".
Colin Smith, Rolls-Royce's manufacturer's director of engineering and technology, told the BBC: "The reason we're prepared to relax this policy in this case is because Bloodhound is a professional organisation. I am impressed by Richard Noble's design process and his safety process, and he has a track record."
Bloodhound SSC has three EJ200 "development engines" available, courtesy of the Ministry of Defence. A couple are destined for the car itself, while the third will provide spare parts. Rolls-Royce has one clamped to a bench at its Bristol testbed facility, where Bloodhound boffins are making sure it'll interface properly with the car.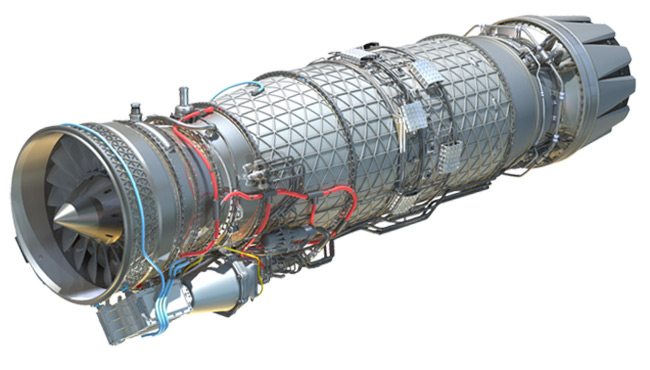 An EJ200 for your viewing pleasure
Mark Chapman, Bloodhound's chief engineer, explained: "The EJ200 was designed with one aircraft in mind - the Eurofighter-Typhoon. It lives within the Typhoon control system, so we've had to mimic a lot of the Typhoon inputs so that that engine still thinks it's in a Eurofighter."
The EJ200 will ultimately propel Bloodhound to around 560km/h, after which the Falcon Hybrid Rocket will kick in. Burning hydroxyl-terminated polybutadiene solid fuel and high-test peroxide (HTP) oxidiser, the Falcon will produce 111kN during a 20-second burn.
The moment of truth will come next year at Hakskeen Pan dry lake bed in South Africa, when Andy Green fires up the beast in pursuit of his own record of 1,228km/h. ®
Bootnote
*A symbolic 1,000mph, for those of you who haven't yet got with the programme.