A team of British and Canadian scientists think they've found the oldest water sealed off from the Earth's atmosphere hidden deep in the Earth's crust, and estimate it is between 1.5 and 2.67 billion years old.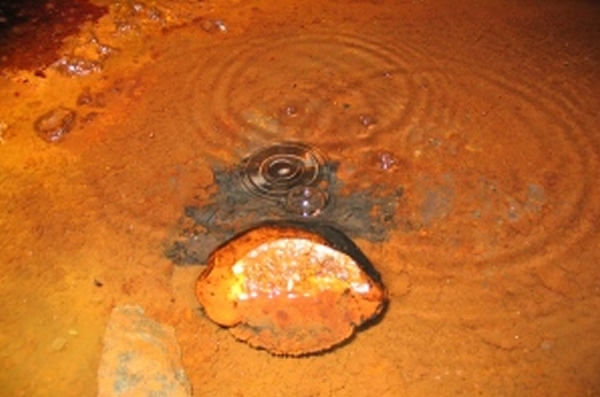 How long before Perrier tries to flog this?
The researchers analyzed water welling up from boreholes drilled 1.5 miles under the planet's surface in a zinc and copper mine in Timmins, Canada. An analysis of the water, particularly its xenon content, suggests it is at least 1.5 billion years old, and even much older if it was around at the time as the rock formations in which it was found – an age range that came as something of a shock.
"We were expecting these fluids to be possibly tens, perhaps even hundreds of millions of years of age," said Chris Ballentine, a geochemist at the University of Manchester, in a statement.
The water was found in the Precambrian Shield, a geological formation covering much of northern Canada, which billions of years ago was at the bottom of a sea. While the water is still being analyzed for signs of microorganisms, it does contain hydrogen, nitrogen, and methane in forms that could support life.
To date, the oldest virgin water supplies have been found in South Africa (around 25 million years old) and more recently a 20-million-year-old sample was taken from Lake Vostok in Antarctica. The new samples from Canada are much older, and their discovery could have implications for the search for life on Mars.
"Mars, like the Precambrian shields on Earth, is dominated by tectonically quiescent geologic terrains which are billions of years old, some with serpentinized ultramafic rocks capable of sustaining production of reduced gases such as found in the terrestrial Archean fracture fluids," the team report in a paper published in Nature.
"If such ancient fluids, with millimolar concentrations of H2 and CH4, are preserved deep in the terrestrial crust on billion-year timescales, perhaps similar potential buried biomes may be preserved at depth in the subsurface of Mars on planetary timescales."
The latest data from the Curiosity rover on Mars suggests that free-flowing water was once common on the Red Planet. The Canadian find could mean that water is still present in the Martian crust and that it might harbor life, as well as being of use to any future colonists. ®
Similar topics