Microsoft conceals job ad in Bing homepage
Use Internet Explorer with debug on? You're our kinda guy
---
Microsoft are looking for a new Bing developer - but you'll need to be pretty smart to apply. Oh, and you can only use Internet Explorer, which rules a fair number of applicants out.
Visitors to the Bing homepage are currently greeted with a weird blue environment of some sort as the background to the search bar. But rich rewards are on offer for the searcher who looks beyond the surface of the blue-and-grey floatyness.
If you're using Internet Explorer and have enabled the browser debug settings*, a small message pops up containing the words: "Do you want to debug this webpage?"
Then, if the you run the IE developer tools console, a clearer message pops up, asking: "Interested in creating Bing.com experiences? Apply today. http://bit.ly/ZZayNx."
Copy and paste the handy bit.ly link into your browser of choice and a job advert comes up, offering the bored lucky surfer a post as a software development engineer with the Bing homepage team.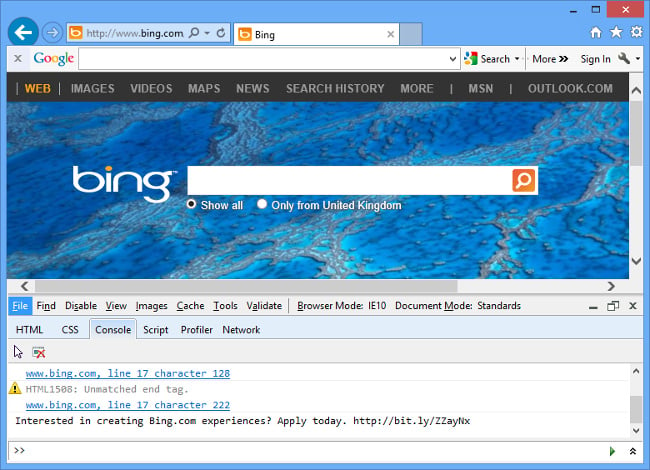 There it is in all its glory, folks
The advert says:
On Bing Homepage team you'll be responsible for developing and shipping experiences on Bing.com homepage which is seen by millions of users every single day. We have a rapid development model where we ship code on daily basis. To ensure great user experiences, your work will involve managing dependencies involving designers, backend teams and other partner teams. You need to be passionate about technology, building great user experiences and cross-team collaboration.
At the time of writing the link had had just 36 clicks, so Reg readers wanting to join Steve Ballmer's merry men probably stand a good chance of getting their CVs to the top of the pile.
There aren't as many IE fans as there used to be. According to StatCounter Global Stats, Internet Explorer's market share of the browser market is now at 31.1 per cent, compared to Chrome's 38.1 percent. ®
Bootnote
* For non-IE'ers, like Vulture Central's production desk, go to Tools > Internet Options > Advanced, and under the "browsing" heading untick "Disable script debugging (Internet Explorer)", "Disable script debugging (other)" and "Display a notification about every script error". Then hit F12 to open the dev tools panel and select "console" to see Redmond's hidden message. Or hit Control-Shift-K in Firefox to open the web console.
But you all knew that already.