Nvidia is now taking orders for its Shield handheld gaming console, three days early, though the Android-running Tegra-powered gadget won't make its way into punters' hands before the end of next month at the earliest.
Shield, which incorporates a clamshell design to hold a flip-up 5-inch, 1280 x 720 "retinal quality" screen, will set you back $349 (£230), though like Nvidia, the three other online retailers from whom the device will be sold are only willing to sell it to North Americans. There's also a limit of four units per customer, at least when purchased directly from Nvidia.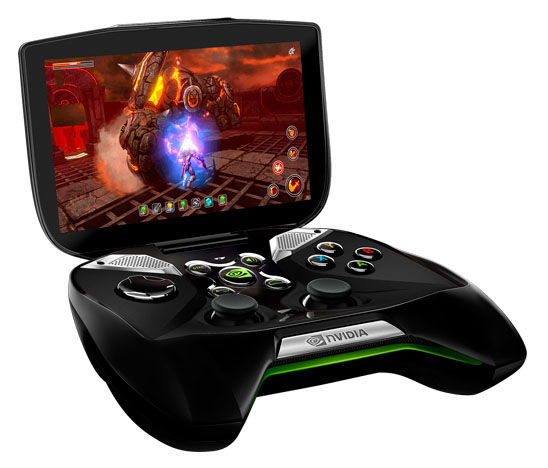 However, one of Nvidia's resale partners is Gamestop, which has a UK presence, so is in a position to ship to Brits if the manufacturer can make sufficient Shields to satisfy US demand.
Each 579g console contains 16GB of flash storage, single-band 2x2 802.11n Wi-Fi, Bluetooth 3.0, a GPS pick-up, and all the many buttons and sticks modern console gamers seem to favour. Think of its as an Xbox or PS3 controller with a pop-up display.
There are a pair of speakers and a mic on board, plus a mini-HDMI port if you find the 5-inch screen too small.
Games can be played on the device itself, but Nvidia will also let owners of mighty gaming PCs - those equipped with its own chippery, of course - use the Shield as a remote controller and display. It'll work with Valve's Steam service too, making use of the latter's Big Picture option. You can pre-order the Shield here
Shield goes up against Ouya, the tabletop Android gaming console also based on Nvidia's Tegra chip, albeit a third-generation part. It's out on 25 June and will cost $100 (£66) which gets you the console with 8GB of Flash storage and HDMI output, and a controller. ®