This article is more than 1 year old
Nine-year-old Opportunity Mars rover sets NASA distance record
All-time champ, however, remains 40-year-old Russki
The never-say-die little rover that could, Opportunity, has set a new distance record for extraterrestrial NASA vehicles.
On Thursday, Opportunity's handlers at NASA's Jet Propulsion Laboratory in Pasadena, California, received confirmation that the li'l fellow had added 80 meters (263 feet) to its total travels, bringing the reading on its odometer – that is, if it had an odometer – to 35.760 kilometers (22.22 statute miles).
This most recent trek leapfrogged Opportunity's roving total over that of the peregrination of Apollo 17 astronauts Eugene Cernan and Harrison Schmitt, who drove their Lunar Roving Vehicle 35.744 kilometers (22.21 statute miles) from December 11 through 13, 1972.
It has taken Opportunity a bit longer than three days to rack up its mileage – it landed on Mars on January 25, 2004. But Opportunity is significantly slower than the LRV: pedal to the metal, it maxes out at 50 millimeters per second, although it usually trudges along at an even more leisurely 10 millimeters per second or so. The LRV was designed to zip along at a top speed of 8 miles per hour, and Cernan is said to have pushed his jalopy to 11.2 mph at one point.
As Aesop noted in his well-known fable of the Tortoise and the Hare, "Slow and steady wins the race."
But "win" is a bit overstated. Opportunity has merely set the NASA-vehicle distance record, not grabbed the all-Earth title. That distinction remains in the hands – or grappling arm, whatever – of Russia's Lunokhod 2 rover, which landed on the moon on January 15, 1973, and started its lunar ramble three days later.
Opportunity, however, doesn't have much farther to go before it breaks Lunokhod 2's record, which NASA says is 37 kilometers (23 miles). In fact, if it makes it from the Cape York area of Endeavour Crater's rim, where it has been working since 2011, to its next destination, Solander Point, that trek would add about 2.2 kilometers (1.4 miles) to its odometer, which would best ol' Lunokhod 2.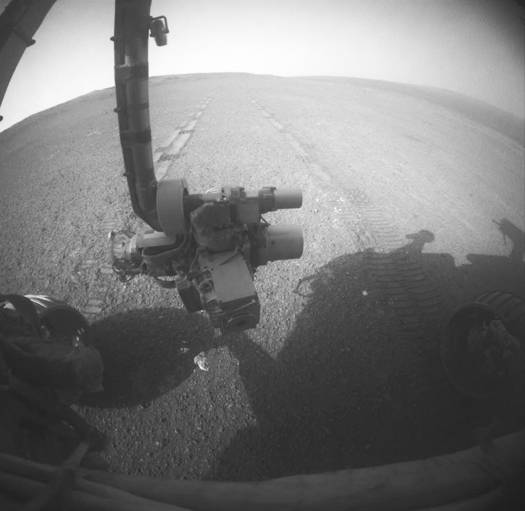 Opportunity has left nearly 36 kilometers of tracks on the surface of Mars – so far
And it just might make it. In fact, we'd advise not betting against Opportunity. When this Honda Civic of extraterrestrial vehicles landed on Mars, the design spec for its mission was a mere 90 days – it has now been chugging along for well over nine years. Not even a recent glitch that put it into a seemingly intractable standby mode could stop it or its indefatigable handlers.
So roll on, little fella, and bring that all-Earth title to the red, white, and blue. Oh, wait – those are the colors of Russia's flag, as well. Never mind – all earthlings are winners. ®