This article is more than 1 year old
Rogue Nokia splinter cell drops its Jolla phone A-BOMB
Ota tuo, vihreä robotti Google!
Smartphone upstart Jolla - founded by a bunch of ex-Nokia engineers - has finally unveiled a device. The gadget's technical details are few and far between at this moment.
The handset itself won't be available until the end of the year, but anyone willing to plonk down €100 can get get in line early for the €399 phone and bag a free t-shirt - along with a clip-on back panel which is a key differentiator for the thing as it competes against rival hardware running Google's Android, Apple's iOS, Microsoft's Windows Phone 8 and BlackBerry's BBOS 10.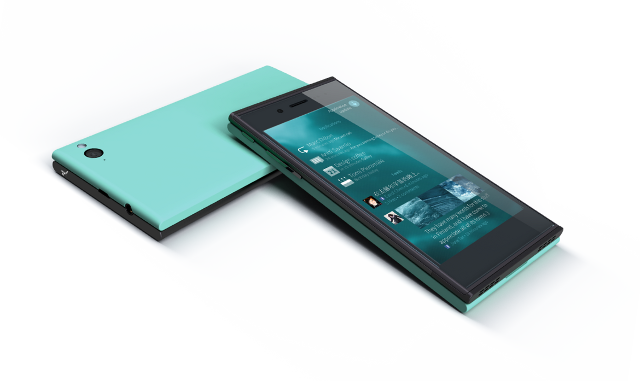 Not a Nokia Lumia ... the Jolla smartphone
The cyan clip-on bit is the "other half" of the handset: a swappable section with some memory, and the ability to change the user interface or add content to the phone - a bit like a removable SD card only bigger, brighter and more proprietary.
The device runs Sailfish OS, a gesture-controlled platform developed by Jolla and previewed last November. Sailfish uses a lightweight flavour of Linux, called the Mer operating system, and has the ability to run Android applications via a compatibility layer. Open-source Mer is based on MeeGo, Nokia's doomed mobile Linux project that Jolla's software engineers used to work on.
Other than that the world knows very little about this new handset from Helsinki-based Jolla. It will feature a 4.5" screen, 4G connectivity, an 8Mp camera, an unnamed dual-core processor and a replaceable battery, along with 16GB of storage and a microSD slot, we're told.
Even those specifications may change, and the price too (although pre-orders are guaranteed it won't go up), which is probably a good thing considering what the competition will likely be offering by then. ®