Hello, Goodbye ... to $408,000: John Lennon axe under the hammer
Not much Vox for an awful lot of bucks
---
A guitar played by both John Lennon and George Harrison has sold at auction for a cool $408k.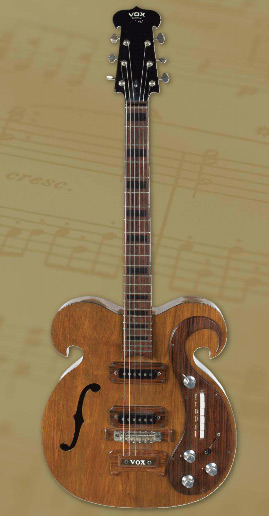 One Vox, yours for $408k
The custom Vox was build for Lennon in 1966 by Mike Bennett and Dick Denney, who handled the instrument's mahogany body and electronics, respectively. In September 1967, it appeared in Harrison's hands during filming of I Am the Walrus for the movie Magical Mystery Tour.
In November of the same year, Lennon had a quick strum while shooting a promo vid in London for Hello, Goodbye.
Lennon subsequently gave the axe as a birthday present to Apple Electronics engineer and Beatles' inner circle member Alexis "Magic Alex" Mardas, who sold it in 2004.
The Vox had been expected to fetch $200,000-$300,000 when the hammer fell at the Hard Rock Cafe in Manhattan on Saturday. Prior to the sale, Martin Nolan of Julien's Auctions, which organised the "Music Icons" event, enthused: "It's extraordinary when you have the opportunity to offer such an amazing piece of music history as the Vox guitar played by both George Harrison and John Lennon."
The anonymous bidder who scooped the guitar evidently agreed the Vox represents "an amazing piece of music history", although not everyone is as impressed with its pedigree.
The instrument doesn't appear in the final cut of I Am the Walrus in Magical Mystery Tour, and is similarly absent from the finished Hello, Goodbye video.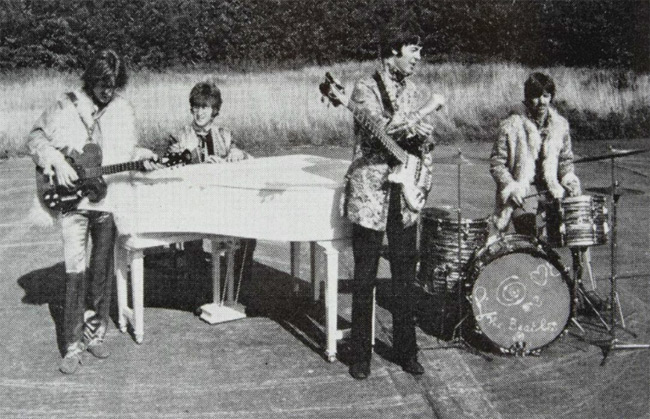 Harrison gives the Vox some stick during the filming of Magical Mystery Tour. Pic: Julien's Auctions
Mark Rozzo, the singer and guitarist of Bambi Kino, "a band that channels the spirit of the Hamburg-era Beatles", told the New York Daily News: "Harrison and Lennon probably played this guitar for a sum total of about 15 minutes. This guitar is totally irrelevant to the Beatles' history and legacy." ®
Bootnote
Other gems up for grabs on Saturday were Jim Morrison handwritten poetry, Jimi Hendrix's personal guitar strap and "jumpsuits from David Cassidy's personal collection".
At time of writing, there's no word on just how much The Partridge Family heartthrob's apparel fetched, but feast your eyes on this scorching outfit, complete with "gold and red metallic appliqué flames and white rhinestones", and estimated to be worth $2,000-$4,000.