Flailing QLogic's boss gives up CEO, president gigs
That seat on the board? You can have that too...
---
Simon Biddiscombe, server adapter maker QLogic's CEO and the driver of its Mount Rainier flash-enhanced HBA program, has resigned "to pursue other opportunities," with a search for a new CEO underway.
Biddiscombe's departure comes after two years of falling revenue and a decline in profitability. He has also left his position as president and vacated his seat on QLogic's board. The board has appointed CFO Jean Hu as the interim CEO, which leads El Reg to believe there was no succession plan.
Exec chairman H K Desai said in a release: "On behalf of the Board, I would like to thank Simon Biddiscombe for his contributions to QLogic over the last five years. We wish Simon well in his future endeavours."
Stifel Nicolaus analyst Aaron Rakers points out that Biddiscombe presented at an investor conference earlier his week. Perhaps the pitch was weak.
Rakers adds: "We would note that this follows the fact that QLogic's fundamentals have continued to deteriorate over the past several quarters with the company reporting an operating margin of only 15.1 per cent in its most recent (March 2013; F4Q13) quarter. … QLogic's trailing 12-month revenue reflects a 18 per cent yr/yr decline."

Simon Biddiscombe
Biddiscombe was originally QLogic's CFO, coming in from Mindspeed Technologies, before being promoted to CEO in November 2010. He sold off QLogic's InfiniBand business to Intel in February 2012.
Then, in the face of a relatively static Fibre Channel HBA market - with virtualised servers no longer needing as many HBAs as physical servers and FCoE not taking off - he moved QLogic into server flash caching with the Mount Rainier project. The storage project adds flash caches to the Fibre Channel HBAs. But it's early days and it has yet to produce any meaningful revenue.
The departing CEO was in Europe seeing customers in early May, just over two weeks ago, and there were no signs of his imminent departure then. A source inside QLogic told El Reg storage desk that the news came as a complete surprise.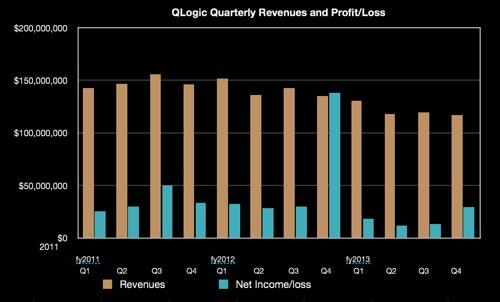 QLogic quarterly revenues to Q4 fy2013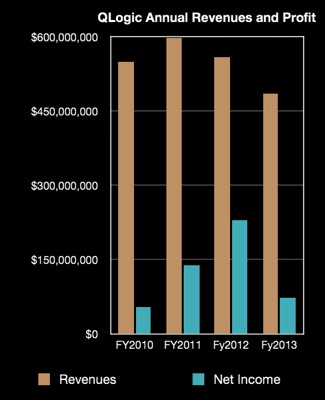 QLogic Annual Revenues to fy2013
QLogic announced its fourth quarter and full fiscal 2013 year results on 3 May, showing both quarterly and annual revenues were down, although quarterly net income was up strongly.
Compared to rival Emulex's loss-making activities, QLogic has been doing well. Perhaps revenues in the first fiscal 2014 quarter are looking poorly, although surely it's early to make such a judgment, as we're only about halfway through the quarter.
It looks like more and more storage CEOs are either resigning or being pushed out. In just over a month, we've seen the departure of Steve Barber from Xyratex, David Flynn from Fusion-io and now Biddiscombe from QLogic. Could it be that Desai is impatient for growth and has lost faith in Biddiscombe's ability to deliver it? ®