Cameron's Tech City: Desks? Yes. Cash? Yes. Coders? Nope
Silicon Roundabout's stovepipe-hat-wearers can't find the staff
---
Lack of skilled staff is hampering the growth of almost half of all tech businesses based around East London's Silicon Roundabout, a survey has found.
Research firm GfK asked top-ranking staff from than a hundred companies based within Shoreditch's Tech City cluster about the problems faced by their businesses.
77 per cent of respondents said a lack of skilled workers is restricting their growth, while 44 per cent said this was the "biggest challenge they face". The Tech City project was unveiled in November 2010 by Prime Minister David Cameron, who said building a British version of California's Silicon Valley was imperative to the national economy.
Most of the companies did not report money worries, with only one third of respondents worrying that a lack of access to capital is hampering their business. About 29 percent feel this lack of capital is hindering their growth.
The bosses also had "mixed feelings" about the government's attempts to take credit for the growth of high-tech industry in the area.
Ryan Garner, research director for GfK, said: "This report highlights the ecosystem of entrepreneurship and how vitally important it is to have all the elements in place.
"It's about business leaders with vision and skilled employees to create and bring products and services to market, and investors willing to take risks. 8.3 per cent of Britain's GDP comes from tech, and that is expected to rise to 12 per cent by 2016. Our research shows Tech City is at a tipping point, and hopefully this report will help it find its way in spearheading that economic growth."
The report identified the most in-demand skills over in Shoreditch. At the top of the list are coders and developers, followed by marketing and PR, business development, web design and then user experience.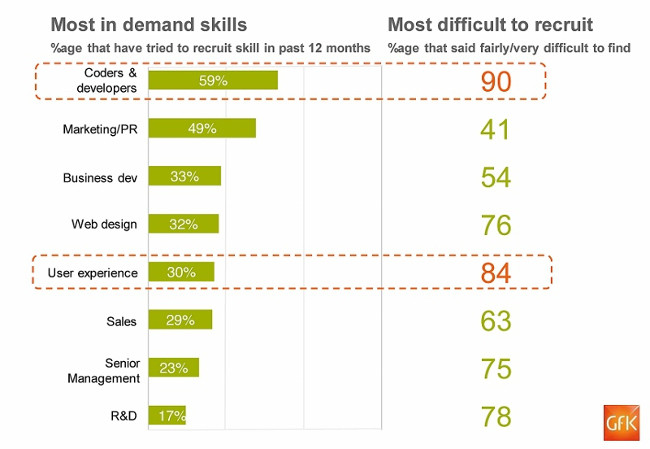 Devs and coders, now is your time to rise and shine
To plug the staffing hole, almost every company surveyed reports that it has taken on temporary workers, with 94 per cent saying they have used casuals, interns and freelancers.
The picture is broadly positive reading for anyone in search of a new job, with just one in five firms currently making people redundant.
About a quarter reported troubles getting access to cash, which some fear is stymieing growth.
Steve Leith, head of international accountancy firm Grant Thornton's early stage technology team based in Tech City, warned that unless London gets its risk averse venture capitalists to splash the cash, Shoreditch faces a "loss of talent and investment opportunities to the Silicon Valley dollar".
"Many of the startups around Tech City may be early stage, but they are tackling complex funding requirements to fuel rapid expansion," he said. "Whilst there is an increasing flow of angel capital, we see a growing gap for businesses requiring investment of £500,000 to £2 million.
"This is in stark contrast to the development of the funding community in the US where the cycle of tech entrepreneurs reinvesting in startups is fully developed and the VC community has a greater appetite for risk."
Tech City businesses have accessed an average of 3 forms of capital. The top source of dosh was angel investors, at 27 percent, followed by venture capital at 22 percent and borrowing against personal assets, at 16 percent.
There are roughly 1,350 businesses in the Tech City cluster. GfK interviewed 141 "founders, chief executives, managing directors, chief operating officers and top-tier managers" during their survey. ®