Crack Army pilot to be first PROPER British astronaut IN SPAAAACE
Ground control to Major Tim, countdown commencing, engines on
---
Ex-Apache helicopter pilot Tim Peake will become the first bona fide British astronaut in space - and live and work on the International Space Station.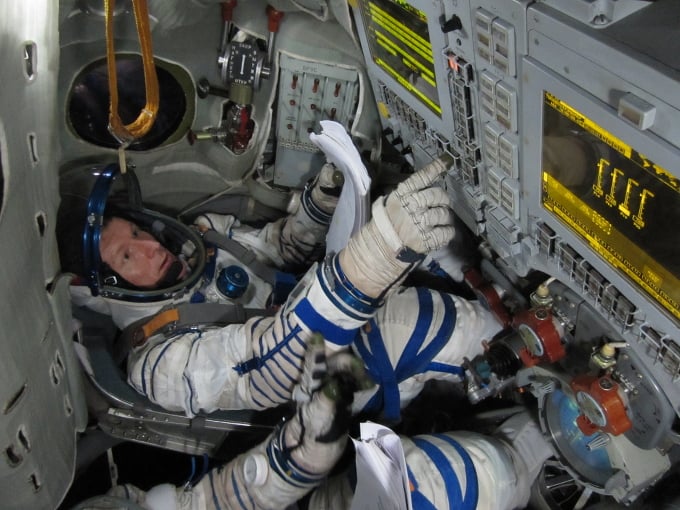 Peake performance ... Tim trains in a Soyuz simulator (Credit: ESA)
The former army major, and a serving member of the European Space Agency's astronaut corps, said today that he was "delighted" at being selected for Expedition 46/47, due to head to the orbiting platform in November 2015.
Peake will be the first UK astronaut to blast off since Briton Helen Sharman spent eight days on the old Mir orbiting station in 1991 on a Soviet-run mission. British-born Michael Foale, Piers Sellers and Nicholas Patrick have also been in space, but did so as US citizens.
"This is another important mission for Europe and in particular a wonderful opportunity for European science, industry and education to benefit from microgravity research," Peake said. The tweeting Brit test pilot will spend six months on the International Space Station carrying out scientific experiments.
"Since joining the European Astronaut Corps in 2009, I have been training to work on the station and I am extremely grateful to the ground support teams who make it possible for us to push the boundaries of knowledge through human spaceflight and exploration."
The ESA's Peake is Britain's only astronaut at the moment. Although Blighty's government claims that its space sector is thriving, it tends to be talking about satellites for the telly, not boldly going where few have gone before. Of course, that didn't stop Prime Minister David Cameron from describing the announcement as not just "a momentous day" for Peake, "but also for Great Britain".
"What an achievement that Tim was picked for this historic role from over 8,000 applicants from around the world. I am sure he will do us proud and I hope that he will inspire the next generation to pursue exciting careers in science and engineering," he said.
As well as working for the European Space Agency, Peake does work with UK's space agency on developing its microgravity research programme, and is an ambassador for science and space-based careers.
Last year, he took part in the 16th expedition of NASA's Extreme Environment Mission Operations (NEEMO), descending to Aquarius, an ambient-pressure habitat 47 feet under the ocean. The NEEMO expeditions help 'nauts to practice zero-gravity manoeuvres. ®