Yahoo! adds 1TB of free storage to Flickr in site revamp
Enough space to store every photo ever taken, apparently
Not content with its $1.1bn acquisition of Tumblr, Marissa Mayer took to a New York stage on Monday evening to debut a redesigned Flickr photo site that includes 1TB free storage for each user – enough room to store 537,731 photos in "full original quality," meaning 6.5 megapixels.
"If you took all the photos ever shot in the history of the world and uploaded them, then they would only take up a tenth of the space now available to current Flickr users," she told the press conference.
There's a maximum size limit of 200MB per photo, and users can also upload 1080p HD videos of up to 1GB in size and a playback length of up to three minutes each. You can also opt to buy an extra terabyte of storage with Flickr's Doubler accounts for $500 a year, and there's an ad-free version of the standard account that will set you back $50 per annum.
Flickr has been completely redesigned to bring photographs to the forefront, she said, as the old design focused too heavily on text and linking. Now photographs will be stored in their full original resolution and would be available across sites such as Facebook, Pinterest, and – of course – Tumblr.
The new home page consists of a top-of-page bleed shot covering the width of the screen, with albums and account information stored on the right hand side along with third-party advertising. All photos are shown in full resolution and with a black background.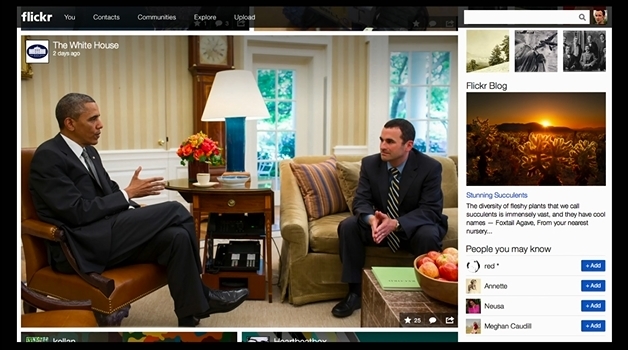 The new White House Flickr page
An Explore option has also been added to show off the most popular uploaded images on a day-to-day basis, and there's a slideshow feature to have them fade in and out with a funky soundtrack playing in the background.
The new site is live now, and in addition to Flickr's iOS app there is also a new Android application to get those smartphone and fondleslab photos online. The service is adding extra cloud backup to support the shift from 15GB to 1TB to ensure that photos can stay up forever.
"The amount of storage we're offering is 70 times bigger than anyone else," said Adam Cahan, VP of mobile and emerging products at Yahoo! "No other internet company has ever offered a terabyte, but we never want you to compromise a single pixel at Flickr."
Mayer also announced that Yahoo! has signed a deal to move its staff into the old New York Times building in Manhattan, but said Tumblr would be staying in its slightly hipper downtown offices.
New York Mayor Bloomberg, who was at the press conference, said the new lease creates one of the biggest technology presences in the Big Apple, and that it was symbolic that Yahoo!, a big name in "new media", is moving into the former home of one of the oldest media companies in the US. ®
Bootnote
While the Flickr expansion and redesign looks very interesting, it's a little worrying that Yahoo! can't seem to manage the technology behind webcasting a simple press conference.
Here at Vulture Annex in San Francisco we've got a pretty fat pipe (as you'd expect), but even so the streaming crashed 14 times, sound was stuttery (and sometimes non-existent), and the whole event finally 404ed before the press conference ended. This is hardly reassuring stuff for those about to entrust the company with their photographic histories.