Curiosity plunges its drill into Mars AGAIN, seeks life-giving sample
Crew hopes results from second stone will back up wet Mars theory
---
Intrepid Mars rover Curiosity has bored into its second stone on the surface of the Red Planet, taking a sample from the interior of a rock called "Cumberland".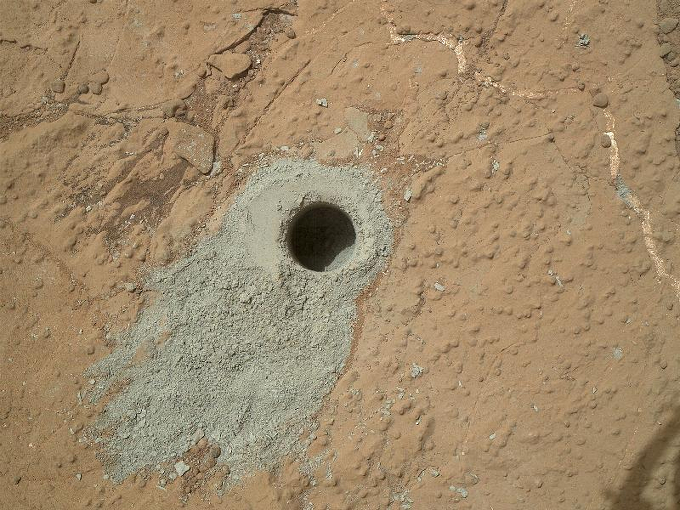 The Martian nuclear truck drilled into Cumberland on Sunday, making an impression 1.6cm in diameter and 6.6cm deep, and is expected to deliver the resulting powder sample to its scientific instruments in the next few days.
Curiosity already performed a drilling on the "John Klein" rock, also in the shallow depression known as Yellowknife Bay, three months ago. Preliminary test results on the sample showed that Mars could indeed have once sustained microbial life, with elements including sulphur, nitrogen, hydrogen, oxygen and carbon - needed to support that life - all present.
The science lab's primary mission on the Red Planet is to figure out if the world could have ever supported life and boffins will be hoping that the Cumberland results will back up the findings from John Klein. They'll be looking for the same elements as well as an energy gradient that could be used by microbes and evidence of water that wasn't too harshly acidic or briny.
After a few more high-priority observations in and around Yellowknife Bay, the rover is due to start off on its way to the base of Mount Sharp, a trek that will take months. ®