Don't press that button
Yes, it does seem a bit of a waste of a view. And yes, those views are magnificent. It was a magnificent spring day when we visited, with just enough cloud cover to look picturesque without obscuring the view to the North Downs, Chilterns, or your chosen Home County uplands. It's amazing what BT can do when it puts its mind to it.
The comms giant insists those regular rumours of the revolving restaurant reopening are nothing to do with it - with 600 events a year in the tower, it's not like it's letting the space go unused. And while it's a shame more people can't enjoy the view, BT can at least now direct people to the Shard. An illustrative point here: in the 1960s, it cost four shillings to go up the tower. That's £3.28 in today's money. A trip up the shard costs £24.95 for an adult, or £18.95 for a child. There were plenty of spaces available at short notice last time we looked.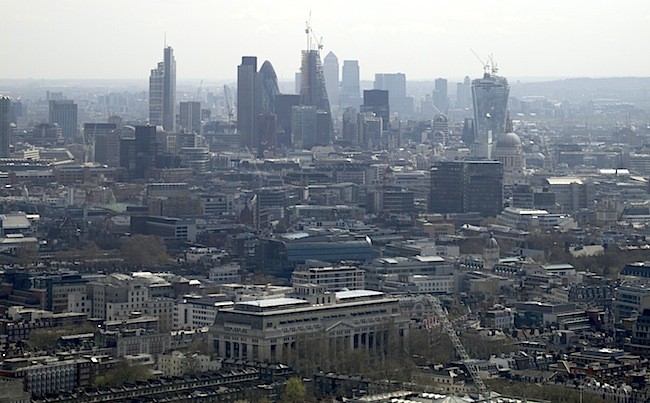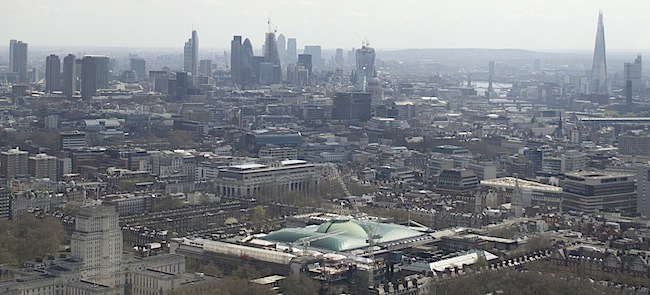 In the distance … the City as it looks to BT, with the Shard on the far right
If you did take a trip up the Shard, and looked across the river at the BT Tower, you'd notice how bare the old equipment gantries look, since the last dish was taken down in 2011.
So, if you've been paying attention you've probably thinking "hang on, so the restaurant's revolving, but no one can go up there these days, and the microwaves up there will be for the ready meals. What's it all for, then?"
Well, there's still good old-fashioned telecoms kit in there working away. This network is gradually being broken down, though Ahern said some of the line cards can't be disconnected as the labels have wilted away over the years, and they're wary of cutting someone off unexpectedly. Still, as the pics show, work carries on apace.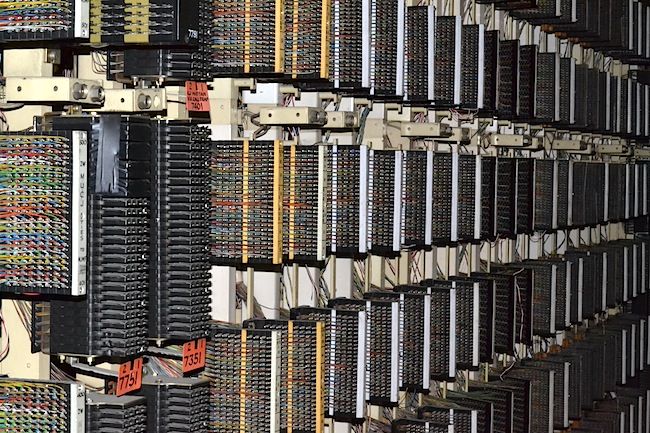 Feeling totally wired … telecoms your granddad would recognise
But archeological telecoms apart, the tower, or at least the tower site, is still gainfully employed in the communications business. Albeit almost by accident, as Jonathan Wing, BT Media and Broadcast's global sales director tells it.
The story begins back in the 1960s, of course. Even as London's elite were getting used to the novelty of being able to talk to Southampton or Birmingham via microwave, or sip a Chivas Regal at the top of a building built to withstand a nuclear blast, communications satellites were starting to girdle the globe at a much higher altitude, while somewhere "down there" optical fibre was on the cusp of becoming a reliable telecoms medium.
Meanwhile, outside, at ground level, the Cold War was growing ever chillier, Vietnam was reaching crisis point, there were strikes on the horizon, and students were revolting.
All you need is...
Something had to be done. Step forward three of the UK's most powerful cultural forces: The BBC, The Beatles, and The Post Office. Someone at the Beeb thought it would be a splendid idea to broadcast a two-and-a-half-hour live TV special worldwide using this spiffing new satellite communications technology.
The result was something called our Our World, which went out on 25 June, 1967, and was watched by perhaps 400 million people. You probably won't remember any of the worthy content from Canada, Australia, and the US, which was beamed around the planet via the UK's Goonhilly Earth Station in Cornwall and a constellation of primitive satellites. Except for one - the first public airing of a new Beatles ditty called All you need is Love, performed live from Abbey Road Studios in London and propagated globally.
That iconic moment alone probably sealed Our World's success. After that, said Wing, "the world just exploded". In a good way. The Post Office built a video switch at the tower site, and transmission of live broadcast rapidly became part of everyday life. At the same time, a "community" of production houses and other broadcast facilities appeared in the tower's shadows alongside the advertising agencies. (This is one of the reasons why the surrounding area is particularly well-served by restaurants and bars - should a walk to Soho be too much for you.)
BT's broadcast network is a separate beast to the phone and comms network, linking production facilities around the world generally at 10Gbps, and these days overwhelmingly via fibre. While your cable network will be serving up a channel at 4Mbps, broadcasters will be working at 1Gbps.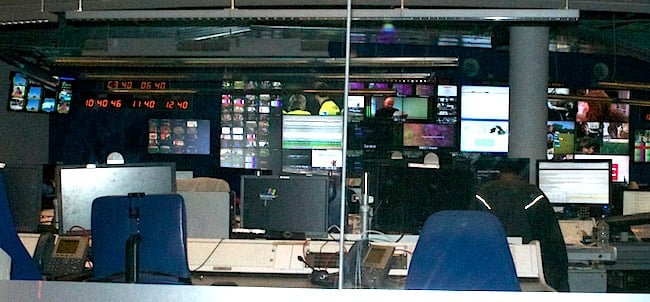 The UK's most important network, depending on your definition of 'important' … running on Windows XP
Today, reckons Wing, "99 per cent of all content you see on TV at home has touched our network". Every Premier League football stadium has a fibre link back to the broadcast operation in the low-level building at the tower site, which can then switch content down to the appropriate broadcaster - which will include BT itself with its BT Vision plans. Meanwhile, channels are being switched through the tower either into the UK, or en route elsewhere. Wing said 3,000 channels are running through the tower at any time, and it handles about 18,000 hours of video per day.
Around 30 staff who have backgrounds in video broadcast networking as well as appropriate certifications in networking kit - mainly Juniper and Cisco - are running the site at any one time.
Wing said all signals are always sent via two geographically diverse paths to customers. It promises five-nines availability to its clients.
The tower has twin national grid power inputs, as well as twin UPS systems, which would keep things up and running for 30 minutes, long enough for those ship engines to kick in. And, just in case, the site is mirrored at BT's Columbo House just over the river.
Depending on your point of view, this makes what happens at the tower even more critical to the national well-being - how many people may have been put out by the loss of voice calls back in the 1960s? Lose live Premiership matches and Comedy Central today? Well, let's hope the war room is still stocked up. ®
GPS
51.5215°N 0.1389°W
Post code
W1T 4JZ
Getting there
Goodge Street or Warren Street Tube. Or just go to the West End and look up.
Entry
Unlikely, unless you get yourself invited to a BT corporate event.
Website
There isn't one, but you can get an idea of the view here.
Similar topics