Our new 1.5TB lappie drive isn't thick, it's just the densest - HGST
WD biz stakes claim on highest megabytes per mm cube
---
Western Digital subsidiary HGST is touting a 1.5TB notebook drive with three platters inside a standard 9.5mm-thick 2.5in form factor.
HGST claims the drive has the highest storage density of any hard disk drive available, in terms of megabytes per cubic millimetre. Generally 9.5mm-tall, 2.5in drives have two platters, not three, hence the density boast.
The new 1.5TB Travelstar 5K1500 disk, with its 6Gbps SATA interface, is aimed at buyers in the notebook, external hard drive, blade servers, network router, gaming console and all-in-one desktop PC markets.
The drive has an areal density of 694Gbit/in2, spins at 5,400 RPM, has an idle power draw of 0.5W (1.8W when active), and a dual-stage actuator for more precise track head-track positioning. The 5K1500 family has an operating shock number of 400G and non-operating shock of 1000G for bumps and rough handling resistance.
Aren't notebook hard disk drives (HDD) all going hybrid with a wad of flash cache, or being replaced by completely solid-state drives (SSDs)?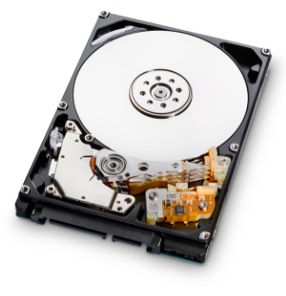 HGST's 5K1500
HGST's Brendan Collins, product marketing VP, says not in his canned quote: "Contrary to popular belief, the mobile hard drive market is not being replaced by SSDs. We continue to invest in and serve both the traditional 9.5mm and 7mm thin and light HDD mobile markets as they offer the best cost-per-GB, performance and proven product reliability for high-capacity, mainstream, Ultrabook and A/V content creation notebook markets."
Western Digital has a higher-capacity 2TB Scorpio Blue but that's in its MyPassport external disk product and has four platters. Seagate has a 1.5TB FreeAgent GoFlex, the STAA1500100, and that's another four-platter job. HGST has a 1.2TB Ultrastar C10K1200 spinning at 10,000rpm and that is also a four-platter product.
The WD subsidiary said its Travelstar 5K1500 is also available as an Enhanced Availability (EA) model that's more suited to 24x7 operation. The 5K1500 drives should ship in June, although a self-encrypting version and the EA model are expected to ship in the third quarter. Get the datasheet here [PDF]. ®