This article is more than 1 year old
VMware public cloud aims at ESXi customers, not AWS
And the prices will reflect that, don't doubt it
A few months back, when VMware let the cat out of the bag that it would be building its own public cloud, it said that it had 480,000 customers with an estimated 36 million virtual machines running in their data centers. On Tuesday it officially launched the the Hybrid Cloud Service at its Palo Alto headquarters and explained how it's all going to work.
Everybody will be trying to compare the Hybrid Cloud Service to the infrastructure clouds puffed up by Amazon Web Services, Rackspace Hosting, and others. As the VMware cloud, developed for the past two years under the code-name Project Zephyr, is still in early early adopter status with a pricing model that has yet to be fully fleshed out, such comparisons will be as difficult as they are inevitable and, to VMware's way of thinking, besides the point.
But the vCloud Hybrid Service is not so much about competing against AWS, Rackspace Cloud, and other public clouds as it is about giving the now 500,000 customers using the ESXi hypervisor to virtualize their servers a place where they can burst their workloads and a reason to buy vCloud Director and other tools in the VMware box.
"We have become mission critical," explained VMware CEO Pat Gelsinger, at the infrastructure cloud launch and referring to the ESXi-vCenter stack that is known collectively as vSphere. "We have become the new hardware."
And, that virtual hardware has over 3,700 applications from over 2,000 software vendors certified to run on it.
The big problem for VMware and its customers is that most of the big public clouds out there in the world are not compatible with ESXi and its vCenter and vCloud Director management extensions, the latter offering an orchestration layer for virtual machines and their workloads that transform a rack of virtualized servers into a cloud. The biggest public clouds are based on OpenStack or CloudStack cloud controllers
The other problem is that companies can control their service level agreements and govern access to applications and data on the machines they own and operate, but they often have to accept lower SLAs and wrestle with governance issues moving apps to any public cloud.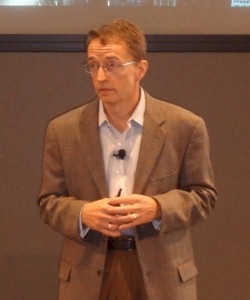 VMware CEO Pat Gelsinger
The underlying compatibility between what is running on x86 servers in the data center atop VMware's virty stack and the vCloud Hybrid Service allows VMware to make a "bold, provocative statement" that it can run "any app, any place, any cloud, and without any changes."
Well, so long as you want to stay on the ESXi platform, of course.
Bill Fathers, general manager of the hybrid cloud services, said that by using the same server, storage, and network virtualization services on the public cloud as are used inside the corporate data center would "save customers a great deal of time and money."
A demo showing actual workloads moving from an internal data center to the vCloud Hybrid Service was kinda ho-hum. A bunch of mouse clicks and you could so a "stretch deploy," which means quiescing a running virtual machine and extending its network out to the public cloud and firing it up out there without having to change its network configuration manually and linking it back to the internal infrastructure from whence it sprung.
A feature called the Hybrid Cloud Connector does this linking, and it also ensures that whatever governance measures you have for internal controls are used for externally deployed VMs, which are on the same virtual private network.
"You can recreate the entire virtual network ­ load balancers, firewalls, the whole nine yards ­ on the vCloud Hybrid Service," said Fathers. "It seems easy, but for many of our clients today, that is a multi-month or multi-year process in some cases, and it often involves navigating increased compliance risk and security that this will not involve."
In other words, as El Reg expects, VMware will be able, perhaps, to charge a slight premium for its virty server slices compared to raw infrastructure from AWS or Rackspace or whoever because the ease of portability of applications is something that enterprises who are hip deep in ESXi will be willing to pay. (Luckily, they will still be able to reach their wallets.)
Startups, almost certainly will not be interested in paying such a premium unless they think they will ne to be able to support their applications on ESXi inside of data centers. And even if VMware cannot, ultimately, command much of a premium over AWS, the compatibility between internal and external capacity will mean it can get incremental revenues from customers who are looking to deploy ESXi-compatible public cloud capacity.
VMware is rolling out the vCloud Hybrid Service in the US starting in June under an early adopter program that might have a hundred or so customers, Fathers tells El Reg. It will be generally available in the US in the third quarter.
VMware was cagey about where it would put its public cloud capacity, and in whose data centers, but the initial regions for vCHS are in data centers located in Santa Clara, California; Las Vegas, Nevada; Dallas, Texas; and Sterling, Virginia.
In 2014, VMware will work with data center operators and partners to fluff up vCHS regions in Europe and Asia; the locations and dates for where these vCHS regions will open will be announced later this year, probably at VMworld 2013 at the end of August.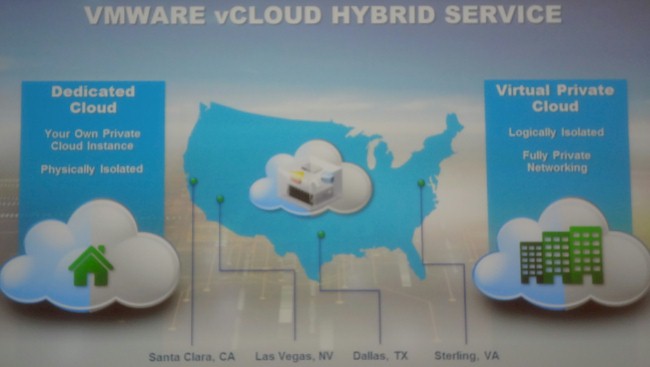 For now, there are two flavors of vCHS: dedicated and virtual private cloud
There are two flavors of the vCloud Hybrid Service. The first is dedicated capacity, which is reserved capacity that is physically isolated from all other virty server slices in the VMware infrastructure. This is being sold at 13 cents per hour in what VMware calls a "fully protected, fully redundant" virtual machine with one virtual processor core and 1GB of virtual memory.
You have to buy this capacity for an entire year, by the way. So at 8,766 hours in a year, this slice will run you on the order of $1,140. If you need more memory, you have to take more cores, and vice versa.
The virtual private cloud variant of the service will mix and match customers in a multi-tenant environment, and it will cost only 4.5 cents per hour with a monthly billing term for a 1-core slice with 1GB of virtual memory. That works out to $395 per year or just under $33 per month. Again, if you need a larger virtual machine, you have to scale up memory and cores together.
The pricing for the vCloud Hybrid Service will be less complex than what we see for infrastructure from various public cloud providers, and intentionally so because the partners that have been peddling ESXi, vSphere, vCloud, and other wares are going to want to peddle capacity on the VMware public cloud, too, and Virtzilla wants them to.
But pricing for the vCloud Hybrid Service will almost certainly change as VMware gets more feedback from early adopter customers and potential customers, who have not been shy in the past when VMware does something they didn't like. Remember the virtual memory tax that VMware tried to implement two years ago and that was repealed after much weeping and gnashing of teeth? The company wants to avoid that scenario. ®