Stand aside, Wi-Fi - these boffins are doing 40Gbps over the air
Wildly fast on the 240GHz band
---
It won't make fibre-optic networking obsolete anytime soon, but it's still an impressive achievement: German researchers have demonstrated a one-kilometre point-to-point wireless transmission at 40Gbps.
The Fraunhofer Institute for Applied Solid State Physics and the Karlsruhe Institute for Technology researchers used 240GHz as the carrier for the high-speed data transfer – well out of the frequency range that you'd encounter in consumer-grade Wi-Fi kit.
According to Phys.org, project leader professor Ingmar Kallfass says the with data rates similar to fibre systems, the radio link his group has developed would integrate seamlessly with fibre systems. In a city context, he says, this could overcome rollout issues like the cost and delay encountered when trying to cross roads with new ducting (a very expensive process that doesn't just involve digging the hole; it also includes local government fees for road closure, traffic management staff charges and the like).
Operating in the 200-280GHz frequency range creates very small electronics, the group says, with a transmitter/receiver chip that measures just 4mm x 1.5mm. The frequency is also higher than that at which links typically suffer atmospheric effects like rain fade.
"This makes our radio link easier to install compared to free-space optical systems for data transmission. It also shows better robustness in poor weather conditions such as fog or rain", explains Jochen Antes of the Karlsruhe Institute for Technology.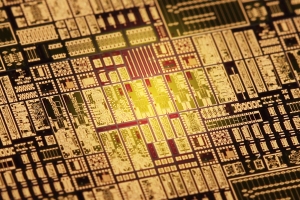 The 4mm x 1.5mm wireless chip. Image: Sandra Iselin, Fraunhofer IAF
The high bit rate of the radio link, the researchers say, would allow the optical signal to directly feed a fibre link without requiring transcoding (or, even more complex, having to spread the fibre signal across multiple radio links).
"Improving the spectral efficiency by using more complex modulation formats or … multiplexing, will help to achieve even higher data rates", says Antes. ®
Similar topics
Broader topics