Japan uses big data to map cultural climate change
Cool Japannica learns where Manga and Anime are hot
---
Big data boffins at Tokyo University have found a novel way to help Japan's faltering economy: by producing an interactive trending map for manga, gaming and other content producers to see where in Asia their products are most popular.
The Asia Trend Map was developed by Tokyo University associate professor Matsuo Yutaka with the Ministry of Economy, Trade and Industry (METI), collects and crunches data on how many times an anime, manga or game title is mentioned on the web to assess its popularity.
Information sources include tweets and Wikipedia updates.
Beneath the map, there's a breakdown of what's trending in each Asian country covered, and clicking through will bring up more detailed info on the potential size of the manga, anime and game markets for that country, plus a popularity forecast for the top titles there.
Users can also search by title, which will bring up a smaller weather forecast style map of Asia to show its current rating in each country alongside its predicted popularity.
For example, at the moment, hit TV cartoon show Doraemon is sunny (aka "rising fast") in Japan, Indonesia, Thailand and India, but cloudy ("no change") in Russia, Vietnam, Korea and Bangladesh, and raining ("falling") in Malaysia, Taiwan, Philippines and China.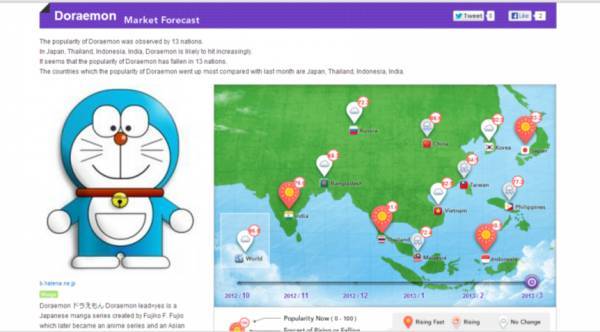 It's thought the map could therefore help content producers in Japan target their export strategies more intelligently, while also reducing the need for them to invest in costly market intelligence campaigns.
The map is all part of "Cool Japan", a government initiative a bit like Blair's Cool Britannia project, but without the play-on-words, designed to market what the land of the rising sun still does better than anywhere else - quirky cartoons, video games and animated TV.
Unlike its erstwhile Brit equivalent, however, this is more than a mere coat-tail jumping PR act – the Japanese government has ploughed ¥50 billion into a public private fund dedicated to the project, according to Naver Matome (via RocketNews24). ®