Ed Miliband brands Google's UK tax avoidance 'WRONG'
Pfft. 'Just capitalism? I disagree!'
---
Big Tent Ed Miliband launched a caustic attack on Google today, saying: "When Google goes to extraordinary lengths to avoid paying its taxes, I say it's wrong."
The Labour party leader - who was speaking at Google's annual Big Tent event in Watford - accused the "biggest companies" of having a "culture of irresponsibility" when it comes to paying their fair share of taxes in the UK.
He likened corporate attitudes toward taxation to the careless attitudes of British bankers prior to the banking crisis, telling the crowd: "I do have deep problems about the culture [at internet firms] and I don't think it's that different from the banks." But he stopped short of saying the actions of Google and other tech corporations, such as Apple, could "lead to a [financial] meltdown".
Miliband argued that a country was more able to succeed if companies adopted a approach that embodied corporate responsibility.
The leader of the opposition also paid tribute to Google for its successes, saying the firm remained "at the forefront" of the internet.
Miliband went on to talk about the "vested interests" of larger companies, which he said operated within the current law when it comes to the contentious issue of taxes, but could do a lot better.
"Power shouldn't accumulate between a few powerful firms," he said.
Miliband said that balance was needed to prevent monopolies forming while ensuring that innovation wasn't stifled.
His party has called on a digital ombudsman to simplify the complex existing regulation around intellectual property, design and piracy.
The Labour leader added that he welcomed Google's call for tax reform. Miliband said he wanted country-by-country accountability, transfer pricing to be addressed and a crackdown on tax havens. He also claimed his party would, if elected, act alone if an international agreement failed to be reached.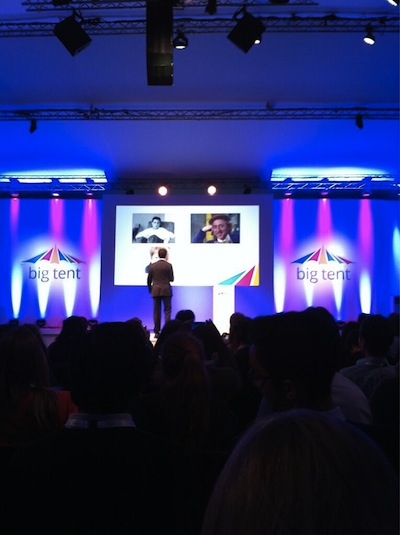 Watch out, Ed, Google's behind you!
Google had failed to stick to the company's notorious "don't be evil" motto, he claimed. He said the ad giant had been "wrong" to pay such a small amount of tax on its UK revenues, and cited Google's founders' pledge to take a hit with short-term results in order to avoid being "evil".
"I can't be the only person here who feels disappointed that such a great company as Google, with such great founding principles, will be reduced to arguing that when it employs thousands of people in Britain, makes billions of pounds of revenue in Britain, it's fair that it should pay just a fraction of one per cent of that in tax," he said.
"So when Google does great things for the world, I applaud you. But when [Google exec chairman] Eric Schmidt says its current approach to tax is just 'capitalism', I disagree."
Miliband added: "When Google goes to extraordinary lengths to avoid paying its taxes, I say it's wrong."
At one point, Reg readers might be delighted to hear that Miliband flashed up a picture of the Chocolate Factory's Willy Wonka to show how the fictional sweet-toothed character believed that the route to a fairer society was via capitalism. Google, of course, certainly agrees with that. ®