Slim Shady wannabe Zuck's Facebook 'STOLE' MY SONG - Eminem
Rap star's publisher slaps copyright claim on Home ad
---
Rapper Eminem's song publisher Eight Mile Style is accusing Facebook and its ad agency of (slim) shady dealings with one of his songs.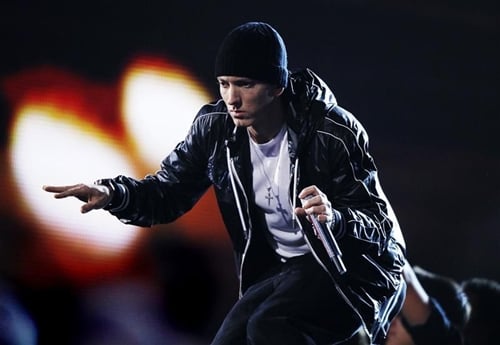 Eminem ... laugh all you want, but this man is worth millions
The publisher filed a copyright lawsuit this week alleging that a short Facebook advert broadcast during the social network's unveiling of its Home app last month copied music from Eminem's 2000 song Under the Influence.
"During the event, Facebook CEO, Mark Zuckerberg, introduced an advertisement for the feature called 'Airplane', which was key to Facebook's campaign," the filing stated.
"The advertisement was distributed and streamed all over the world. The music contained in the Airplane advertisement for Facebook Home infringes the worldwide copyright in the Eminem/D12 composition as the music is substantially similar."
Eight Mile Style said it reckoned that Facebook's ad agency, Wieden+Kennedy, used the music to ingratiate themselves with Zuck, an apparent fan of Eminem.
"Facebook CEO Mark Zuckerberg has been a longtime fan of Eminem. This is evidenced by one of the first websites Zuckerberg reportedly created in 1999, on which Zuckerberg refers to himself as 'Slim Shady', which is Eminem's famously known alter-ego," the filing said.
"W+K incorporated said music into the Airplane advertisement in an effort to curry favour with Facebook by catering to Zuckerberg's personal likes and interest, and/or to invoke the same irreverent theme as the Eminem/D12 composition."
The publisher claims that W+K changed the music for the ad on Facebook's YouTube channel later in April because it and Facebook knew they were "facing substantial liability". Eight Mile Style also alleges that W+K's attorneys tried to fob it off with a letter "brimming with bellicose language and replete with gross factual inaccuracies".
In the letter, W+K's counsel claimed that Dr Dre actually composed Under the Influence and then went on to accuse him of a "long, well-documented history of copyright infringement", suggesting that the song actually originated from one of Michael Jackson's songs.
"Not one person, however, who heard the Facebook advertisement, and commented about it on the blogosphere, noted any similarity between the Facebook advertisement and any Michael Jackson song," Eight Mile Style said in its filing. "To the contrary, it is clear that the Airplane advertisement copied directly the Eminem/D12 composition, and ordinary observers have so concluded."
The publisher is looking for damages, attorney fees and an injunction against Facebook and W+K using the song again. ®