This article is more than 1 year old
Startup hires 'cyborg' Mann for Google Glass–killer project
3D augmented reality specs coming your way this year
Watch out, Sergey! A new startup is hard at work on a device that's far more ambitious than Google Glass, and it has just signed on wearable-computing maven Steve Mann as its chief scientist.
Meta, founded by Columbia University computer and neurological science student Meron Gribetz, has developed a prototype of a wearable device that Gribetz says goes beyond simple heads-up notification systems like Glass to become a full augmented-reality system.
"The entrance into consumer wearables needs to be a high powered immersive device capable of fully replacing the computer and more," Gribetz said in an emailed statement on Tuesday.
In short, Gribetz plans to deliver nothing less than the kind of 3D, gesture-based UIs seen in such Hollywood sci-fi fare as Iron Man, Minority Report, and Avatar.
Wearers of Meta specs will be able to see virtual 3D objects overlaying the real world, he says, and they will be able to grab and manipulate them with their bare hands, without the use of gesture-sensing gloves or similar hardware.
The current Meta prototype device is the product of two years of work by Gribetz and a team of augmented reality, wearable computing, and computer vision specialists, backed by seed funding from Y Combinator.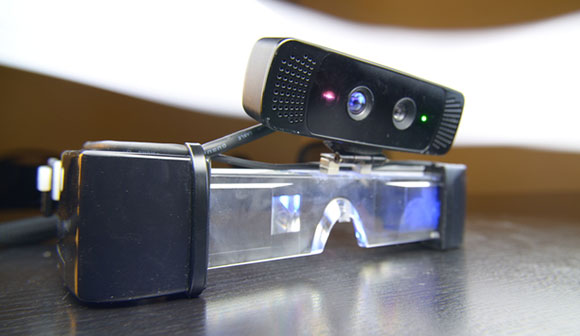 Not quite as elegant as Google Glass – yet – but Meta's specs aim to do much more
Mann – hailed by Meta as "the father of wearable computing" – has been working along similar lines since the 1970s. Reg readers may remember him as the self-professed "cyborg" who was manhandled by staff at a Paris McDonald's restaurant, who didn't realize that his bespoke EyeTap Digital Eye Glass device was permanently attached to his skull.
More recently, Mann had few kind words for Google Glass in an article published in IEEE Spectrum, in which he warned that the Chocolate Factory's design could be disorienting for users and could lead to vision problems – glitches he worried could "set the movement back years."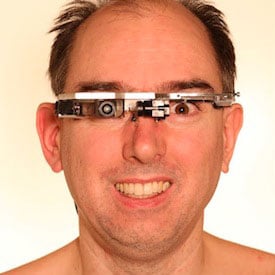 The Mann who would be cyber: Professor Steve Mann
Mann met Gribetz at the LevelUp gaming conference in Toronto, where Gribetz was demoing his Meta prototype, and the pair realized they were kindred spirits.
"We brought Mann on board because of his expertise in two key areas: miniaturization and mediated reality," Gribetz said. "Mann has been developing a Google Glass-like device for years but recognized now was not the right time for something of that scale, because of the limitations of such a device."
According to Gribetz, Mann's experience with occlusion – hiding or modifying real-world objects using 3D rendered overlays – will be especially advantageous for Meta.
If you're the type who worries about what you'll look like when wearing Google Glass, however, move along. Meta's prototype device makes Glass look like a pair of Gucci shades.
The optics are a pair of 3D screens developed by Epson running at 960 by 540 apiece. Together, they produce a virtual screen much larger than that offered by Google Glass, with a 23-degree field of view for each eye. Stereoscopic effects can be applied to make objects look nearer or farther.
Gribetz says he can't say who provides the depth camera that allows the device to register images and motions in three dimensions, but from the photos it looks exactly like a Creative Labs Interactive Gesture Camera – the same camera Intel uses for its Perceptual Computing SDK. (Your Reg hack has one sitting on his desk.)
All that hardware means the prototype device isn't exactly light. Gribetz says it clocks in at 0.3kg, which is a nice way of saying it's just over half a pound. But he also says Meta plans to halve the size and weight of the device every 6 to 12 months.
Meta's vision for its glasses seems a bit far-fetched, but it's nothing if not ambitious
Gribtez says Meta's second-generation prototype already weighs in at around 100 grams, and the company's plans to produce a consumer version within the next year that will resemble a fashionable pair of sunglass frames.
The immediate goal, however, is to get an initial run of Meta's first-generation specs into developers' hands. To that end, Meta has launched a Kickstarter campaign to raise funds to manufacture the devices, which Gribetz says it's doing along with "established and experienced partners."
To get one of the first-generation devices requires a pledge of $650 or more to the Kickstarter, which has already reached 98 per cent of its funding goal, and the remaining pledges are going fast. Potential Meta developers should also be prepared to work on Windows with the Unity 3D toolkit.
If all goes according to plan, the first devices will ship to developers on September 13. ®