NetApp: We laid off 100s, profits dived - and it's all YOUR fault
'Constrained' IT budgets blamed as sales growth flatlines
---
Analysis Storage giant NetApp has reported unremarkable revenue growth and falling profit for its 2013 financial year. It signals that NetApp is now a mature company and not a high-growth stock.
But, behind the numbers, the firm has laid off hundreds of employees to help it stay in the black and keep investors at bay. The recently announced share repurchase scheme and dividend payments were also probably calculated to see off activist investor Elliott Management, which wants an increase in rewards for shareholders.
And those plans appears to have worked. According to the Wall Street Journal, Elliott portfolio manager Jesse Cohn said last night: "We commend the positive steps taken by NetApp to improve both the capital and cost structure at the company."
Revenues for the fourth and final quarter of fiscal 2013, ended April 26, were $1.72bn, up one per cent from the year-ago figure of $1.7bn. Net income for the quarter was $174m, down 3.8 per cent from a year ago.
NetApp's revenues and profits have grown steadily throughout this fiscal 2013, after the horrible drop in the first quarter as shown in the chart below.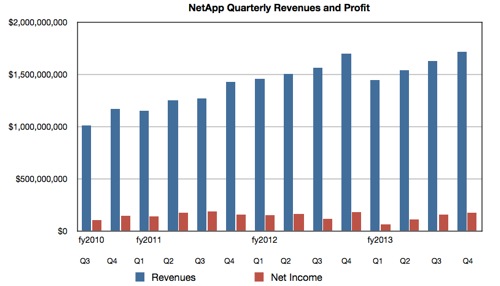 Up, up and a-aagh ... NetApp's revenues recover after FY2013 Q1's stumble
Within the fourth quarter, product sales raked in $1.14bn, which was down two per cent year-on-year. Fortunately software entitlements and maintenance revenue was up seven per cent, and services up eight per cent; those two divisions managed to rescue the quarter, which had a one per cent revenue increase as a whole.
Revenue from hardware manufacturers (the OEMs) in the quarter was down 18 per cent year-on-year at $165m – contributing just 10 per cent of the quarter's revenues – as IBM, Fujitsu and other E-series customers reduced their intake of NetApp-sourced kit. Revenues from NetApp-branded products was up three per cent on the year before.
This raises a question: NetApp bought Engenio and its E-series storage arrays in 2011, so was that acquisition really worth the $480m price tag given the aforementioned slowdown in business? In an earnings call with analysts to discuss the financial figures, NetApp CEO Tom Georgens defended the product line:
We also saw a record quarter for branded E-Series products. Overall, our branded E-Series products, including the EF540, are performing well, with an increase of 17 per cent in units shipped from Q3.

In the aggregate [we see] E-Series being a growth business for us next fiscal year.
Full year revenues and restructuring
The full fiscal 2013 revenues were $6.33bn, up a slight 1.6 per cent from FY 2012's $6.23bn. Annual profits were $505m, 17 per cent down on FY 2012's $605m, and reflected the impact of the low first-quarter profit, which was attributed to the weak economy and foreign exchange difficulties.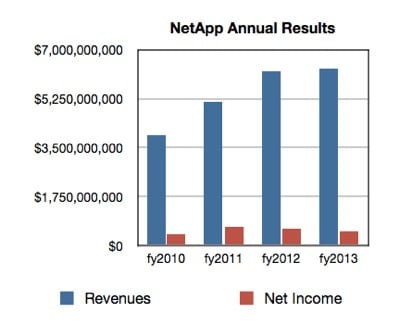 Steady as she goes ... NetApp figures
Back in 2012, Georgens said: "[We] aren't in a total clampdown by any means, and certainly we aren't restructuring at this point in time."
This year it's different, and hundreds of NetApp workers around the world have been laid off although profits have recovered. The Register understands 300 bods went at a Bangalore R&D centre and 250 at NetApp's not-so-sunny-now Sunnyvale HQ, along with rumours of further layoffs in the US.
Referring to the redundancies, CFO Nick Noviello said during the earnings call: "We took this action to better align our resources and investments to our most strategic initiatives. While difficult, we believe these decisions position us well for the future, enabling us to achieve our business objectives, profitability and profit growth expectations."
Georgens added: "We're in a period where IT spending is constrained. That certainly has impacted on our growth rate. We have a number of very, very key initiatives that we need to make sure that we get staffed and funded. And we need to do all of that in the context of generating shareholder return."
Meanwhile, NetApp's FAS array sales were somewhat lacklustre: the top-end FAS 6000 and mid-range FAS 3000s sales were up slightly from the previous quarter, but entry-level FAS 2000 sales down. The V-series saw a 15 per cent quarter-on-quarter unit sales increase. FlexPod sales were up with booked business doubling compared to the fourth quarter a year ago.
The dividend promised to shareholders is $0.15 per share and payable on 23 July. NetApp's expectations for its next quarter are for revenues to be lower, between $1.475bn and $1.575bn.
Did Elliott Management get an immediate rise in shareholder value? Nope. At the time of writing, NetApp shares were down 1.5 per cent to $36.63 a piece because of the company's poor outlook for the next quarter. But the repurchase program and dividends should please the Elliott people. ®