This article is more than 1 year old
Smartwatch face off: Pebble, MetaWatch and new hi-tech timepieces
Tick, tock, Tweet
The next generation
In fact, arguably the most successful smartwatch to date wasn't really a watch at all - or very smart, come to that. It was Apple's sixth-generation iPad Nano, a compact music player built around a 1.5-inch, 240 x 240 pixel touchscreen and therefore broadly watch-sized - a number of accessory makers quickly released clip-on wrist-bands to allow Nano users to wear their players that way. Apple knew they might: it coded the player with a set of watch faces to display as a screensaver.
Hence, in part, the widely held belief that Apple has a smartwatch in its labs. It's a logical successor to the old Nano. The first sixth-gen Nano came out in 2010, but Apple never equipped it or its successors with Bluetooth and a companion iOS app to ping over iPhone notifications. If Apple does have an iPhone-connectable wristwatch kicking around, it clearly hasn't believed there's a market for such a device to date.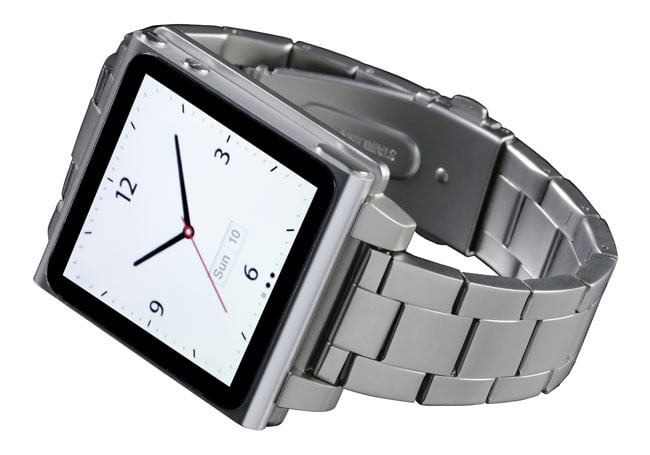 Ad hoc watch: Apple's iPod Nano 6G in a Hex Vision Metal strap
Indeed, the lack of success experienced by other attempts to sell smartwatches suggests there's no great desire for this kind of product. Quite apart from the technological limitations - well, limitation: it's really the short battery life that most hinders existing smartwatches - there's the fact that, by and large, folk seem quite happy carrying their ever thinner, ever lighter mobiles in their hands, or in close reach, to be able to readily check the screen for notifications. Why, then, do they need a watch to do so too?
Two trends suggest they might. First, phone screens are getting larger. But taller and wider screens makes smartphones less suitable to casually carry in your hand, and so people may turn to smartwatches so they can tuck their "phablets" away until they need them. With more people using phones for social networking, let alone email and texting, there are ever more incoming items they want to be notified of without having to whip out an almost-tablet every few minutes.
Then there are the watch makers, who may see in smartwatches not so much a new market to tap, but a way to make their existing timepieces more attractive to modern buyers. Casio is already there: it's currently offering a Bluetooth-equipped member of its teen-friendly G-Shock line to kids keen to have a watch that'll tell them about Facebook updates. Casio undoubtedly realises that while almost all youngsters have a time-telling phone, fewer and fewer are bothering to wear a watch. Linking watches to phones may give kids a reason to buy one too.
Compounding interest
And for all the practical, technical and level-of-demand arguments against smartwatches, it remains the case that Pebble, for one, has managed to raise more than $10 million through crowdfunding site Kickstarter - it was only seeking $100,000 - since it started asking for money more than a year ago. Some 68,929 people have pledged money to date, and more still have put down advance orders.
ABI Research, a market watcher, reckons that demand will grow, and that more than 1.2 million smartwatches will be shipped this year.
"The strong potential emergence of smartwatches can be attributed to several reasons," said ABI senior analyst Joshua Flood. "Contributing factors include the high penetration of smartphones in many world markets, the wide availability and low cost of MEMS (micro-electromechanical systems) sensors, energy efficient connectivity technologies such as Bluetooth 4.0, and a flourishing app ecosystem."
Miniaturisation is removing past smartwatches' bulk without sacrificing too much battery life, which is helped by the advent of Bluetooth 4.0.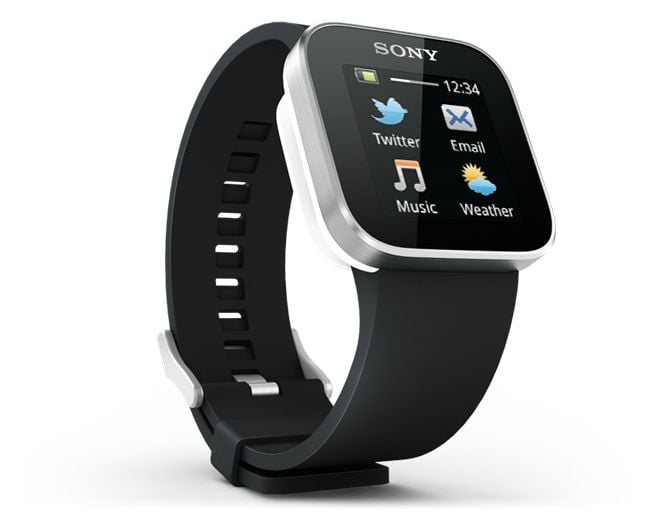 Sony's Smart Watch
Pebble's approach is also different. Casio and others have followed an old line: their smartwatches just relay notifications from a phone. Pebble's offering does too, but it's also an app platform in its own right, potentially using the connected phone to create a bridge to the internet.
Pebble shows there's a new interest in smartwatches, and that these gadgets need not be the bulky boxes of yore. If Apple does get involved, its marketing skills could enthuse even greater numbers of people in the notion. Just in case Apple does so, or perhaps to take an early lead, Samsung seems to be laying the ground for a rival offering: the Galaxy Altius, screenshots from which leaked online in February 2013.
For now, though, there are six main challengers. Casio is the only established player and is going up against relative newcomers ConnecteDevice, Martian, MetaWatch and Pebble Technology. I also hoped to take a look at Italy's I'm Watch smartwatch, but the firm was unable to send me a review unit in time.