This article is more than 1 year old
Smartwatch face off: Pebble, MetaWatch and new hi-tech timepieces
Tick, tock, Tweet
Casio G-Shock GB-6900AA

Casio's Bluetooth-equipped G-Shock is the only smartwatch here from a well-known manufacturer of watches. It should come as no surprise, then, that the GB-6900AA is also the best timepiece here, packing in all the features you might expect in a watch produced by a firm that's been punching this kind of thing out for decades.
Beneath the G-Shock's youthful shiny black plastic exterior sits a typical quartz movement driving a white-on-black LCD. The backlight button is dedicated to the function, so you don't waste power pressing it to apply settings, as is often the case with digitals. The case is said to be water-resistant to a water pressure of 20 bar - equivalent to a depth of about 200 metres, but this is not a diver's watch so don't expect it to survive anywhere near that depth.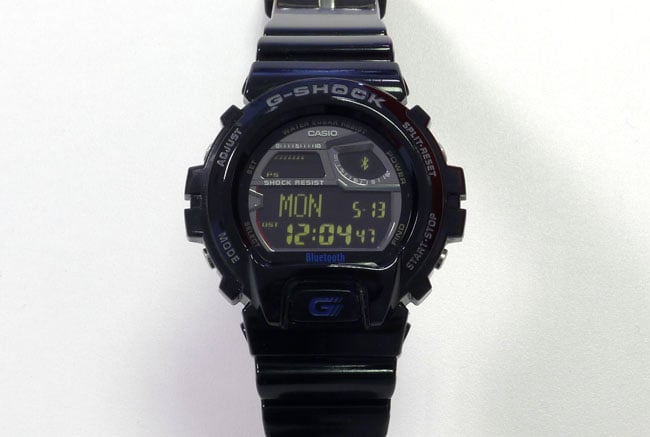 The GB-6900AA get the usual comprehensive digital watch with local time, a world-time mode, an alarm and hourly chime, a stopwatch and a countdown timer. All good stuff, so at least if you're disappointed with the "smart" side of the story, you at least have a decent watch on your wrist.
And, yes, I was disappointed with the smartwatch side of things. Common to all smartwatches is the use of an app on your phone to ping over notifications when calls come in, emails are received, diary appointments are imminent and so forth. Casio's app is unfortunately only available for iPhones, and because it uses Bluetooth 4.0 to reduce the wireless sub-system's energy drain, only the 4S and 5 models.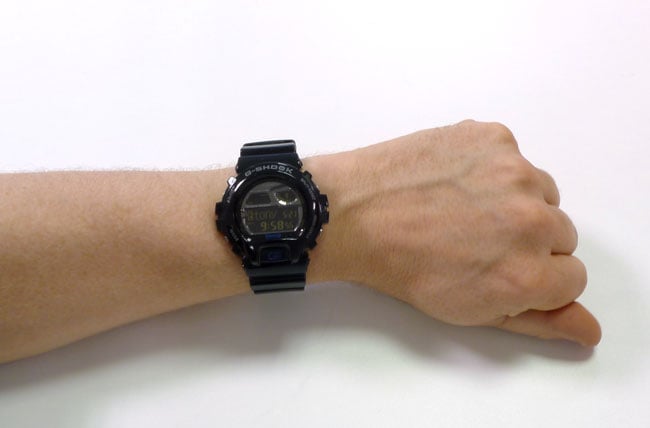 If you're still running iOS 5, you won't get Facebook or Twitter alerts because the app taps into iOS 6's accounts database, rather than store the login information itself. Yet the G-Shock+ app requires you to enter email account details, of which you can enter several, and choose to check IMAP or POP servers for messages. So why not directly log into social network accounts, too?
"With an iPhone, caller information is not displayed," Casio warns, but since the watch only works with an iPhone, that means no user is told who is calling. The app can't tell the watch when a text message has arrived, which is a major omission. At least it will tell you when an entry in your calendar is coming up, though this functionality was added only this month.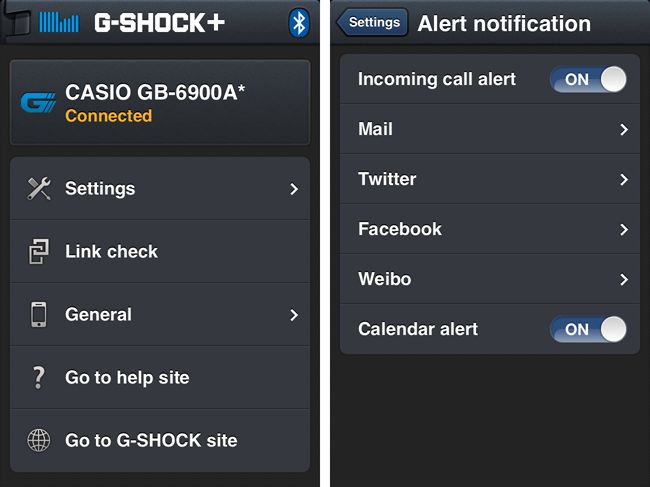 Notifications appear on the main time display, their type indicated by a suitable icon. There can be a delay with email: the app polls at either 5-, 10- or 15-minute intervals to conserve power, and only the emailer's address is shown, scrolling across a six-character window, though it will stop after a short period. A calendar alert simply displays the word "Calendar" on the watch, not the details of the event. You can tap the watch's Adjust button to clear the notification, but you can't tap it to look at it again.
The Casio will vibrate when the distance between phone and watch exceeds Bluetooth's reach, and you can push the watch's Split/Reset button to sound an alarm on your phone to help you find it. These are features common to all smartwatches, as is the ability to automatically reconnect to the phone when they're back in range, though it can take several minutes to connect - more if you have to make the connection manually, which you will if you turn Bluetooth off on either device, or quit the app.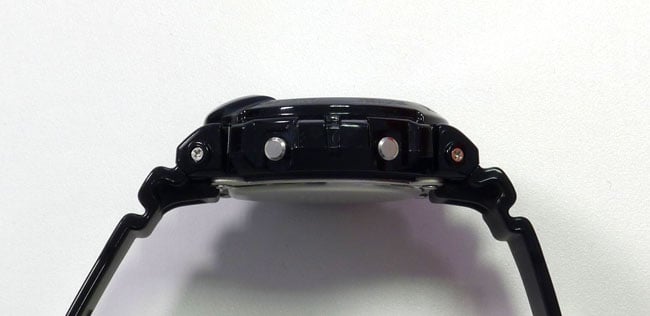 I also had to reconnect manually every morning, either iOS or the watch having powered down its Bluetooth link overnight, presumably after a set period of link inactivity. Manually reconnecting is just a matter of holding down one of the watch's buttons for two seconds. To be fair, it will reconnect on its own, eventually. But it's hard not to notice the absent Bluetooth icon and to want to get the link going pronto in case you miss something.
One nice touch is that the watch can take the phone's time, ideally set by the network, as a reference, but there's no indication of the phone's battery status, which would be handy.
I quite like Casio's G-Shock as a watch, even if the design is a tad "yoof", but it needs more work if it's to stand up against rival smartwatches.
Price
£160
App platforms
iOS
Case
Diameter: 50mm; thickness: 17.5mm; material: plastic
Strap
Length: 256mm; width: 20mm; material: plastic
More Info
Casio