This article is more than 1 year old
Smartwatch face off: Pebble, MetaWatch and new hi-tech timepieces
Tick, tock, Tweet
Metawatch Frame

MetaWatch's smartwatch platform, available in two designs - Frame, reviewed here, and Strata - is to an ordinary watch what a modern smartphone is to an old, voice-centric mobile: yes, you can use to tell the time, but it does a whole lot more besides. That extra functionality is defined by the apps you run on it, not what the manufacturer thinks you need. Unlike the watches I've discussed so far, which are really just notification relays, MetaWatch is much closer to the notion of a smartwatch.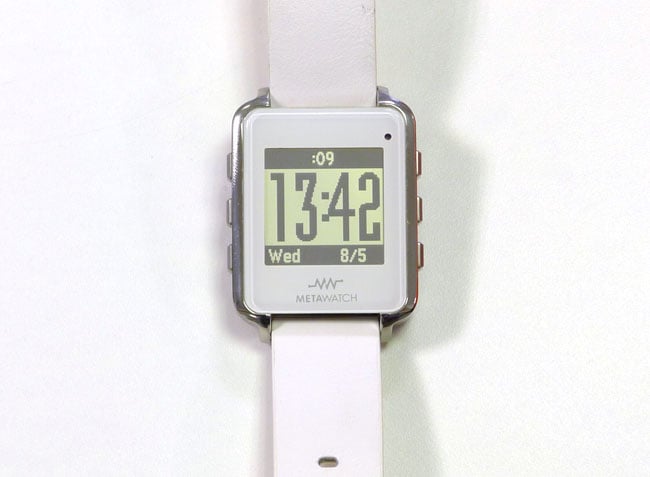 Apps here are called "widgets", presumably because of the implications of using the word 'app'. MetaWatch's widgets are at-a-glance information readouts fed from the connected phone; turn Bluetooth off and they're not even savvy enough to remove now-past calendar appointments, for instance. Apart from the clock face, the Frame becomes frozen in time when the link to the phone is cut.
The Frame's face is almost entirely given over to LCD - there's no separate analogue or digital face alongside it - and it's segmented into four regions, each of which can hold a widget. A bit like Windows 8 home screen panels, MetaWatch widgets can run in a single region; in two, either vertically or horizontally; or across all four. Grabbing four regions isn't a problem because the Frame has four pages on which to place widgets. A button - one of six - cycles through the pages.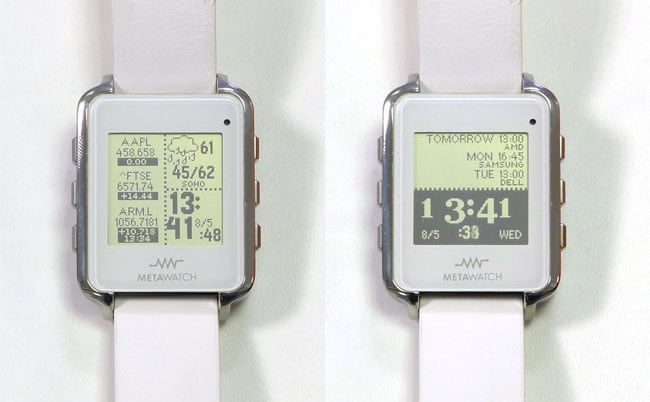 The widgets give you access to information you might normally get by glancing at your phone. Now you need only look at your wrist. Out of the box, the Frame comes with clock, stock price, weather, a Chinese calendar, phone battery charge and calendar readouts, all in various sizes.
If you're an iPhone user that is. The Android version of MetaWatch Manager is limited to clock and calendar widgets, and not in all of the possible layout configurations even then. There are several third-party alternatives available for Android, most notably Metawatch Community Edition and MetaWatch Mgr Noah Edition which expand the notification functionality considerably, but at the cost of complexity: the user interface is confusing, and I rarely got the results on the watch that I expected from how either third-party app had been configured. Buttons, for instance, stopped doing what they were supposed to.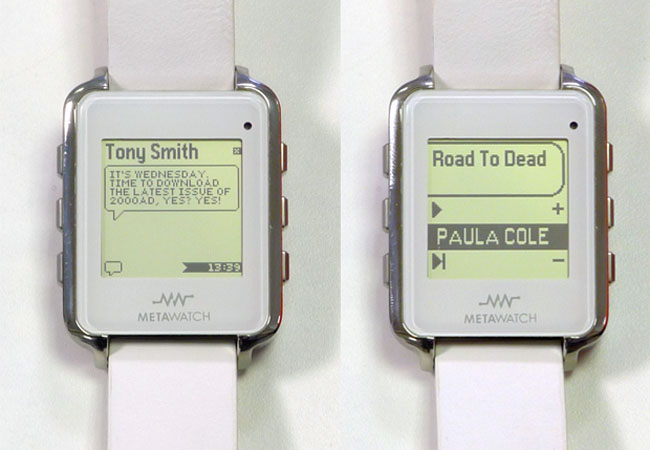 MetaWatch's own app lets you place widgets on the Frame's screen and to set up each widget. But it, like the third-party apps, is a work in progress. There's no Twitter or Facebook notifications yet, for example, on either iOS or Android. And there's only one watch face, even though the use of an LCD means MetaWatch could offer dozens to choose from.
Metawatch's array of widgets is limited right now, but it's encouraging developers to create additional ones that can be loaded onto the Frame through MetaWatch Manager. You can download an iOS widget SDK now, and there's an Android version on the way. The app is also used to set the Frame up and to notify it about incoming calls, SMS messages and emails, and to trigger upcoming appointment alerts. Notifications grab the whole screen until dismissed. The most recent notification is retained, and can be viewed again with a button press. Some of the notifications could be better designed to contain more information than they do, particularly for email.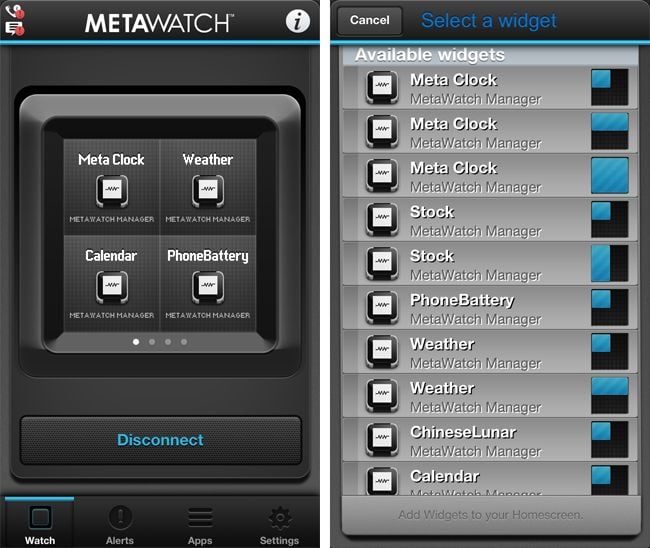 There's work to be done on the device's own software too. Widget-free pages are not automatically hidden, for instance, which is sloppy. It must be possible - the third-party Android apps let you set this. MetaWatch provides music controls, but only to step through an alphabetic list of all the songs on your phone. You can't select anything other than the next track on the list, even if you select a track or album in the phone's player app. Skipping tracks is slow - it tales a couple of seconds to get the next track's data - so you may as well pull out your phone. But the MetaWatch is handy for briefly pausing playback.
Battery life may prove an issue too, though this depends on your platform of choice. iOS's overly complex Bluetooth stack means communications are less efficient here: MetaWatch quotes 3 to 3.5 days of runtime, while Android users will by up and running for up to seven. Charging is easy, though: MetaWatch has fashioned a clever clip which fits onto the body of the watch to touch four charging pins. The clip is fed with a standard micro USB cable and can transmit data - for firmware updates, for instance - as well as power. With no USB socket, the Frame is thin and very comfortable to wear.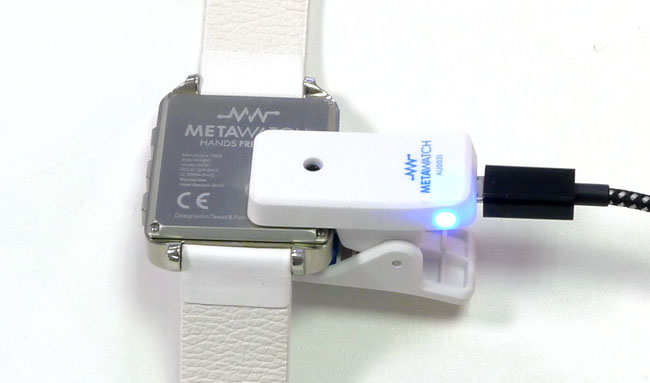 The Frame is water-resistant to three atmospheres of pressure, so it'll stand up to splashes and brief immersion but you won't want to take it swimming. MetaWatch's Strata has five-atmosphere water resistance if you need a smartwatch you can swim with in shallow water.
The Frame is an attractive enough watch, but its 96 x 96 pixel screen gives the user interface a rather retro look, unfortunately. The Frame's jagged text and chunky graphics remind me of the interface I saw on the Fossil Wrist PDA back in 2005. No surprise, this: MetaWatch's principals were previously leading lights in Fossil's tech division. The Frame's LCD uses natural light for illumination - there's a button-triggered backlight for nighttime - and is easily readable in bright sunlight.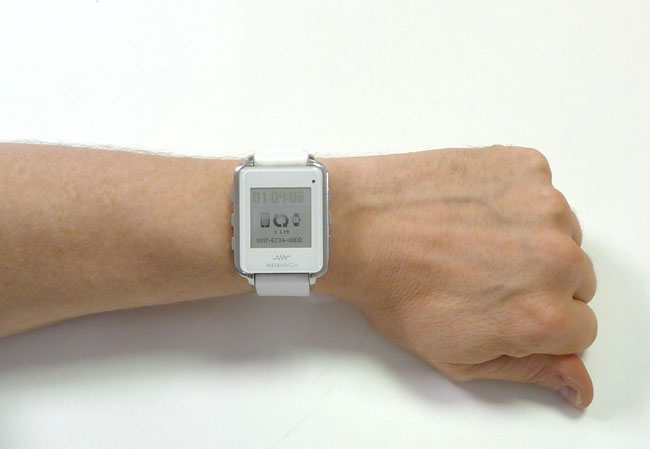 Price
$199 (£129)
App platforms
iOS, Android
Case
Size: 46 x 42mm; thickness: 10mm; material: metal
Strap
Length: 255mm; width: 21.5mm; material: leather
More Info
MetaWatch