Smartwatch face off: Pebble, MetaWatch and new hi-tech timepieces
Tick, tock, Tweet
Pebble

Eric Migicovsky and his pals have form when it comes to smartwatches. They were the team behind the InPulse, a colour-screen smartwatch launched in 2011. The InPulse didn't quite set the technology world alight, but Migicovsky and co's follow-up, the Pebble, has, in part due to its huge successful - and well promoted - Kickstarter funding campaign.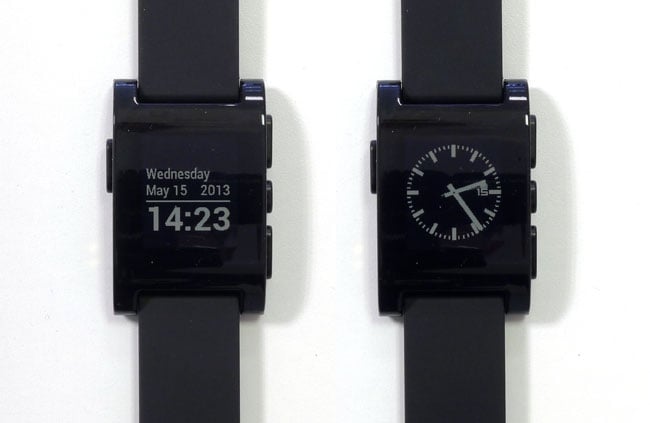 From a hardware perspective, Pebble is clearly the second-generation InPulse. The screen is roughly the same size - 1.3 inches - but the resolution higher and built from a much more power-efficient LCD technology, though this time it's monochrome, not that that's any real loss. The InPulse had a standard micro USB port to charge the battery; the Pebble has a tiny, magnetically attached charging head instead that helps keep the new device sealed. Once again, there's an ARM7 micro-controller on board, plus a stack of motion, magnetism and ambient light sensors.
Like the MetaWatch Frame, the Pebble sports a slim, rectangular casing. It's made from glossy plastic rather than metal, so looks more like a sports accessory than a fancy wristwatch. The Pebble is light and comfortable to wear. With a 144 x 168 pixel display, the Pebble's screen can present text and graphics that are rather more smooth than those on the 96 x 96 pixel MetaWatch, though there's clearly room for improvement. It's not a grayscale display - it's a one-bit per pixel panel - so we're back to dithering.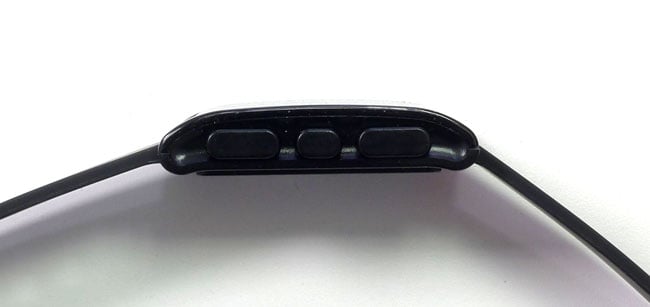 The Pebble comes with a selection of watch faces, and an SDK called PebbleKit is available from the manufacturer's developer site which lets you create your designs. There are already a couple of sites collating punters' watch faces, of which hundreds are now available.
Pressing the Pebble's menu button switches in a scroll-through list of options and apps. Again, the PebbleKit SDK allows C coders to start building their own software to run on the smartwatch. It also includes APIs to help programmers tie the Pebble to their Android and iOS apps. There's now a separate SDK containing code for sports-specific applications.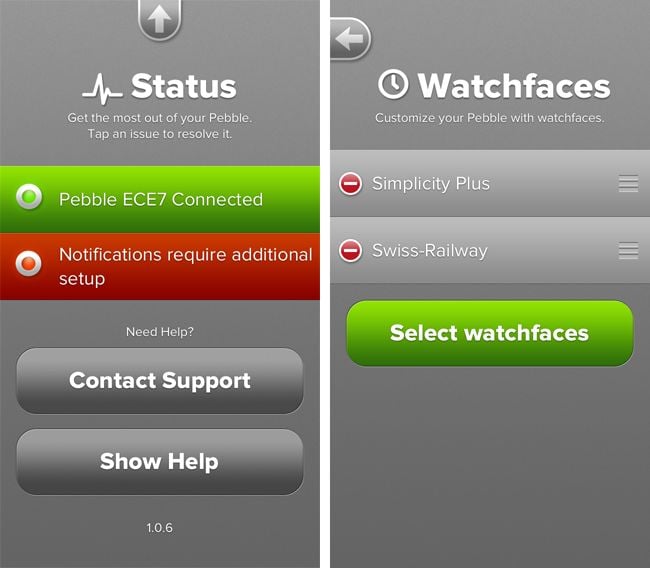 The Pebble was released in 2012, but we're still in the platform's early days. The hardware continues to be made available through a series of small production runs, and the firmware, apps and SDK are all works in progress. The SDK was massively updated while I was writing this roundup, and Pebble Technology tells me it intends to update the watch's firmware every three weeks or so.
As it stands, the watch comes with a music control app that controls your phone's player, playing and pausing the current song, or stepping through the tracks in the album or playlist you've selected. You can't yet use it to navigate through all of your phone's music to choose which album to play. There's an alarms app too, to set four one-off alerts that'll trigger in the coming 24 hours, each sounded by the Pebble's surprisingly aggressive vibrator.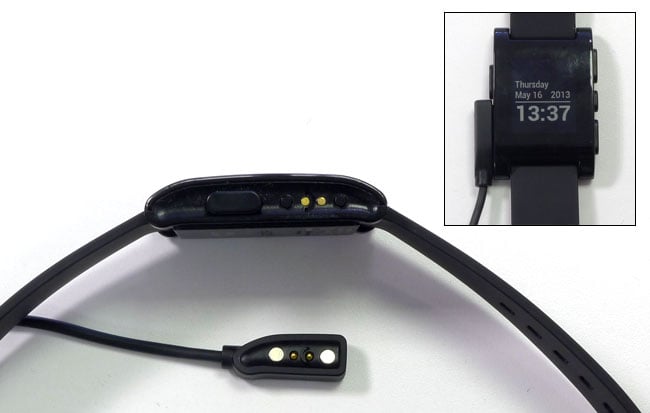 The alarm is essential because Pebble won't yet relay reminders and diary appointment alerts triggered on the host phone, at least not on iOS, though it does so on Android, which also supports Google Talk chat. It also does mail, text messages and such, all through iOS's and Android's own notification mechanisms. Essentially, phone notifications are duplicated on the watch. Whatever details are included in the notification are presented full screen in plain text to get as much information on the screen as possible. Unfortunately, you can't pull up a notification you've cleared.
Incoming calls register on the Pebble screen too, which nicely allows you to reject unwanted ones and answer wanted calls. A vigorous shake of your wrist and on comes the backlight. But the battery readout is bizarre: the tiny icon appears only when certain charge levels are reached, not permanently. So it's not only easy to miss, but you'll find your Pebble dying on you if wait to be told to charge it. If it dies, it resets the clock.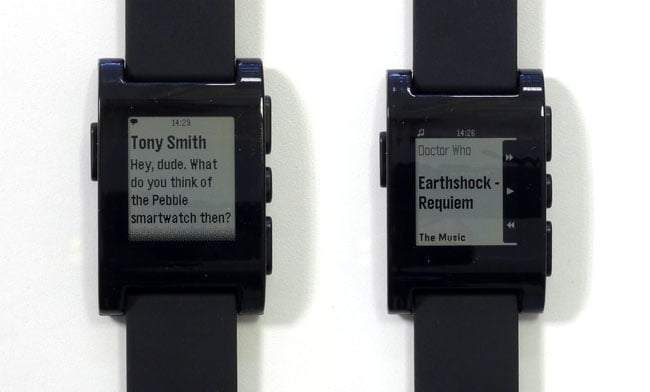 Pebble has its own mobile app, but this is currently limited to sending over downloaded watch faces, though it will be simple to upgrade it to handle apps in due course. The Android version is used to set up notifications too.
Pebble Technology is already committed to a rapid update programme, and now that it's a year old and, more importantly, has just secured $15 million in funding, refinement and development of the Pebble firmware and apps will hopefully be accelerated. The new SDK gives third-party developers much better scope to tie their apps into the Pebble - as popular jogging app RunKeeper already has: it sends progress info to the Pebble's screen during one's exercise - and to put new apps on the watch itself.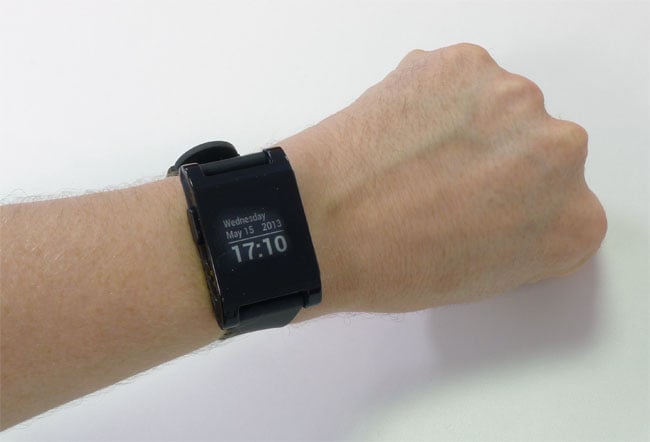 Price
$150 (£98)
App platforms
iOS, Android
Case
Size: 50 x 35mm; thickness: 10mm; material: plastic
Strap
Length: 255mm; width: 22mm; material: plastic
More Info
Pebble