This article is more than 1 year old
AMD's three new low-power chips pose potent challenge to Intel
Is AMD (finally) getting its groove back?
AMD is showing off its latest round of APUs – accelerated processing units that combine compute and graphics cores on the same slice o' silicon – that it hopes will be reinforcements in its battle for the consumer market against its main competitor, Intel, especially at the low-power end of the market.
"We're working to position ourselves to be the top provider, between the software and silicon capabilities, for a new generation of client devices," AMD VP of communications and industry marketing John Taylor told The Reg at a briefing last week in San Francisco.
A tall order, indeed, but one which AMD hopes its three new APUs help fill. AMD says the entry-level part code-named "Temash", in fact, is aimed at an entirely new type of device: the "Performance Tablet", for which AMD has rolled out a new branding term: "Elite Mobility".
You can gain a bit of insight into how AMD is positioning its new APUs by taking a gander at some quotes from their marketing presentation released Thursday for the three new chips:
Temash: "A product so groundbreaking it created a new category."
Kabini: "Best-in-class graphics and first x86 quad-core SoC for entry/mainstream performance."
Richland: "Redefining PC performance – Up to 71 per cent better graphics performance than Intel Core i5.
About that new generation of client devices, Taylor said, "Ultimately we see ourselves doing that across different types of processors and different operating systems, but for 2013 we're here today mostly to talk about Windows 8 devices. But our long-term direction is, 'Yes, Windows – and more'."
In the Windows 8 market, AMD's overwhelming competitor is Intel [Duh...—Ed.], and Taylor's presentation was replete with claims that AMD has Chipzilla bested in a number of categories.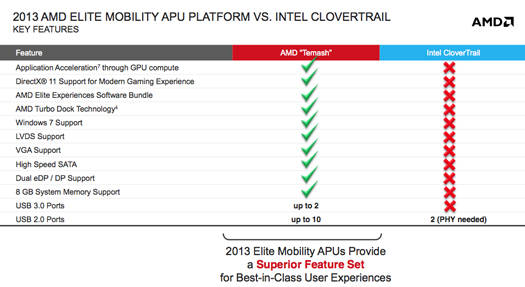 Hmm... It's quite possible the Intel might have chosen a different set of comparisons (click to enlarge)
For tablets – excuse me, "performance tablets" – Temash is aimed squarely between Intel's current Atom platform and the bottom end of Chipzilla's Core series, the i3. In what AMD defines as "small-screen touch notebooks," Temash goes up against such long-in-the-tooth veterans as Intels's Pentium and Celeron.
How well Temash will perform against Intel's "we-promise-it'll-be-better" Silvermont Atom microarchitecture, of course, remains to be seen. Silvermont may look good on paper, but as the old baseball cliché goes, "You don't play on paper."
Temash is available in three varients, one – the A6-1450 – has four compute cores and a GPU equivalent to a Radeon HD 8250. The other two – the A4-1250 and A4-1200 – each have two compute cores, with the former's graphics being Radeon HD 8210 and the latter's being Radeon HD 8180. The A6-1450 and A4-1250 will run on a miserly 8 watts, and the A4-1200 will get by with a paltry 3.9 watts.
Sounds like Temash might be a nice, snappy chip for fanless tablets, doesn't it?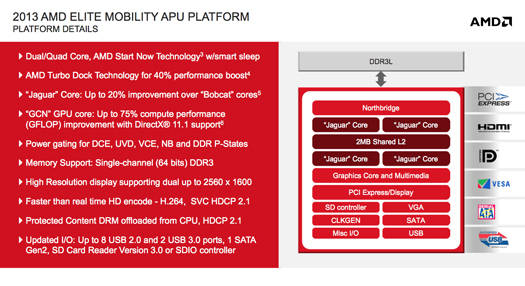 In the top-performing Temash variant, four 'Jaguar' cores share 2MB of L2 cache (click to enlarge)
Kabini may not have an entirely new product line invented for it, but AMD does claim its new mid-range APU has some potent power: "best-in-class" graphics performance and greatly improved battery life of up to 9.3 hours of web browsing and up to 6.9 hours of 720p video playback on a 45Wh battery. The top-line, quad-core 2.0GHz Kabini A6-5200 sucks up 25 watts, but its quad-core 1.5GHz A4-5000 gets by on just 15 watts.
When we suggested to Taylor that Intel's new "Iris" graphics architecture might make that company's graphics performance not as easy to trounce as it has been in recent iterations, his response was that he was comfortable with AMD's graphics lead, and that Intel has been essentially forced to invest heavily in graphics technology.
"It's not just a CPU-GPU integration and power thing," he said, "it's that where the workloads are going doesn't favor throwing more extensions into x86 – that's not the place to go."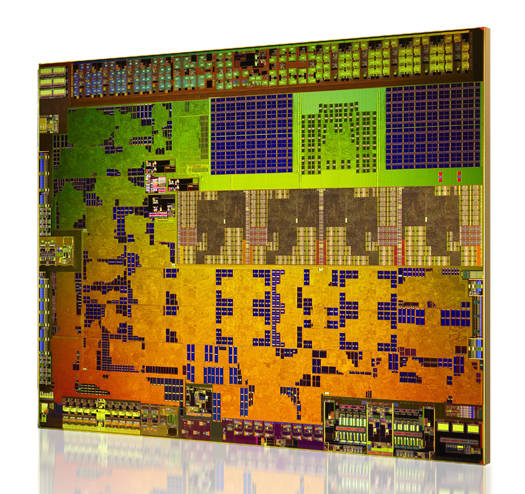 Processor porn! The Kabini APU die, stripped bare by her bachelors
AMD senior manager of client, server, and embedded products Gary Silcot, also at the briefing, offered another opinion on the Intel/AMD graphics rivalry. "It's not just the architecture," he said. "There's a big part of the support drivers and the system-level view of how you manage the graphics that goes beyond the architecture."
Hard to argue with that.
The third chip detailed on Thursday is Richland, what AMD dubs its "Elite" APU. Although Richland might find its way into some desktops (remember them?) and all-in-ones, it's clearly targeted at notebooks, and also at what AMD calls ultrathins and Intel has trademarked as Ultrabooks™.
Taylor touted a wide range of software features that AMD has developed and which he claims Richland and its fellow new APUs will enable – although such terms as "software features" have given way in this second decade of the 21st century to more marketeering terms such as "experiences".
That said, AMD has developed a solid stable of apps experiences. "You've got AMD Face Log-in, which does not require special cameras," Taylor said. "It uses your standard laptop bezel camera, and uses the acceleration possible in the APU to have better face-detection in various lightings, harder to fool – you can even dial up how strict you want it to be."
Other AMD experiences [Must you continue to use that term?—Ed.] include such niceties as Gesture Control, Screen Mirror, and Steady Video. If you buy an AMD-powered laptop or tablet, those and other items may or may not be bundled with it — OEM's choice – but Taylor assured us that you'll be able to download any and all of those, uh, experiences from AMD itself.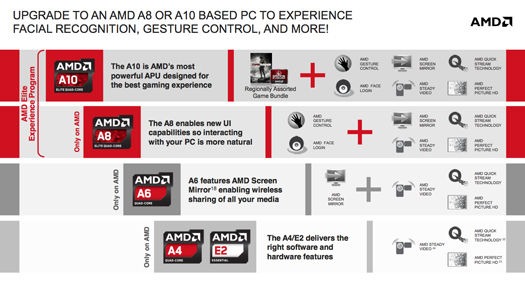 The higher you go up AMD's APU ladder, the more rich and varied your 'experiences' become (click to enlarge)
AMD also claims that come Windows Blue (or whatever it ends up being called by the digerati), Richland-based devices will have far better wireless-display performance than devices with Intel WiDi – up to 3.9 times better, they claim, with latencies as low as 41 milliseconds compared with Intel's 201 milliseconds. If true, wireless gamers should appreciate the difference – and if there's any demographic among whom AMD still commands hearts and minds over Intel, it's gamers.
Richland will be available in at least seven different variants, from the top-of-the-line four-core 2.5GHz-to-3.5GHz A10-5757M, which serves up 384 cores of Radeon HD 8650G graphics and 4MB of L2 cache at 35 watts, down to the two-core 2.0GHz-to-2.6GHz A4-5145M, with a 128-core HD 8310G and 1MB of L2 at 17 watts.
When playing on the aforementioned paper, these new AMD APUs appear to be a tidy, well-performing, power-sippling trio. In the low-power, high-performance battle with Intel, however, we're still looking forward to AMD's upcoming shared-memory "Kaveri" CPU-GPU mashup, scheduled to appear in the second half of this year.
That should be quite ... wait for it ... an experience. ®