VIDEO The European Space Agency's Herschel Space Observatory has beamed home pictures of two galaxies inexorably moving towards each other and boffins offered simulations of what happens next.
The galaxies concerned are known as HXMM01, the name given to a bright spot in the sky. Closer examination of HXMM01 tells us it is very old: ESA bods say their redshift of about 2.3 means the pair "dates back to the epoch when the Universe was barely three billion years old. "Even at that remove, the ESA says its possible to say the close proximity of the galaxies sped up star formation to a rate of about 2,000 a year.
It's also possible to observe a "bridge of gas" across the 65 million light year gap between the two galaxies.
That bridge is "comparable with similar features that we see in merging galaxies in the local Universe" and boffins are therefore willing to call a merger of galaxies, in this Nature (PDF) paper.
In the video below NASA has simulated the event, which the ESA says probably produced a new elliptical galaxy of about 400 billion solar masses.
Many of the suns in the combined galaxy were probably "old and red", or so we suppose because other galaxies we've spotted of similar vintage display those qualities.The prevalence of such stars in the ancient universe is partially explained by events at HXMM01, as the merger's example of how such stars are made suggests this is how others came into being.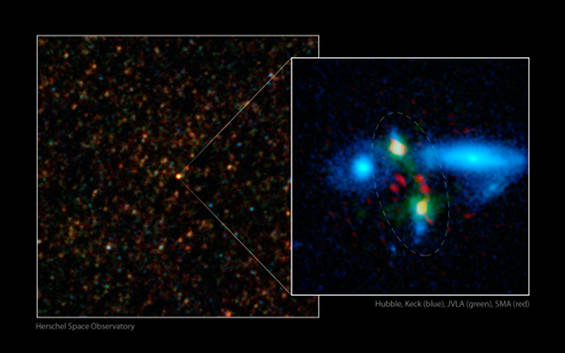 A pair of merging galaxies in the young Universe discovered with Herschel (left panel)
and imaged at higher resolution at near-infrared, sub-millimetre and radio wavelengths (right panel).
Credit: ESA/NASA/JPL-Caltech/UC Irvine/STScI/Keck/NRAO/SAO
Boffins are also wondering about the significance of the merger, as few on this scale have been observed in the past. Instead, it's been thought that galactic growth takes place when big ones attract and subsume smaller cosmic collections.
Of course this all happened a long time ago in galaxy far, far away. Stranger even than the ESA's observations may HXMM01 be. ®