Joyent cuts prices on cloudy infrastructure
Aligns with AWS instances, and offers the same or lower prices
---
Joyent, one of the upstart cloudy infrastructure providers that is taking a custom software stack to market to peddle virty server and storage, has done a major revamp of the way it carves up slices on its Joyent Compute Service cloud.
With the rejiggering of its cloud, Joyent is not only cutting prices, it is also forging server slices that are more or less the same as the most popular configurations offered by Amazon Web Services and offering dozens of additional configurations not available (yet) on AWS.
Henry Wasik, CEO at Joyent, makes no bones about having to align the company with AWS, but he also doesn't want to give the wrong impression, either. "AWS has set the definitions, and we have to have a common format," explains Wasik to El Reg. "Our path to the future is not going to be following Amazon, but you have to have a common foundation."
To that end, Joyent has matched what it thinks are the thirteen most popular EC2 instances on and then is offering another 58 server slices that are spread across five different virty server types. Those would be:
Standard instances with up to 128GB of memory
High CPU instances with up to 32 Xeon E5 "Sandy Bridge" threads
High Memory instances with up to 256GB of memory
High IO instances with up to 6TB of SSD storage behind them
High Storage instances with up to 30TB of disk capacity
In addition to the new types of instances, Joyent is also offering reserve instances like AWS does, with a one-year or three-year term, alongside its existing on-demand instances.
Joyent has three data centers in the United States – one in the San Francisco bay area, one in Las Vegas, and one in northern Virginia – and one in Europe in Amsterdam. Wasik says that Joyent is looking to fire up data centers in other regions, but was not going to pre-announce where these might be.
What Joyent is prepared to do is make the pricing the same across all of its regions as it builds out its cloud. So, at the moment, pricing in the US and Europe is going to be the same and priced in US dollars. Amazon, of course, charges different pricing in different regions where it operates its cloud.
"Our approach will make it easier for people to make decisions about where to put their workloads," says Wasik, because there will be no economic reason to not distribute workloads geographically.
Also, the price changes are not mandatory for existing Joyent customers; if they are happy with their current configurations and pricing, they can switch to the new server slices when it is convenient for them. But considering that the prices have been lowered, they will probably want to jump.
Here at the El Reg systems desk, we know you like to make your own comparisons, so here are the ten configurations on the Joyent Compute Service and their pricing before the rejiggering went into effect today, running either Linux, SmartOS (a variant of the Solaris operating system), or Windows: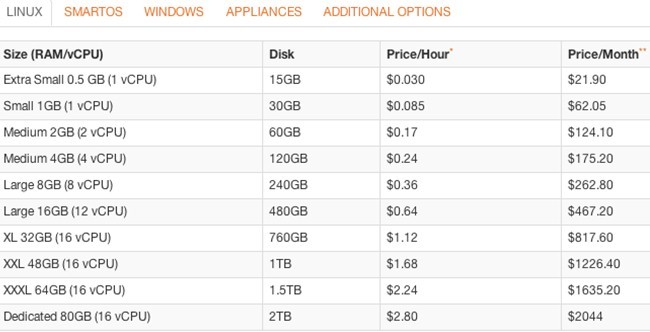 Here's the pricing and configuration on Joyent's cloud before May 23
This is how Joyent stacks itself up against the popular AWS EC2 instances running Linux:
You can see the Joyent price list online here, and it has an overlay to show you which instances are like what AWS instances.
In general, Joyent is offering roughly the same compute with the same virtual memory for around the same price as those thirteen AWS EC2 instances, although in many cases, those Joyent Compute Service images have slightly less storage associated with them.
The Joyent price advantage over the thirteen AWS instances varies. In many cases, as in the middle standard memory instances, the prices are exactly the same per slice, and there is a tiny fraction of a percent advantage that Joyent has with its high memory instances. But on the others, the price advantage ranges from 12.4 to 25 per cent.
Yes, it is insane to try to compete with Amazon on price when it comes to cloudy infrastructure. But cloud providers feel like they have little choice. They have to meet AWS and try to build from there.
One thing companies like Joyent could do, of course, is tweak that KVM hypervisor and self-service portal for the Joyent Cloud Service and allow customers to scale up processor threads, memory, disk, and flash independently of each other as their workloads suited.
Such flexibility would wreak havoc on server installation planning, and would make the massive game of server Tetris that all cloud providers play – trying to pack as many different shaped VMs onto servers as they can every hour – all that more difficult.
"That's definitely the direction that we are moving to over time," said Wasik. And he was referring to the industry at large, not Joyent in particular.
And given that extra layer of complexity, such independent scaling would be very difficult to implement unless you had live migration of virtual machines and a lot of excess hardware.
But, if this sort of flexibility would prove useful, then dynamic configurations could command a premium, particularly for workloads that do not scale so well horizontally across virty server slices as they do in a larger virtual server footprint.
It's something to think about. And to make sure Amazon doesn't do first if it is valuable. ®