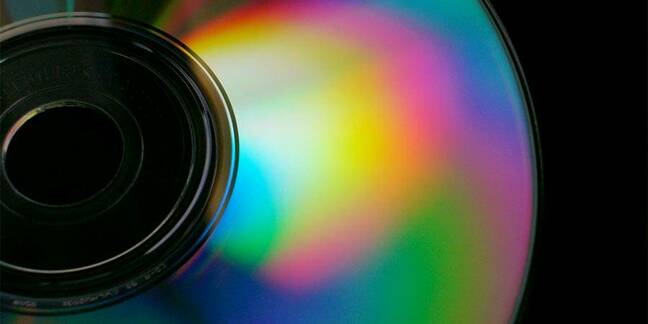 Backup software supplier Veeam is quietly doing extraordinary things; it's growing its backup business while touting their latest software as a means to continue growing its market share.
Veeam is privately-owned and focusses on virtual machine backup. It has no venture capital funding as far as we can tell. Despite that, it's quite open about its revenues and customer growth numbers. We've charted them to show their growth trajectory.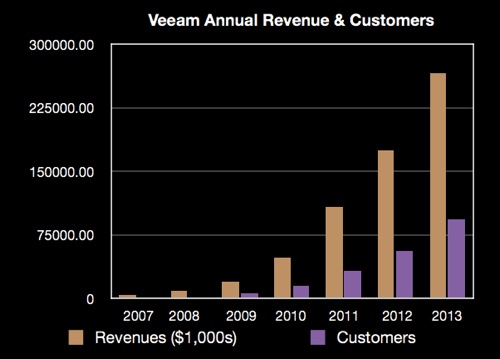 Veeam Revenue and Customer Growth
We charted revenue in thousands of dollars, instead of millions, so that we could stick customer numbers on the same chart and compare the two growth curves.
Big events in Veeam's history are:-
2006 - Founded by Ratmir Timashev (CEO) and Andrei Baronov
2008 - Backup & Replication product released
March 31 2013 - 64,000 customers. 4 million VMs protected
May 2013 - Employee count passed 1,000 world-wide
Product timeline
Q1 2008 - v1.0 - 2-in-1: backup and replication, Instant File-Level Recovery, Built-in deduplication, Synthetic full backups, Replication multiple restore points
Q3 2008 - v2.0 - ESXi support with VCB, Fastest VCB performance, Advanced VSS support
Q1 2009 - v3.0 - Instant File-Level Recovery for Linux, ESXi support without VCB
Q4 2009 - v4.0 - Centralized management Support for vStorage APIs, Support for CBT, Support for thin-provisioned disks, Near-CDP, Replication to ESXi
Q4 2010 - v5.0 - vPower, Instant VM Recovery, SureBackup, U-AIR, On-Demand Sandbox, Instant indexing
Q4 2011 - v6.0 - Enterprise scalability, Advanced replication, Hyper-V support, 1-Click File Restore
Q2 2012 - v6.1 - VeeamZIP, vPower for Hyper-V, Veeam Backup Free Edition
Q4 2012 - v6.5 - Veeam Explorer for Microsoft Exchange and SAN Snapshots, support for vSphere 5.1 and Windows Server 2012 Hyper-V.
This has been a busy company, product development-wise. It reckoned it had 11 per cent of the VM backup market at the end of 2012, based on an assumption of 8 VMs per CPU socket and 35 million total VMs spread across VMware, Hyper-V, Citrix XenServer, Red Hat, Oracle and any other supplier.
Veeam thinks it will protect 7.3 million out of 40 million VMs by the end of this year; an 18 per cent market share. So … it is growing and taking market share from other VM backup suppliers.
V 7.0 highlights
Version 7 of its Backup and Replication product introduces WAN acceleration so that backup data sent to a remote site arrives quicker. It can make backups using storage snapshots, and can archive backup to the cloud.

Veeam v7.0 data flow
The WAN acceleration involves deduplication technology developed by Veeam. Backing up from storage array snapshots lessens the use of the host server CPU cores that are running customers' VMs. It uses VMware changed block tracking, meaning there is instant VMware snapshot commit.
Veeam reckons it's up to 20 times faster than other backup approaches. Only HP arrays are supported at this point; StoreVirtual VSA, StoreVirtual, and StoreSer. Other non-specified suppliers will have support added in the future.
Veeam makes the point that treating snapshots in the SAN as backups is a risky proposition because if the SAN fails, the backups are not available; they're better stored off the SAN. Timashev said: "IT can back up three or four times every hour if they desire, ensuring that in the event that some or all of the production environment goes down, little, if any, data will be lost."
It says that with version 7, customers can "display vCloud Director infrastructure in Veeam and restore vApps and VM's directly to vCD, monitor backups and backup infrastructure from vSphere, and archive … backups to tape."
Restoration is fast as well; "instantly from Microsoft SharePoint and Exchange, SAN Snapshots, VMware or Hyper-V disk based backups, and from the cloud."
The product comes in three editions; Standard, Enterprise and Enterprise Plus. Pricing is a bit complicated so we copied a Veeam slide to show it: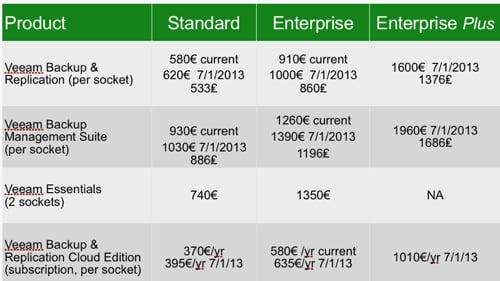 Veeam 7.0 editions and pricing
Enterprise Plus is a free and optional upgrade for existing Enterprise customers who should note that the annual maintenance cost is higher with the Plus product.
Veeam Backup & Replication v7 will be available in the third quarter of 2013.
STORServer
Coincidentally, STORServer has released v5.0 of its Virtual Machine Backup (VMB) software, which includes IBM's Tivoli Storage Manager (TSM) for Virtual Environments (VE). This offloads virtual machine backup workloads to a centralised server and enables, we're told, near-instant recovery. ®
Sponsored: How to simplify data protection on Amazon Web Services