Amazon expands Appstore reach, gives devs more user data
Alternative Android store now in nearly 200 countries
---
Looking to woo more app publishers to its Android Appstore and away from Google Play, Amazon has announced new tools that allow developers to track user engagement with their apps.
The new Engagement Reports announced on Friday provide a variety of metrics, including daily and monthly average revenue per device, average revenue per paid user for in-app purchases, user retention rates, number of active devices and sessions, and daily app installs and uninstalls.
Each report can be filtered by marketplace, and the data can either be viewed as a chart or downloaded in CSV format for use in other tools. The engagement data is updated every 12 hours.
There is no new API associated with the reports, and developers don't need to modify their apps in any way. Amazon is making the reports available automatically at no charge for all apps published after October 25, 2012, via the "Reporting" tab of its Mobile App Distribution Portal.
Apps that were published before that date and haven't been updated since will need to be republished before Amazon can start collecting engagement data on them.
In addition to the new reports, Amazon on Thursday announced that developers can now use its Appstore to distribute apps to nearly 200 countries worldwide, using online and mobile stores based in the US, Canada, Germany, France, Spain, and Italy.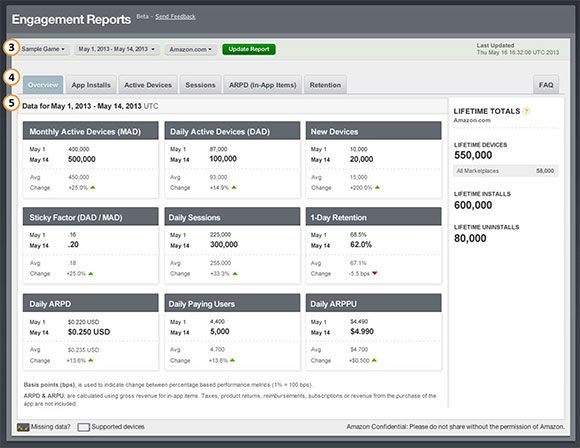 Android developers can plot their world domination with the Amazon Appstore's new Engagement Reports
Beginning on Thursday, apps published through the Appstore are available in every region by default, but developers can also limit availability by listing the countries where they want their apps to be sold. Publishers can set their own pricing for each marketplace or have Amazon calculate it automatically, and sales reports will now be broken down by country.
Of course, none of this would be much use if developers didn't have customers in all of these markets to sell their apps to. Also on Thursday, Amazon said that it is making its custom Android-based Kindle Fire HD fondleslabs available in more than 170 countries and territories – with the Amazon Appstore preinstalled, naturally. Customers can preorder either the 7-inch or 8.9-inch model now, and the devices will ship on June 13. ®