Twitter is the latest major web service to beef up its security two-factor authentication (2FA). The security feature is a pretty simple and effective approach - and one the notorious Mega kingpin Kim Dotcom claims today to have invented back in the '90s.
Two-factor auth is a simple process for verifying that the user accessing a service is legitimate. A random code is sent from the web service (via SMS) to the person's phone, and the user then types the code into an authentication dialog on a web page.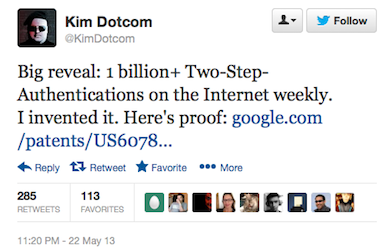 But did Dotcom really invent 2FA for remote authentication? In short, it appears he did not.
In 1996, the then-Kim Schmitz filed for a patent entitled "Method for authorizing in data transmission systems". The patent has a priority date of 29 April 1997, and it does indeed describe a two-factor authentication system. The user logs into a service, triggers a secondary authentication request, and this is fulfilled by SMS.
But Ericsson filed a patent titled "User authentication method and apparatus" with a priority date of 24 June 1994 that also covered 2FA using a pager or phone. A later patent filed by Nokia ["Method for obtaining at least one item of user authentication data"] with a priority date of 23 February 1996 resembles even more closely the 2FA approach used on the web today.
Kim Dotcom's patent through the European Patent Office was cancelled in 2011 after opposition from Ericsson.
Kim Dotcom's US patent remains in force. Whether the US Patent Office or the United States District Court of Texas would confirm the validity of the patent is an interesting question.
On his Twitter page, Kim Schmitz/Dotcom describes himself an "innovator". To earn the title, you've got to introduce something new. Kim Schmitz/Dotcom - in this case at least - doesn't appear to have done so.®
Similar topics