Mainstream storage vendors seem to be in trouble as Dell, HP and IBM's storage revenues have tanked over the past two years.
Stifel Nicolaus analyst Aaron Rakers created a spreadsheet comparing his records of how these vendors' storage revenues changed quarter by quarter. El Reg's storage desk charted the numbers: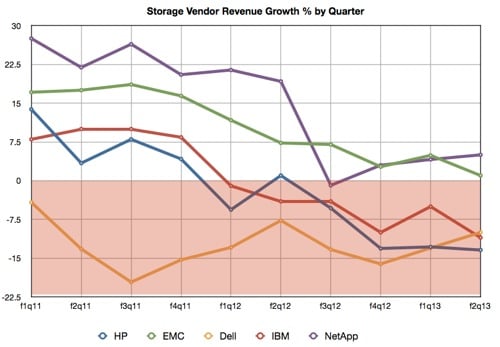 Storage vendor revenue growth percentages by quarter. (Click to enlarge)
The reddish area marks out negative growth rates. So, HP and IBM have seen their storage revenues decline pretty consistently since their first fiscal 2012 quarter, while Dell's storage revenues have been in decline over the whole period.
EMC and NetApp's storage revenue growth rates have stayed positive, except for a blip by NetApp in its third fiscal 2012 quarter. It is now growing its storage revenues slightly faster than EMC.
Three take-away points:
The storage market has become less healthy and growth has slackened. Recessions are a nuisance.
The two standalone storage vendors have grown more than the three server/storage/system vendors.
Buying standalone storage startups has not prevented the system vendors' revenues declining. They would probably be tanking more if they hadn't bought upstarts like Compellent, 3PAR and Storwize but they are still tanking.
Dell's storage tanked deeper and faster that that of IBM and HP. While its trend is flattening out, can it sustain the lessening of its decline?
From the revenue growth point of view, storage arrays are pretty straightforward. The real growth magic comes from startups like Actifio, Nimble Storage, Nutanix, Tegile, Tintri and Veeam, and perhaps from those punting all-flash arrays like Pure Storage, Violin Memory and WhipTail.
What are the mainstream system vendors going to do to rescue their businesses? ®
Similar topics