TDC2013 You could be forgiven for thinking there's not much going on with Tizen, the Linux Foundation's open source mobile OS. It's been two years since the project was launched and there still are no Tizen devices on the market. But that's about to change – and there has been a lot happening behind the scenes, as well.
"Tizen-based products will come out very soon," Samsung executive VP Jong-Deok Choi, who cochairs the Tizen Technical Steering Group, told the audience at the second annual Tizen Developer Conference in San Francisco on Thursday.
NTT DoCoMo global marketing director Roy Sugimura said the Japanese carrier plans to release its first Tizen-based smartphone in the second half of 2013. Similarly, Orange plans to launch Tizen devices "in the back-to-school period" – meaning the end of summer – according to the company's device technical director, Frederic Dufal.
What makes this possible is the arrival of Tizen 2.1, the most mature and stable version of the platform to date. The source code and SDK for the update were released on May 17, and its developers say this version is finally fully baked.
"It's ready to be built into products and it's ready for you to build your applications against," said Mark Skarpness, director of systems engineering at Intel, another prominent member of the Tizen Association.
In addition to a variety of bug fixes and API improvements, Tizen 2.1 includes an enhanced web framework with support for the Content Security Policy 1.0 and Navigation Timing specs from the W3C; improved IDEs for web and native app development; and support for a new kind of small apps that can be embedded inside other apps, called Web Dynamic Boxes.
Tizen's developer proposition
Although Tizen 2 supports native code for performance-critical apps such as games, the preferred development platform for the OS remains HTML5 and its related web standards. So why should developers build HTML5-based apps for Tizen when there are already plenty of other mobile platforms that let them do the same thing?
According to Orange's Dufal, that's kind of the point. He explained that Orange has been able to take HTML5-based apps it built for the BlackBerry 10 platform and port them to run on Tizen in a matter of hours. Sticking to HTML5 for app development allows Orange to support a wide range of devices much more easily, he said.
Another reason to develop HTML5 apps for Tizen is that Tizen runs them very well. Dufal said the web browser bundled with Tizen 2.1 scores 492 out of 500 at HTML5test.com, making it the most standards-compliant of the current crop of mobile browsers.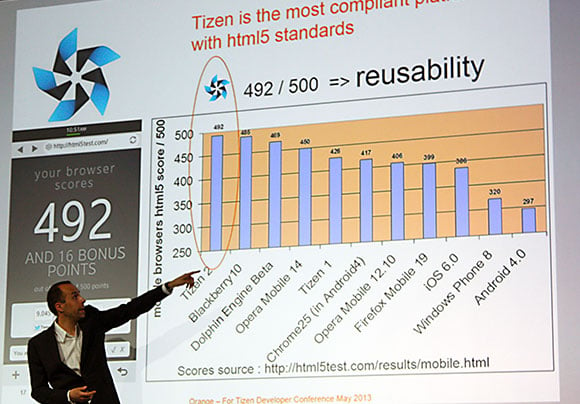 Orange's Frederic Dufal shows off the Tizen browser's web standards compliance score
But another reason to push the HTML5 app-development model is that smartphones and fondleslabs are only the tip of the iceberg for Tizen.
"If I have my mobile, then I should be able to use that device," said Dominique Hazael-Massieux, activity lead for the W3C's Mobile Web Initiative. "But if I'm in my car I should be able to do the same thing in my car."
Hazael-Massieux explained that we're already living in a world of connected devices that includes cars, gaming systems, PCs, smart TVs, ebook readers, cameras, music devices, and wearables such as smart watches and Google Glass – and in the future we'll be bringing devices online that we haven't thought of yet.
Tizen is being designed to power many of these in addition to phones and tablets. But even if they all ran Tizen, Hazael-Massieux explained, it would be impossible to maintain native apps for all of those classes of gadgets.
"The web is the platform for connected devices," he said. "It's not one of many platforms. It's the only solution you have."
There's gold in them thar apps – maybe?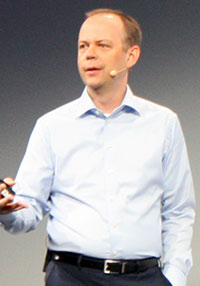 Intel's Mark Skarpness
Just offering a solid developer platform isn't enough, however. Tizen needs apps, pronto. Launching with a well-stocked app store will be key to Tizen's success with customers, and with the launch of Tizen 2.1, the Tizen Association is ready to pull out all the stops.
As of Wednesday, the official Tizen app store is open for business and accepting submissions from developers at seller.tizenstore.com, and Intel's Skarpness said the Tizen partners have been working with some of the leading app developers to port their products over from other platforms.
"I know when I get a new device there are certain applications that I just expect to be there," Skarpness said, but although he name-checked prominent brands, including Facebook, Twitter, and Angry Birds, no official announcements were made.
Skarpness said mobile tools vendors have also been approached, including AppCelerator, Sencha, and the Apache Cordova Project (aka PhoneGap), as have game engine vendors, including Havok, GameSalad, Unity, and YoYo Games.
In addition, Skarpness said that the Tizen Association will soon launch the Tizen App Challenge, which will award a total of $4m in prizes to developers who port their apps to Tizen (or build new ones), spread over multiple app categories. Registration for the contest opens on June 3.
In the meantime, the Tizen platform developers will continue their work to shape Tizen into a platform that can give Android and iOS a run for their money. Skarpness said the Tizen Association is already hard at work at version 3.0 of the platform, and that the initial code is already available at Tizen.org.
Tizen 2.1 is the platform for today, Skarpness said, adding, "Tizen 3.0 is the platform for next year's products." ®
Similar topics