HP, Dell stack up back-end iron for XenDesktop 7 virty PCs
Turning tablets and thin clients into PCs without the actual PC
---
Companies whose staffers work from tablets and smartphones don't have to buy Microsoft's Surface tablets or Windows Phones to enable them to use the firm's Windows applications.
Businesses can instead slice up a bunch of servers into virtual PCs and stream them out to workers' fondleslabs or smartphones using either VMware View or Citrix Systems XenDesktop to broker those ethereal desktops.
With the actual PC business stinking on ice and Citrix getting ready to ship its XenDesktop 7 VDI broker by the end of June, HP and Dell are gearing up their back-end iron to put it to good use.
HP has been peddling preconfigured VirtualSystem hardware stacks that bundle XenDesktop atop its BladeSystem blade servers for some time. The reference architecture comes in two flavors, and uses Microsoft's Hyper-V server virtualization slicer to contain the PC images.
A single BladeSystem enclosure has sixteen BL460c Gen8 servers, three of which manage the virty PCs and 13 of which hold the desktop hosts. The blades have four D2700 disk arrays linked to them by 6Gb/sec SAS links for a total of 30TB of disk; it can support 1,690 users according to HP.
A full-rack configuration doubles up all the iron to support 3,380 users. If you want to have persistent storage for PC users, HP suggests using the LeftHand P4800 SAN, and if you do so, then you can only do 2,340 users in a rack setup with two BladeCenter enclosures. HP also has reference architectures that put XenDesktop on top of VMware's ESXi hypervisor.
At the Citrix Synergy customer and partner event last week, HP was showing off the ProLiant WS460c Gen8 graphics server blade, which the company previewed back in February aimed specifically at virtualizing high-end workstations with high-end 3D graphics cards from Nvidia. The feeds and speeds of the WS460c Gen8 workstation blade were not available a few months back, but now they are.
The WS460c workstation blade has two Xeon E5 processors and has 16 memory sticks for a maximum memory capacity of 512GB on the server node. The PCI-Express 3.0 mezzanine card slots on the blade can each accept an MXM-style Nvidia GPU, specifically a Quadro 500M or 1000M.
If you need a higher-end GPU, or you want to support more users on a blade with a higher ratio of graphics cards to compute cores, then you can snap an expansion slot onto the WS460c. The expansion slot supports one Quadro 5000 or 6000 series GPU card (like the kind you would really put into a workstation), or up to six of the MXM-style graphics cards that snap into the blade.
With the expansion blades loaded up with MXM GPUs, you could get 128 Xeon E5 processors (for a total of 1,024 cores) and 256 discrete GPUs into a single rack; within a single blade, the processing and GPU processing of each user is dynamically configurable by XenDesktop or View.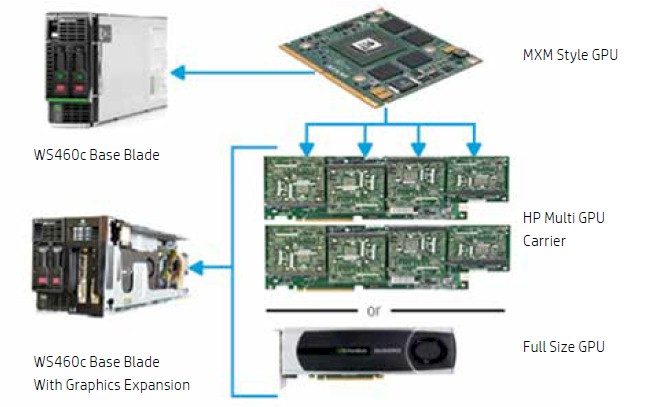 The WS460c workstation blade can use MXM or Quadro discrete graphics cards
A base WS460c workstation blade costs just under $4,000, but that is a just silly configuration with one processor and 2GB of memory. With two eight-core Xeon E5-2670 processors spinning at 2.6GHz and a respectable 256GB of main memory, this baby weighs in at $14,989. A Quadro 500M graphics card for the blade costs $350, and the Quadro 1000M costs $550. The expansion blade can be configured with two Xeon E5s and real memory; with the same processor and memory configuration as in the base blade, the expansion blade costs $13,551. A Quadro 5000 card for this expansion blade runs $2,330, and a Quadro 6000 will cost you $5,100.
If you want more discrete GPUs rather than faster ones, then a six-pack of Quadro 1000 MXM cards costs $7,498 and a six-pack of the Quadro 3000 MXM cards is priced at an $8,498. So, let's go crazy and go all in here. With the top-end MXM cards in the base and expansion blades, that adds up to $38,138. But remember, this is shared infrastructure, and you can allocate more CPUs and GPUs to workstation users who need it and dial it back for those who don't.
With the latest round of announcements, HP is also pushing its 3PAR StoreServ disk arrays, and the usual services to help customers figure out how to make their PC applications mobile while at the same time virtualizing them using XenDesktop.
HP also announced some new thin clients in a blog post. One of these is the mt40 mobile thin client using an Intel Celeron (not an Advanced Micro Devices' "Richland" APU chip, which also made its debut last week and which HP originally said it was based upon). The t410 thin client (not the same device, but a similar name if you are dyslexic like me) supports the latest Receiver and XenDesktop enhancements aimed at thin clients, too.
Dell does Active Infrastructure for XenDesktop
Dell is bringing XenDesktop to its Active System 800 converged system stacks, which debuted last October, and is also rolling out an entry VDI setup based on its rack and tower servers for customers who need something a little less than the full on XenDesktop running on a bunch of blade servers.
By shifting the Active System 800 and its local storage, explains Jeff McNaught, Dell has been able to drive the back-end infrastructure costs down to under $200 per seat. McNaught, who came to Dell from the Wyse acquisition and is one of the co-inventors of thin client, says this is less than half the $400 per seat necessary to do VDI using XenDesktop or View if you have rack or blade servers backed up by an external storage area network.
While Dell is talking up its support for XenDesktop, given the timing of the Synergy event, McNaught, who is marketing and chief strategy officer for cloud client computing, says that the Desktop Virtualization Solutions Enterprise bundle (DVS Enterprise for short) is perfectly capable of supporting Microsoft and VMware VDI tools as well as those from Citrix.
The DVS Enterprise stack consists of one or two of Dell's M1000e blade server chassis. Depending on the number of users you have, you put in 8, 16, 24, or 32 blades into the rack. All of the blades are based on the PowerEdge M620 two-socket Xeon E5 node with 128GB of main memory and a flash boot device. The DVS Enterprise stack has two PowerEdge R620 rack servers that are used for managing the cluster of machines. The blades have access to between two and eight of the EqualLogic blade SANs (the PS6110, PS6110XV, PS6510E arrays, to be specific).
There are two Force10 S4810 switches, which have 48 10Gb/sec ports, a Force10 S55 management switch for the nodes, and two PowerEdge M I/O Aggregators, which is a device to provide a kind of demilitarized zone between server and network admins.
If you want to use Nvidia's Grid virtualized graphics cards, you can do that. You can slap in the K1 or K2 cards into a Dell R720 server. Each K1 card supports eight workstation-style users, and the K2 card (which has better graphics) can support up to four users each. At the moment, for thermal reasons, you cannot put these K1 and K2 cards into the PowerEdge M1000e blade enclosure, but it stands to reason that Dell will cook up an Active Infrastructure stack based on rack servers if enough customers want to marry VDI with high-end virtualized 3D graphics.
The base configuration of this DVS Enterprise stack from Dell supports 90 users, so it costs under $18,000 by definition. (Exact pricing was not provided.) Dell is supporting the current XenDesktop 5.6 release on the stack at the moment, and will ship it with XenDesktop 7 in the second quarter. It is available in the United States, the United Kingdom, France, Germany and the Netherlands at the moment.
For smaller shops, Dell is bundling up the BDI-in-a-Box 5.3 software from Citrix with either a PowerEdge R720 rack server or a T620 tower server. The entry configurations of these two servers have two six-core Xeon E5-2640 processors humming at 2.5GHz, 96GB of memory, and eight 300GB SAS drives spinning at 10K RPM. All in, this appliance can support around 50 users at a cost of under $500 per user.
That seems a bit high, given what the Active Infrastructure outlined above blade runs. But remember this DVS Simplified Appliance, as it is called, includes the VDI software from Citrix and the comparison above does not have the XenDesktop or server virtualization hypervisor costs. That "under $200" figure for the DVS Enterprise setup was just for the hardware. The VDI-in-a-Box update can now stream Windows 8 images, and runs atop Hyper-V 3.0 if you want to do that was well as on XenServer 6.1 or ESXi 5.1. Moving to the latest Hyper-V will improve the number of clients the setup can support, but McNaught says testing is not done yet so he can't say by how much.
The fatter DVS Simplified machine has two eight-core Xeon E5-2680 processors running at 2.7Ghz, plus twice as many disks (sixteen 300GB drives) and twice as much main memory (192GB) and supports around 100 users for under $500.
Dell's Wyse people also cranked out some new thin clients. The Zenith Pro 2 is built explicitly to run XenDesktop, and the D90Q7 and Z90Q7 are based on AMD's new quad-core "Kabini" Fusion APUs. Dell also put out a D10D thin client based on a dual-core Fusion APU. ®