HP's plunging storage revenues could yet be saved
Green shoots springing up amidst decline
---
The good ship HP is being held back by many things and storage ain't helping, yet. The one brightspot there - 3PAR - can't overcome plunging revenues elsewhere.
The company reported its second quarter of its financial 2013 revenues yesterday. Within the overall Enterprise Group, the storage segment declined 13 per cent year-on-year to $857m. In the earnings call CFP Cathy Lesjack said: "Converged storage products were up 48 per cent year-over-year and within that 3PAR was up 82 per cent."
HP divides its storage products into converged storage, which includes 3PAR, and traditional storage. Converged storage brought in $349 million, a 48 per cent rise year-on-year, while traditional storage brought in $508 million, a decline of one third year-on-year which wiped out the converged storage gain.
The Register understands the EVA arrays are classed as traditional storage. This quarter and the year-ago quarter's numbers are charted below, where you can see the traditional storage decline trend is steeper than the ascending converged storage trend: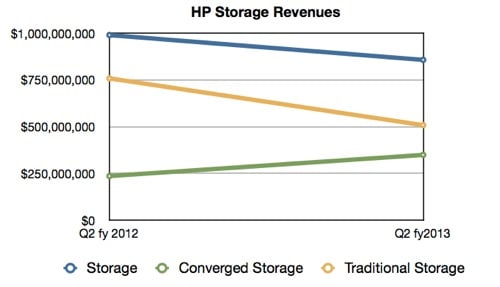 Cathy Lesjack said; "We need to better manage the declines of traditional storage," and talked of "the planned transition away from our traditional portfolio, which this quarter included steep declines in storage networking, tape and media, drove an overall decline in storage revenue."
So SAN Fibre Channel gear, tape libraries and tape reels all saw "steep declines"; we must be talking much more than ten per cent falls here. HP has announced a recent blizzard of new storage products, pinning its hopes on StoreOnce as well as a continuance of 3PAR's rise. We think an all-flash StoreServ 7450 is coming as well as enhancements to Peer Persistence with a quorum witness feature.
HP recently introduced a new generation of its MSA entry-level arrays with a 2040 product using 16Gbit/s Fibre Channel, better-performing controller and SSD support. Existing MSA customers can move the drives from their in-place MSA arrays to the 2040. The management interface is now the same as the one used with ProLiant and BladeSystem servers.
It has updated its StoreEasy portfolio "enables customers to store, manage and protect unstructured data for thousands of concurrent users [which] provides persistent file and application availability," The enhancements include:
A provisioning tool to simplify volume creation and optimise capacity
Integrated snapshot management for quick file recovery
Software wizard for the configuration of clustered StoreEasy 3830 Gateways
Turnkey data protection for StoreEasy 1000/5000 with optional Data Protector and Autonomy LiveVault
Both the new MSA and StoreEasy products are available though an improved SimplyStoreIT channel program.
Comment
HP's new products and channel program improvements will take time to gain traction. El Reg's storage desk anticipates that Converged System revenues will pass Traditional revenues by the end of the year, with total HP storage revenues declining next quarter, as EVA and tape-related sales continue their fall. Hopefully they'll then rise, assuming the economy doesn't fall between the cracks and kill off demand again.
At that point will we see HP potentially exit those storage product segments where it sees declines into non-profitability? Possibly. In our opinion, Meg Whitman will think the capital employed there can be better spent elsewhere. If that is the case, expect to see loss-making storage products walk the plank or be eased into the old products' retirement home, where there's no development, just a slow spinning down to a silent halt. ®
Similar topics
Narrower topics