Bill Gates: Corporate tax is not a moral issue
I happily coughed $6bn, but firms shouldn't VOLUNTEER extra cash from shareholders
---
Microsoft founder Bill Gates says he gladly paid a whopping $6bn in personal tax, but added that he reckons corporate tax is a legal issue and not a matter of morality.
Gates spent 14 hours in Australia on Tuesday suggesting to Australian politicians that they devote more of the nation's budget to foreign aid. He gave several media interviews during his visit.
The Reg's Vulture South team tuned into two of those appearances: a conventional 1:1 interview on ABC's 7.30 programme, and the other an hour-long interrogation by a live audience on a programme called Q&A.
During both broadcasts, Gates was all but silent on matters technological, sharing only that he likes spending time with Mark Zuckerberg and feels "he learns from me and I learn from him". Gates also said he plays some games, namely bridge (with real cards in meatspace) and Bananagrams, but does not consider himself a "hard-core best-of-breed gamer".
Gates described privacy as a "complex" problem, he said he would rather robots be used for good, not war. Gates added that he believed artificial intelligence would happen, but about "five times slower than [Google engineer] Ray Kurzweil says it will" - and said it will represent "an embarrassment of riches" rather than a malign force.
Gates also ruled out ever "doing a startup", declaring "that's not in my future". He also revealed he does the dishes every night and that his kids complain that others at their school got phones way before they did.
Most of the questions directed Gates' way concerned the activities of the Bill and Melinda Gates Foundation, but the topic of tax also came up.
In response to questions on tax, Gates said he is a willing taxpayer and has personally paid $6bn over the years.
"The services I get are extremely worthwhile," he said.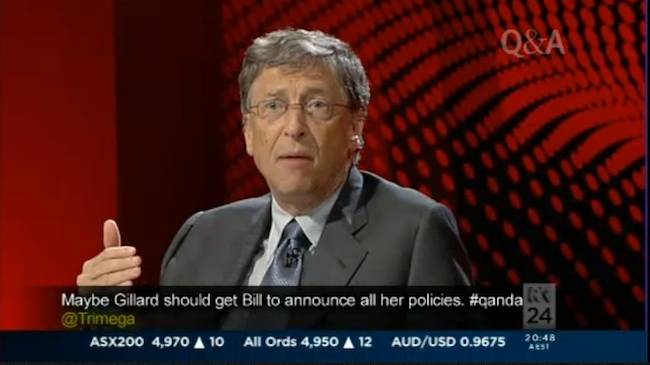 Bill Gates on Australian television programme Q&A
But on corporate tax he was steadfast, insisting that technology companies do the right thing on tax because they follow local laws.
"If someone wants those companies to pay more tax they should change the rules," he said, echoing Eric Schmidt's insistence that countries should change their tax laws if they want multinationals to pay more tax.
Gates added: "It is not incumbent on those companies to take shareholder money and pay huge amounts that are not required."
On whether it is ethical to use schemes that may not align with the intent or spirit of local laws, Gates said he feels "in a system of laws it is very important that if you follow the laws you do not have some second standard".
"This is not a morality thing, this is about the law," he said. If nations set new tax levels "companies will be happy to comply".
On whether the rich should pay more tax, Gates said the likely pressures on the United States' budget, especially healthcare, mean "the rich are going to have to pay slightly more proportionally". ®
Similar topics
Narrower topics